Walt Disney World News
Disney Cruise Line
Disneyland Resort
SeaWorld Orlando
Site News
News Around the World
News Filters:
---
Dining Database "Soft Opening"
March 03, 2014
Over the past year and a half, we've been working on a comprehensive dining database that we think will be a useful tool in helping you plan your Walt Disney World vacations. Our goal is twofold -- to make it easier for you to have all the information you need about Walt Disney World dining at your fingertips, and to make it easier for us to keep that information up-to-date.

So we've pulled together all the information we have about almost every Walt Disney World dining location -- location descriptions, dining plan and discount info, menus, restaurant and food photos, videos, even recipes -- all into one place.

Here are the two main links you'll need to start navigating your way around this new database:

Dining Location Index
http://allears.net/dining/location

Menu Index
http://allears.net/dining/menu/

Please update your bookmarks accordingly.
The 2014 Epcot International Flower and Garden Festival, March 5 - May 18
March 03, 2014
The Epcot Flower and Garden Festival runs March 5 - May 18, 2014. Nearly 100 whimsical topiaries and its 11 tantalizing Outdoor Kitchens with sweet and savory indulgent bites are reason enough to visit the 75-day flower and garden extravaganza. Yet the park will be packed with so much more as it transforms to a rainbow-hued wonderland of sweeping gardens and exhibits. Stars of HGTV, including Alison Victoria of Kitchen Crashers and Matt Blashaw of Yard Crashers will appear each weekend at the Festival Center, Audubon will debut its new Hummingbird Garden and Mike and Sulley Monstrous Garden opens as a fun-filled play land.
Related Links:
-- Outdoor Kitchen Menus with Prices
-- Festival Guidemap
-- Topiary Photo Gallery
-- Children's Activities
-- Peek Behind the Walls Before Opening
-- Fairy Houses to be Sold at Festival
-- Flower Power Concerts
-- VIDEO: Early Preview of Festival
-- Kermit and Miss Piggy Topiary Video
-- Flower and Garden Video Playlist
-- HGTV Presentations
-- General Festival Information

Ultimate Tweet: 140 Characters Announce 24 Hours of Fun on Memorial Day Weekend
February 28, 2014
The Magic Kingdom in Florida along with Disneyland and Disney California Adventure in California will be filled with great Disney heroes and villains from 6 a.m., May 23 to 6 a.m., May 24, 2014, marking the beginning of a summer of fun at Disney Parks. The celebration on both coasts will feature a cavalcade of events showcasing the good-vs.-evil of classic Disney stories, including character meet-and-greets throughout the parks, special entertainment, event merchandise, and food and beverage offerings.
Character Fun at Chef Mickey's Video
February 28, 2014
Chef Mickey's at Disney's Contemporary Resort features Mickey, Minnie, Goofy, Pluto and Donald twice a day at breakfast and dinner. A large buffet keeps you busy while the characters make their way around all the tables.
Glass Slipper Challenge Report
February 28, 2014
This past weekend featured the sixth Disney Princess Half Marathon weekend at Walt Disney World. This year there was a new race, The Enchanted 10K. And along with the new race came a new race challenge: The Glass Slipper Challenge. Those running both the 10K and the half marathon received the Glass Slipper Challenge medal in addition to their 10k and half marathon medals.
Date Change: Destination D Attraction Rewind
February 28, 2014
Today D23: The Official Disney Fan Club announced the date of Destination D: Attraction Rewind presented by H2O plus at Walt Disney World Resort will shift to November 22 and 23. Check-in and exclusive shopping opportunities will begin on Friday, November 21.
Special Family Ticket Offer
February 25, 2014
Disney announced today a new Magic Your Way Ticket Deal - designed for families!

Beginning February 25, 2014, parties of six or more who purchase a minimum 4-day Magic Your Way ticket will get a 5th day for FREE. This offer is good now through June 14, 2014.

AllEars recommends MouseFanTravel.com for your Disney vacation!
Avengers Super Heroes Half Marathon Weekend This Fall!
February 25, 2014
runDisney is expanding its portfolio of race weekends, adding a new Avengers Super Heroes Half Marathon Weekend at Disneyland Resort in Anaheim, CA to debut November 14-16, 2014.

The new three-day race weekend will involve kids races, a 5K and a half marathon, plus several family-friendly events such as a Health & Fitness Expo and a pre-race Pasta in the Park Party. Registration opens March 25 at www.runDisney.com.
Festival of Fantasy Parade Debuts March 9
February 25, 2014
The Magic Kingdom's brand new Disney Festival of Fantasy Parade will debut Sunday, March 9, 2014.
Two Attraction Rehabs Announced
February 25, 2014
Alice in Wonderland and The Little Mermaid are closing this spring for refurbishment.
Wilderness Lodge Video Gallery
February 24, 2014
The Wilderness Lodge Video gallery is now online!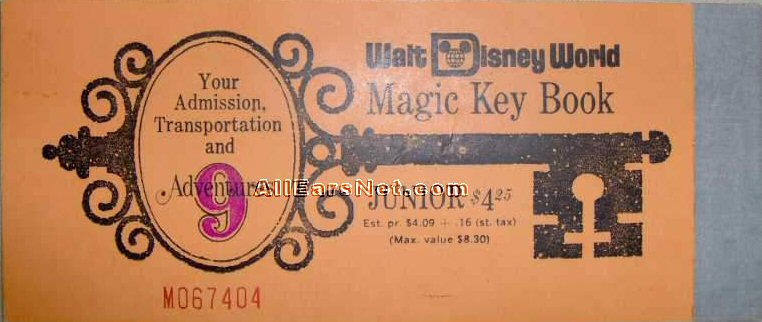 Disney Raises Ticket Prices
February 24, 2014
Disney quietly raised ticket prices over the weekend for almost all the ticket categories. A one-day ticket to the Magic Kingdom is now $99. Check out the new prices. Our recommended ticket vendor, MapleLeafTickets.com is offering special pricing until close of business on Friday, March 7, 2014.
Related Links:
-- MapleLeafTickets Offers Special Pricing Through 3/7/14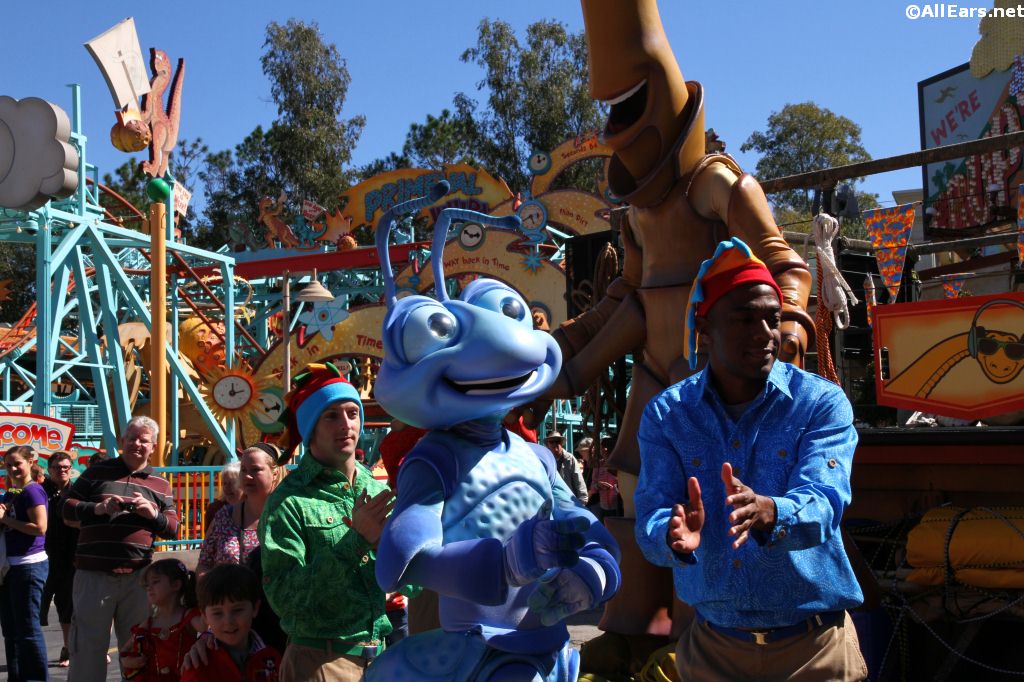 Animal Kingdom Dance Party in DinoLand USA - Photos and Video
February 22, 2014
The DinoLand Dance Party began January 2014. Two parties (25-30 minutes in duration) take place each day (check the times guide for specifics.) Dance music includes: YMCA, What Does the Fox Say, Do the Macarena! Head over to DinoLand - just past the Goofy and Pluto Character Meet and Greet, by the truck. Characters will vary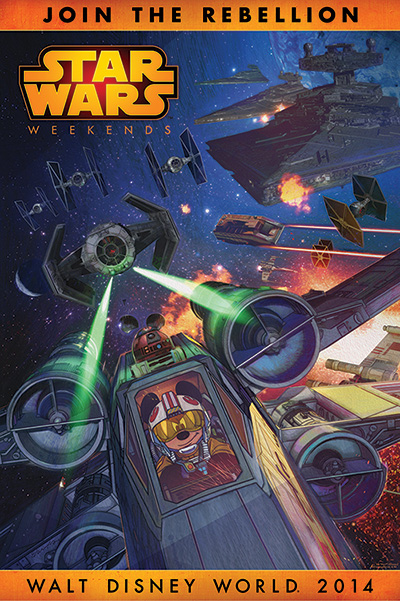 Extra Week Added to 2014 Star Wars Weekends!
February 21, 2014
2014 Star Wars Weekends will be held every weekend
(Friday, Saturday and Sunday) from May 16-June 8, 2014.
Weekend I: May 16 - 18, 2014
Weekend II: May 23 - 25, 2014
Weekend III: May 30 - June 1, 2014
Weekend IV: June 6 - 8, 2014
Weekend V: June 13 - 15, 2014

James Arnold Taylor will return to Star Wars Weekends 2014 as the event's official celebrity host. Taylor, a Star Wars Weekends fan favorite, is the voice of hundreds of animated characters, including Obi-Wan Kenobi on "Star Wars: The Clone Wars."

The theme for this year's event is "Join the Rebellion."
Radio Disney Free Concert Central Florida 2/22
February 21, 2014
Radio Disney is kicking off its first "On the Road to the RDMAs [Radio Disney Music Awards]" tour with a free concert in Central Florida on Saturday. Families are invited to come out to the Leesburg Mardi Gras Celebration to hear Mexican-American rapper Becky G and British pop rock band The Vamps, and to meet rock band Before You Exit from Orlando.
Saratoga Springs Video Gallery
February 21, 2014
As we continue to rehab our resort videos, check out the Saratoga Springs Resort and Spa Video Gallery
Countdown to Your Disney Trip - Tips
February 21, 2014
The excitement builds as your trip to Walt Disney World nears. Here are some ways to add to that excitement by "Counting Down" to your trip!
Dateline Disney: March/April 2014
February 21, 2014
Walt Disney World publishes a bimonthly Press Release called Dateline Disney, which highlights activities for those particular months. In this edition:

Magic Kingdom: Disney Festival of Fantasy Parade dances into Magic Kingdom this March

Epcot: Bands and blooms headline the 21st Epcot International Flower & Garden Festival; "Re-Discovering America: Family Treasures from the Kinsey Collection" expands

Downtown Disney: Irish eyes are smiling at Downtown Disney's St. Patrick's Day celebration March 7-17

Orlando City S.C. takes the field at ESPN Wide World of Sports Complex for the 2014 season
The Walt Disney Family Museum
February 20, 2014
San Francisco is one of the most beautiful cities in the world. There are few other metropolises that can top the romance, excitement, and loveliness found in the City by the Bay. San Francisco offers first class dining, shopping, and entertainment. Man-made tourist attractions abound with the likes of Fisherman's Wharf, the cable cars, Alcatraz, and China Town just to name a few. And if you feel like experiencing more natural surroundings, the giant redwoods of Muir Woods and the vineyards of Wine Country are just an hour's drive away across the Golden Gate Bridge. Yes, San Francisco can easily fill a week of your time. But if all this wasn't already enough, a new shining star in the city's roster of tourist attractions opened on October 1, 2009, The Walt Disney Family Museum.
We Need You... To Help Us Test Our New Dining Database
February 20, 2014
For the last year-and-a-half, we've been developing a comprehensive Walt Disney World Dining Database, and now we're almost ready to officially unveil it. But first, we'd like to get some feedback from you. Please take a moment to "beta test" our newest addition to the website.