Walt Disney World News
Disney Cruise Line
Disneyland Resort
SeaWorld Orlando
Site News
News Around the World
News Filters:
---
FastPass+ Answers to Your Questions
October 31, 2014
This week on AllEarsNet TV, Deb Wills and Deb Koma answer your questions about FastPass+
Disney Vanity Plates
October 30, 2014
About ten years ago I thought it might be a good idea to buy my favorite Disney fan, my wife Carol, a customized license plate for her car. Now, what should the plate say? Yes, of course it had to be Disney . . . but what exactly should it say?
Disney Magic Cruise Ship Hidden Mickeys
October 29, 2014
Vickie and I recently sailed on the Disney Magic. Many Hidden Mickeys were lost during the "reimagining" of the ship, but (thank you, Imagineers!) many new Hidden Mickeys appeared! Some of the best new ones are in Disney's Oceaneer Lab on Deck 5 midship.
Marvel Studios Announces Movies Through 2019!!!
October 29, 2014
On a random Tuesday morning in October, Marvel invited both fans and media to the El Capitan Theatre for an unspecified presentation. Finally, the show started with Marvel Studios President Kevin Feige taking the stage and introducing the recently released trailer to the upcoming "Avengers: Age of Ultron." Feige then proceeded to display a timeline for Marvel Studios, extending forward through May of 2019, and filled it in with all the movies they have planned for release throughout the years.
Raglan Road Irish Pub Sparks Tiny Dancer
October 29, 2014
When Eddie and Adele Terrell of Perth, Australia, brought their young daughter Natarsha with them to an evening at Raglan Road Irish Pub a few years ago, they never expected it to be a life-changing event.

And yet it was.

The Terrell Family visited the establishment back in October 2010, when Natarsha was a fun-loving 4-year-old. As Eddie puts it, "We just wanted somewhere to eat, and saw this Irish pub, and thought, let's drop in there."
Disneyland Photo Walk About 10/24
October 29, 2014
Contributing photographer Jason of disneygeek.com sends us these photos from his trip to the parks on Friday, October 24, 2014.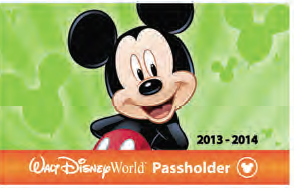 Discount Pages for AP, Visa, DVC, TiW
October 27, 2014
The Walt Disney World Dining and non-Dining discount pages have been updated for Annual Passholders, Disney Visa cardholders, Disney Vacation Club members and Tables in Wonderland members.
Disney Magic Cruise Ship Hidden Mickeys
October 27, 2014
The Hidden Mickey Guy is back from sailing on the Disney Magic. Many Hidden Mickeys were lost during the "reimagining" of the ship, but (thank you, Imagineers!) many new Hidden Mickeys appeared! Some of the best new ones are in Disney's Oceaneer Lab on Deck 5 midship.
Thanksgiving Day Dining
October 27, 2014
Special Thanksgiving Day (November 27) dining around Walt Disney World Resort has been announced:

-- At Epcot, guests can dine on Thanksgiving menus during lunch and dinner seatings at Akershus Royal Banquet Hall (which will offer roasted turkey breast with all the trimmings plus traditional Norwegian meatballs and pan-seared salmon), Biergarten Restaurant, Coral Reef Restaurant, Le Cellier Steakhouse, and Rose and Crown Pub and Dining Room, as well as quick service at Sunshine Seasons.

-- Holiday menus also are offered at Be Our Guest Restaurant and Tony's Town Square Restaurant in Magic Kingdom; Hollywood and Vine and The Hollywood Brown Derby in Disney's Hollywood Studios; Tusker House Restaurant in Disney's Animal Kingdom; and in resort hotels throughout Walt Disney World Resort.

-- Several resorts will serve special menus, such as poppy seed lavash, house-made naan, and apple-cranberry achar at Sanaa, and roasted heirloom beets with candied walnuts and mulled apple cider at Artist Point.

Availability is limited and dining events are subject to change. For information and reservations, call 407-WDW-DINE.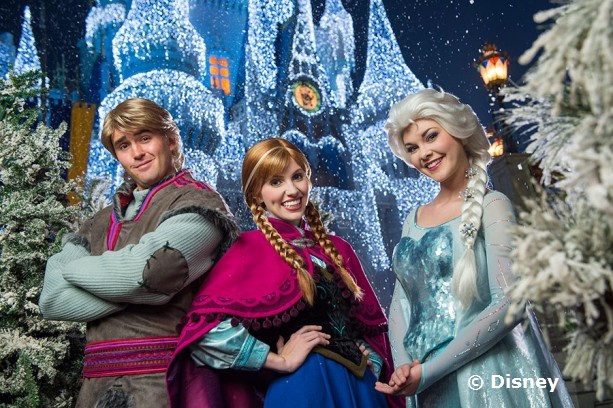 "A Frozen Holiday Wish" Show to Debut November 5!
October 27, 2014
"A Frozen Holiday Wish" features Anna and Elsa in an all-new show on the Castle Forecourt Stage. With special appearances by rugged mountain man Kristoff and lovable snowman Olaf, the show culminates in Queen Elsa using her incredible powers to present a gift to everyone in the kingdom, transforming Cinderella Castle into a glimmering ice palace for the holidays. "A Frozen Holiday Wish" begins November 5 and will be presented nightly through December 31, 2014.
New Morimoto Asia Restaurant to Open at Disney Springs in 2015
October 27, 2014
Chef Masaharu Morimoto is teaming up with Patina Restaurant Group to open Morimoto Asia as Walt Disney World Resort brings to life Disney Springs, an entertainment-dining-retail district re-imagined from Downtown Disney. To open in summer 2015 at The Landing, in the heart of Disney Springs, Morimoto Asia is the Japanese master chef's first pan-Asian dining experience.
The BOATHOUSE: New Concept at Disney Springs in 2015
October 27, 2014
Schussler Creative, specialists in the creation and consultation of attractions, restaurants, retail stores and entertainment venues worldwide, today announced their latest project: The BOATHOUSE: Great Food, Waterfront Dining, Dream Boats - located at Disney Springs at Walt Disney World Resort in Lake Buena Vista, Fla. Schussler Creative also is the creator of other restaurant/retail attractions at Walt Disney World Resort including Rainforest Cafe and T-REX Cafe (located at Downtown Disney), and Rainforest Cafe and Yak and Yeti (located at Disney's Animal Kingdom theme park).
Hidden Mickeys at Monorail Resorts
October 24, 2014
The Polynesian has always been filled with great artwork, including colorful paintings in the lobby and throughout the guest rooms. New paintings hang on the temporary construction wall that surrounds and blocks off the center of the main lobby.
Epcot Live Entertainment Changes - AllEarsNet TV
October 24, 2014
Join your hosts Deb Wills and Linda Eckwerth as they bid a fond farewell to the acts that have left Epcot and discuss two of the new acts now performing, Flag Wavers of Sansepolcro and the Canadian Lumberjacks.
Farewell to the Sorcerer's Hat at Disney's Hollywood Studios
October 24, 2014
Disney confirms the Sorcerer Hat at Disney's Hollywood Studios will be leaving!
Sneak Peek: FEAST - Animated Short
October 23, 2014
"Feast," a new short from first-time director Patrick Osborne (head of animation, "Paperman") and Walt Disney Animation Studios, is the story of one man's love life as seen through the eyes of his best friend and dog, Winston, and revealed bite by bite through the meals they share. The short opens on Nov. 7, 2014, in front of Walt Disney Animation Studios' "Big Hero 6."
Gluten Free Dining at WDW
October 20, 2014
My name is Christy Fish and I am a Disney Vacation Club Member, Disney Enthusiast, and avid All Ears Reader. I also happen to have Celiac disease and need to eat gluten free. Below please find my latest information from my last trip my husband Blake and I took to Walt Disney World. Happy Reading!
Flag Wavers of Sansepolcro Show at Epcot's Italy Photo and Video Gallery
October 20, 2014
The Flag Wavers of Sansepolcro are performing in Epcot's World Showcase Italy pavilion. The tradition dates back to the late Middle Ages as the group of flag wavers, drummers, and trumpeters perform the ancient art of flag waving.
Win a Pin! Mid-Month Mousy Mindboggler
October 19, 2014
Like solving puzzles? Figure out our Mid-Month Mousy Mindboggler and you have the chance to win a collectible Disney pin. Submit your entry by November 14!
Disney Season: Spring 2015
October 17, 2014
The new year 2015 lifts off with a spring bouquet of fun happenings, openings and events at Walt Disney World Resort. Whether on land or at sea, some great vacation choices await Disney guests as the calendar turns the pages into 2015.