Disneyland Resort
Walt Disney World
Disney Cruise Line
Site News
News Around Disneyland
News Filters:
---
2015 Avengers Half Marathon Weekend Part 1
November 23, 2015
The third stop on our Eat, Drink, and Run tour was Avengers Super Heroes Half Marathon Weekend at Disneyland. Our first event was the 10K on Saturday. But we didn't get off the cruise ship until Friday morning. Makes for tight timing when have to fly cross country so you can get to the Race Expo before it closes on Friday.
2015 Avengers Half Marathon Weekend Part 2
November 23, 2015
Today our costumes were Princess Captain America (finally able to wear my tiara again!) and Hawkeye. Same costumes we wore last year, but why mess with a good thing? Unlike last year, this year there were actually two people who recognized that I was Princess Captain America. Lee's Hawkeye costume got most of the attention, though. There weren't too many Hawkeyes out there, plus he looked really good (though I told him he was smiling too much. ;-) )
Season of the Force Part 2
November 20, 2015
We continue our look at Disneyland's new Star Wars celebration in Tomorrowland, with some of the new attraction additions and overlays.
Disneyland Resort Update 11/14/15
November 20, 2015
Contributing photographer Jason of disneygeek.com sends us these photos from his trip to the parks on Saturday, November 14, 2015. These pictures take a look at what's new around both Disneyland and Disney California Adventure this holiday season.
Hand-Crafted Candy Canes Return
November 19, 2015
The Disney Food Blog has this year's dates for Hand-Crafted Candy Canes at Disneyland, starting November 27 and ending on Christmas Day. Candy cane-making will alternate between Candy Palace on Main Street USA in Disneyland and Trolley Treats over on Buena Vista Street at Disney California Adventure.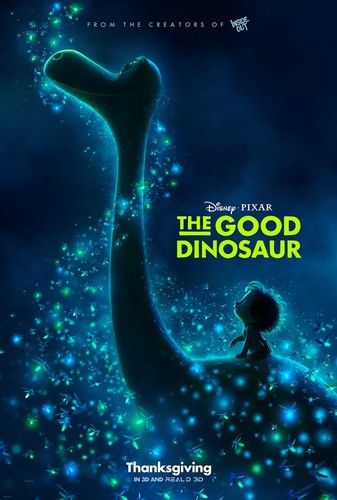 Downtown Celebrates Good Dinosaur Weekend
November 19, 2015
Downtown Disney District at Disneyland Resort will also observe "The Good Dinosaur Weekend," with a live DJ and Dinosaur Dance Party across from the AMC Theatres on November 21 and 22 from 11 a.m. to 11 p.m.
Avenger Winner Sets Course Record
November 19, 2015
Pedro Manuel Lemus Reyes of Nezahualcyotl, Mexico, won this year's Avengers Super Heroes Half Marathon on Sunday. His time of 1:11:09 was three minutes faster than last year's winning time. Alex de la Huerta of Mexico City was the top female finisher for the second year in a row and also set a new course record of 1:22:42.
Disneyland's Season of the Force Opens - Launch Bay
November 17, 2015
This week, Disneyland debuted a brand-new celebration of all things Star Wars--Season of the Force. Taking place in Tomorrowland, a Star Wars retheming has been given to several of the locations there, including the Carousel Theater... n addition, Star Tours--The Adventures Continue has received a new adventure on the planet Jakku with some debuting characters from the upcoming film "Star Wars: The Force Awakens."
Holidaytime Returns!
November 14, 2015
Starting November 13, 2015 and going on until January 6, 2016, the holidays have arrived at Disneyland!
Disneyland Photo Update 11/11/15
November 14, 2015
Contributing photographer Jason of disneygeek.com sends us these photos from his trip to the parks on Friday, November 6, 2015. He noticed that Halloween was over, and more Christmas decorations were up around the parks.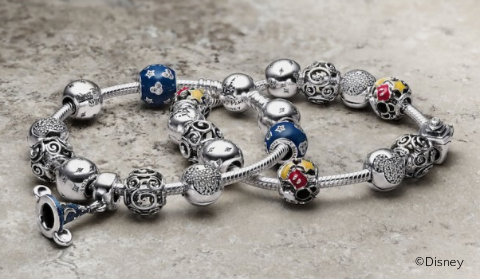 DVC PANDORA Charm Available in December
November 12, 2015
Disney Vacation Club members will soon be able to purchase their own unique PANDORA bracelet charm, which features the Mickey Mouse globe design that has served as a Disney Vacation Club logo for the last five years. The charm will be available for purchase on December 8, 2015 via the DisneyStore.com online Member Marketplace, as well as at PANDORA retail locations at the Disney theme parks. No pricing information has been announced.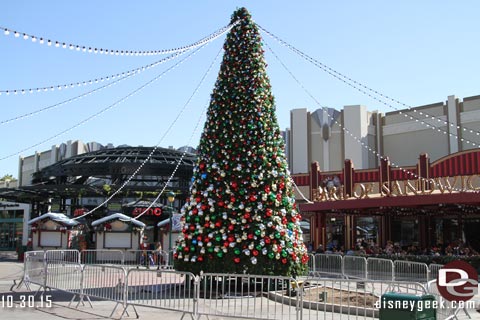 Holiday Season at Disneyland Begins November 13
November 12, 2015
The holidays officially begin at Disneyland Resort this Friday, November 13. During this time, there will be two nighttime spectaculars showing, "World of Color - Winter Dreams" and "World of Color - Celebrate!" Fastpass is available for both shows; Fastpasses will be distributed near Grizzly River Run. Note that if you want to attend more than one show, you must re-enter the queue to obtain another Fastpass. "World of Color" dining packages are also available by calling (714) 781-DINE.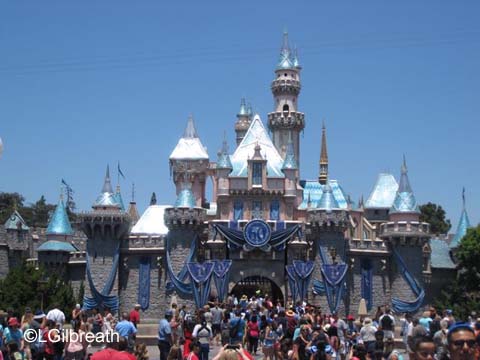 Rose Bowl Parade to Feature Disneyland Float
November 12, 2015
The Disneyland Resort will celebrate 60 years with a Diamond Celebration float in the 2016 Rose Parade, to be broadcast live from Pasadena on January 1. At the heart of the float will be a recreation of Sleeping Beauty Castle, complete with Mickey and Minnie Mouse. Flanking the castle will be a scene from "Frozen," with Elsa's ice castle accompanied by Anna, Elsa, Olaf and Kristoff, and a scene dedicated to the Star Wars films and new Star Wars experiences at Disneyland.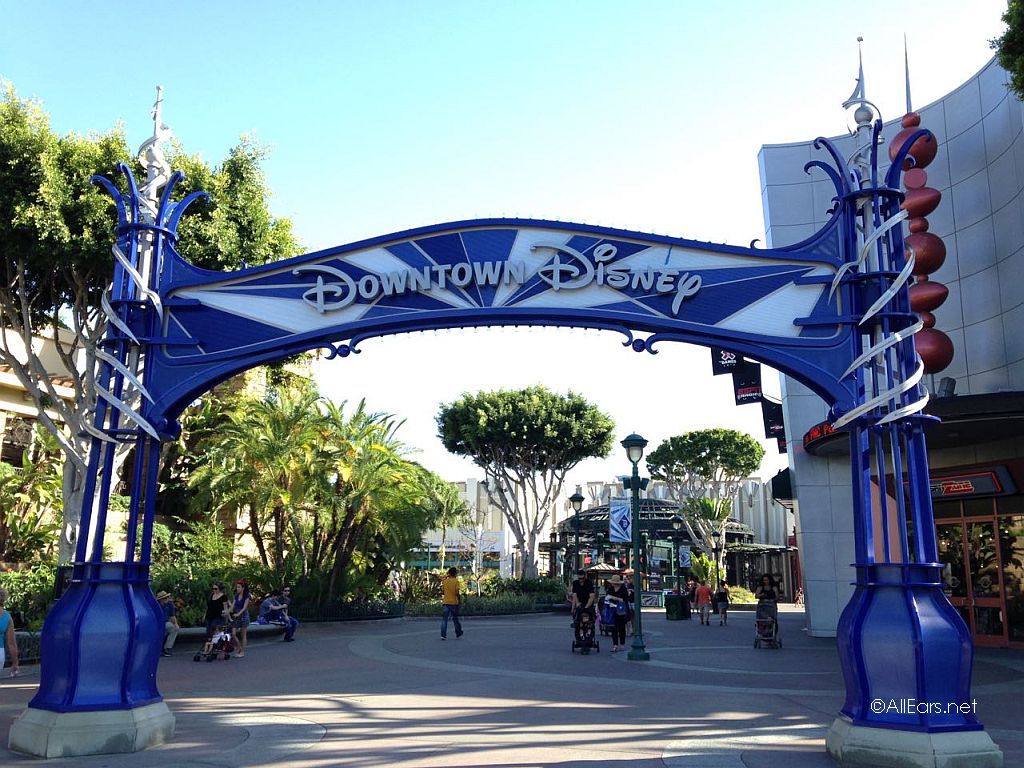 Seasonal Ghirardelli Store Offers Holiday Treats
November 04, 2015
As of November 3, there is a seasonal holiday Ghirardelli store located in the Downtown Disney District next to the Disney Vacation Club Preview Center, across from Rainforest Cafe. The seasonal retail location offers a variety of wrapped gifts, limited-edition Ghirardelli Peppermint Bark, classic bars, pick-and-mix chocolates, novelties and more (but no ice cream!).
Special Artist Appearances Announced for WonderGround Gallery
November 04, 2015
The WonderGround Gallery in the Downtown Disney District has a number of special artist appearances and signings coming up in November, including: November 7 from 3 to 5 p.m., artist Steven Daily; November 14-15 and 28-29, from 2 to 5 p.m., Daniel and Dawna Davis from Steam Crow; November 21 from 7 to 9 p.m., Joey Chou and Jerrod Maruyama featuring artwork inspired by "The Good Dinosaur." Chou will also be WonderGround Gallery's artist-in-residence for the month, and will feature showcases on the following dates: November 6-7, 13-14 and 28 from 6 to 10 p.m.
Countdown to Avenger Super Heroes Half Marathon
November 04, 2015
Next weekend, November 12-15, Disneyland will host the Avenger Super Heroes Half Marathon Weekend. New this year is the Captain America 10K and the Infinity Gauntlet Challenge.
Disneyland Photo Update from October 30!
November 04, 2015
Guest photographer Jason of disneygeek.com made one of his frequent trips to Disneyland Resort to record the latest changes. This week he spied the beginnings of the Christmas season decorations, as well as the progress of the Star Wars Launch Bay.
New Toy Story Window at Emporium
October 22, 2015
The latest animated Emporium window to be unveiled as part of the Disneyland Resort Diamond Celebration features Toy Story. It is the fourth such window, with the others being Peter Pan, Cinderella, and Princess and the Frog. There are still two more windows yet to debut.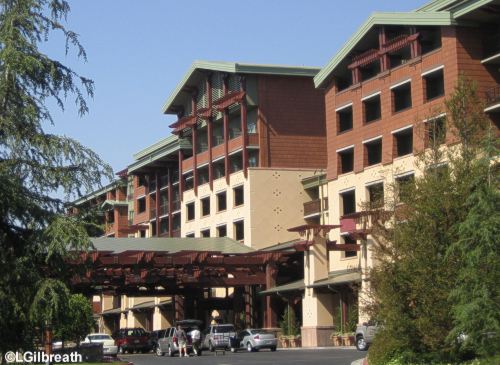 Celebrate Christmas Eve at the Grand Californian
October 21, 2015
Disney's Grand Californian is hosting a special Christmas Eve dinner for Disney Vacation Club members in its Sequoia South Ballroom from 4 to 6 p.m. Special performances from an a cappella singing group and a Character Meet and Greet with some furry friends help to make this holiday event merry and bright. Price is $68.60 per adult and $30.50 per child 3-9, plus tax and gratuity. Members can book this event by calling Member Services starting November 3, 2015.
Toy Story Enchanted Window Debuts
October 21, 2015
A new "enchanted window" was unveiled on Main Street last week. The latest window features scenes from Toy Story: Andy plays with Buzz and Woody, and the toys dance and play when Andy leaves.