Disneyland Resort
Walt Disney World
Disney Cruise Line
Site News
News Around Disneyland
News Filters:
---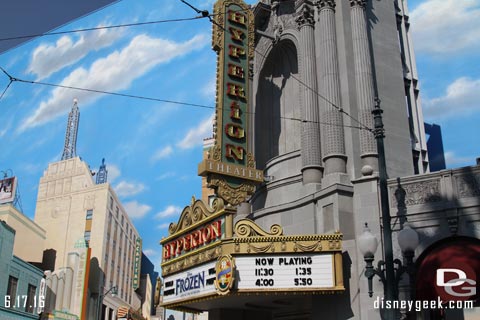 Frozen Musical Available in Three Premium Packages
June 22, 2016
Disneyland Dining is now offering three different packages featuring premium viewing experiences for the new "Frozen - Live at the Hyperion" musical. The packages are available daily starting on June 29.
Frozen Pre-show is $49/person, and starts 90 minutes before show time in Stage 17. It includes shave ice, a beverage station with soft drinks, beer and wine, several photo op locations and a "Magical Snow Moment." Guests will be seated in a reserved priority seating area in the Hyperion Theater.
Frozen Pre-show Plus Lunch is $99 for adults and $79 for kids 3-9. It includes all of the preceding plus a three-course lunch at the Carthay Circle Restaurant.
Frozen Signature Dining and Behind-the-Scenes is $299/person. It includes the pre-show, a behind-the-scenes experience at the theater following the show, and a four-course dinner at the Carthay Circle Restaurant.
Prices do not include applicable tax and gratuity. Reservations for the pre-show and lunch packages are available on-line or by calling Disneyland Dining at 714-781-DINE (3463). The signature package is only available over the phone. No annual passholder discounts available.

6/17 Disneyland Walk About
June 19, 2016
Jason's weekly walkabout from June 17th includes Star Wars construction; Soarin' Around the World; 2016 All American College Bands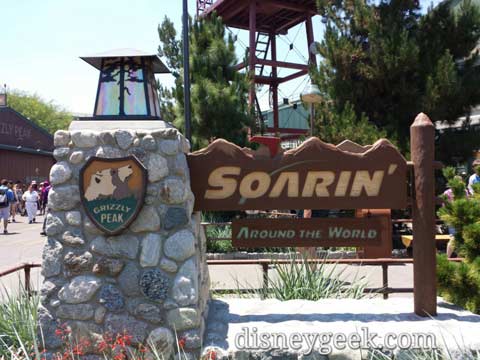 Soarin' Around the World Opens in Disney California Adventure
June 18, 2016
Soarin' Over the World Debuts at Disney's California Adventure
Disneyland Jammin' Nights
June 18, 2016
This posting will focus on two of the summer evening entertainment options. Jammin' on the Backlot has taken over for the Mad T Party this summer. It kicked off at 6pm and runs until park closing. In Downtown Disney this summer each night has a musical theme. Fridays are Polynesian nights..
All-American College Band Begins Summer Performances
June 15, 2016
The 2016 Disneyland All-American College Band begins its summer run on Thursday, June 16. Through mid-August this group of musicians will perform Tuesday through Saturday in a number of locations in both Disneyland and Disney California Adventure.
Live Music Kicks Off Summer Celebration
June 09, 2016
Downtown Disney Live! Stage at Disneyland's Downtown Disney District kicks off June with new and returning live music!

Light Side Race Registration Begins June 14
June 09, 2016
General registration for the events of the 2017 "Star Wars - The Light Side" Half Marathon Weekend at Disneyland opens on Tuesday, June 14 at noon eastern time. Events will take place the weekend of January 13-15, 2017 and include the half marathon, 10K, 5K, and Kids Races, as well as the Rebel Challenge for those wanting to run both the half marathon and the 10K. For runners who wish to earn the Kessel Run Challenge medal in 2017, completing the "Light Side" Half Marathon is the first step.
Patina Group Restaurants Offering Promotion
June 03, 2016
Special offer from the Patina Group: For every $100 gift card you purchase now through June 30, 2016, you will receive a $20 bonus card. These bonus cards are only redeemable 5/31 - 8/31/16 and cannot be combined with any other offer, promotion or discount. Participating Patina Group restaurants at Disneyland Resort include: Catal, Uva Bar and Cafe, Naples Ristorante e Pizzeria, Napolini, Taqueria, Tortilla Jo's. (Note: This offer also valid at Morimoto Asia in Walt Disney World.)
Disneyland Construction Updates
May 31, 2016
Contributing photographer Jason of disneygeek.com sends us these photos from his trip to the parks on Friday, May 27, 2016.

In this post I will take a look at the Star Wars construction and some other random pictures as I walked the park.
'Frozen - Live at the Hyperion' Premieres at Disney California Adventure
May 27, 2016
"Frozen - Live at the Hyperion," a new theatrical adaptation based on Disney's animated blockbuster film, opens May 27 at the Hyperion Theater at Disney California Adventure Park in Southern California.

This new theatrical interpretation for the stage immerses audiences in the beloved world of Frozen and takes audiences on the heartwarming journey of Anna and Elsa, with all of the excitement of live theater. Under the direction of Tony Award-nominated Director Liesl Tommy, the show features elaborate costumes and sets, stunning special effects, and show-stopping production numbers. An exceptionally large production, the show features an opening cast and crew of more than 200, six full musical numbers and a 2,200 square foot video wall which combine for an unforgettable theatrical experience.
Soarin' Around the World Opens June 17 at Disney California Adventure
May 27, 2016
Soarin' Around the World, a new experience based on the original Soarin' Over California attraction at Disney California Adventure, begins taking guests on a global journey on June 17 at the Disneyland Resort.
Frozen Live Premiers Tomorrow
May 26, 2016
"Frozen - Live at the Hyperion" premieres at Disney California Adventure
on Friday, May 27. A report on this new show will be coming soon to AllEars.Net's Blog Central.

PHOTO UPDATE: Disneyland Resort Star Wars Construction and More
May 20, 2016
Guest photographer Jason of disneygeek.com shares photos and short video clips of his recent walk around Disneyland Resort. He includes some images and video from the construction site of the new Star Wars themed land that's now under way.
REVIEW: World of Color Dessert Party
May 13, 2016
Back in March Disneyland added a new premium viewing experience for World of Color - the World of Color Dessert Party. Recently Disney invited me to bring a few friends and experience it for myself.

There's more details below, but my initial reaction? Wow. If you're going to purchase a viewing package, then THIS is the way to see World of Color!
Tinker Bell Half Marathon Report
May 11, 2016
It's Tinker Bell Half Marathon weekend at Disneyland again. This time around we decided to run the 5K and the half marathon rather than doing the 10K/Half Marathon Challenge. Many people have told us that it's the best 5K Disney offers, and we wanted to try it for ourselves.
Southern Californian Soars to First Place in Tinker Bell Half Marathon
May 09, 2016
Jennifer Serna won first place running her first runDisney race, the Tinker Bell Half Marathon, which celebrated its fifth anniversary. More than 24,000 runners celebrated a pixie-dusted Mother's Day Weekend at Disneyland Resort.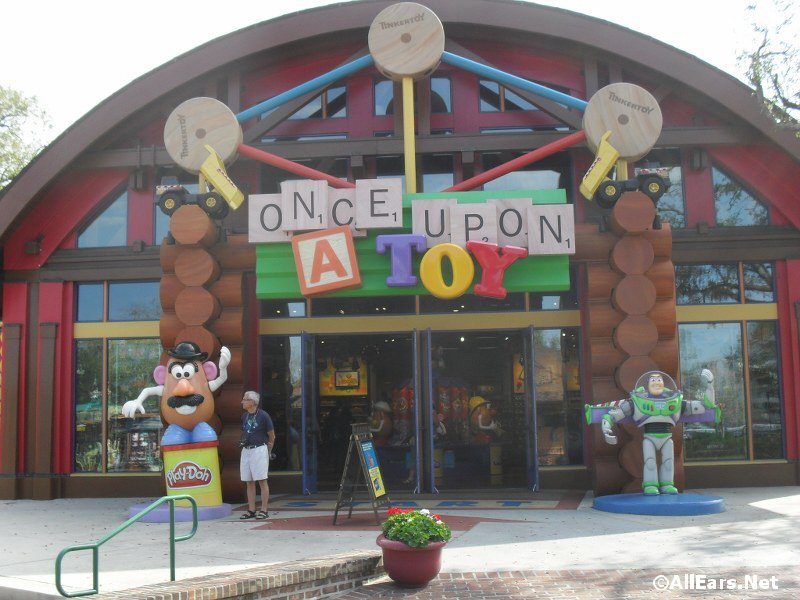 Force for Change Shirts Benefit UNICEF
May 07, 2016
The Star Wars: Force for Change program will return to Disney Parks on May 4, 2016, with T-shirts for adults and youth bearing the logo for the upcoming film Rogue One: A Star Wars Story (in theaters December 16, 2016). Twenty-five percent of the retail sale price of these shirts, created especially for Disney Parks, will be donated to the U.S. Fund for UNICEF in support of UNICEF Kid Power. The shirts will be released at the following locations: The Star Trader and Star Wars Launch Bay in Disneyland Park; D-Street and World of Disney at Downtown Disney District; Tatooine Traders and Star Wars Launch Bay at Disney's Hollywood Studios; Star Wars Galactic Outpost and Once Upon A Toy at Disney Springs; and Merchants of Venus in the Magic Kingdom. Note that these items will NOT be available in the Disney Parks online store or via the Shop Disney Parks mobile app.
DISCUSSION: Should Special-Event Merchandise Only Be Sold at the Event?
May 05, 2016
Special Disney events, such as the Halloween and Christmas parties and park anniversaries, usually mean a new line of commemorative products will be offered for a limited time at the place where the special event is taking place. There is some degree of exclusivity because these items can only be purchased at the events they represent. (Secondary-market sellers are another story.)
Runners Line Up for Tinker Bell Race Weekend
May 04, 2016
The Tinker Bell Half Marathon Weekend takes place at the Disneyland Resort this weekend, May 5-8. Events include the Health and Fitness Expo, Kids Races, Never Land 5K, Tinker Bell 10K, and Tinker Bell Half Marathon, as well as the Pixie Dust Challenge for those participating in the 10K and half marathon.
PHOTO UPDATE: Disneyland Resort, Including Star Wars Land Construction
April 29, 2016
Guest photographer Jason of disneygeek.com shares photos and short video clips of his recent walk arount Disneyland Resort. He includes some images from the construction site of the new Star Wars themed land that's now under way.