Walt Disney World News
Disney Cruise Line
Disneyland Resort
SeaWorld Orlando
Site News
News Around the World
News Filters:
---
20 Years of Epcot's International Food and Wine Festival - What's New!
May 28, 2015
Disney chefs and festival programmers are whipping up a feast of surprises to celebrate the 20th annual event in style. New wine tastings, rockin' parties and culinary experiences built around the 20-year milestone will bring together loyal festival fans and first-timers. As part of the celebration, Chef Remy of the Disney animated film "Ratatouille" will invite guests to join a culinary scavenger hunt.
Related Links:
-- 2015 Eat to the Beat Concerts Announced! Chaka Khan, Everclear Among New Acts

Beach Party Kicks Off at Typhoon Lagoon - Exclusive Interview with Disney Channel Star Ross Lynch
May 27, 2015
Walt Disney World kicked off its summer Teen Beach 2: Beach Party at Typhoon Lagoon on Friday, and we were there to hear as-of-yet unreleased songs from the soundtrack, see choreographed dances that will make kids want to jump up and join in, and talk to one of the stars, Ross Lynch, about his role in the new film.
Hocus Pocus Villain Spelltacular Coming to Mickey's Not So Scary Halloween Party
May 27, 2015
The Disney Parks Blog has announced an all new castle show for this year's Mickey's Not So Scary Halloween Party called <strong>Hocus Pocus Villain Spelltacular!!</strong>

The famouse Sanderson Sisters from the 1993 movie Hocus Pocus, will host their own show and use their magic to create a Spelltacular evil Halloween Party.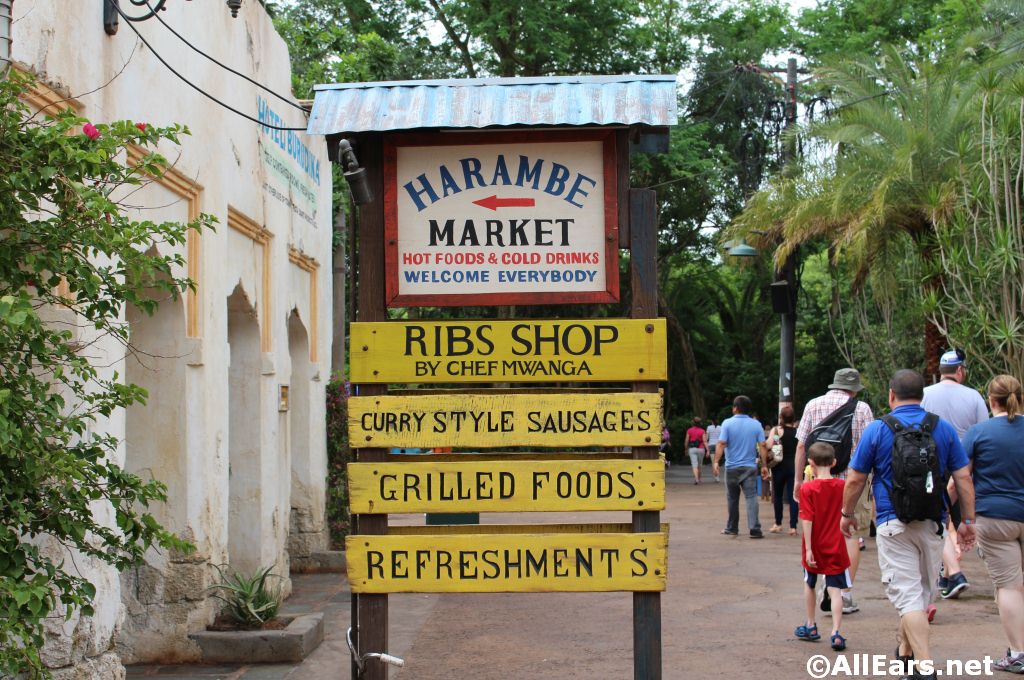 The Harambe Market in Africa is Open
May 26, 2015
This addition to the Africa section of Animal Kingdom offers open-air marketplace with African inspired street foods.
Where to Stay? On or Off Disney Property
May 24, 2015
One important decision you will make as you plan your trip to Walt Disney World, is whether to stay on-site at a Disney resort or off-site at one of the many hotels in the surrounding area. The purpose of this page is to offer some suggestions as to what criteria might be considered when making such a decision and to summarize the main advantages and disadvantages of each choice.
Star Tours Origins
May 24, 2015
Disney and Lucasfilm have been working with many different writers preparing an official (and canon) series of stories that bridges the 30-year gap between the events of the movies "Return of the Jedi" and "The Force Awakens."

A plethora of stories and new characters that appeared in novels, comic books, video games, Disney theme park attractions and animated series that were considered part of an "Expanded Universe" will now be tossed aside in order to create a more coherent history for the franchise.

Before the release of the movie "Star Wars: The Force Awakens" in December, fans will see the release of almost two dozen books -- from novels to comics to storybooks -- to help bring audiences up to speed and foreshadow the new films.
Caribbean Beach Pirate Room Photo Gallery
May 24, 2015
Just updated our Pirate Room photos at Caribbean Beach. These rooms are really well done and should have everyone going "ARGH".
Disneyland Kicks Off 60th Anniversary Celebration
May 22, 2015
The Disneyland Resort Diamond Celebration begins Friday, May 22, 2015, celebrating 60 years of Disney magic with three new nighttime spectaculars, dazzling decor and an exciting sweepstakes that will award authentic diamonds and one-of-a-kind prizes to some lucky guests.

Nighttime will glitter as never before with three, sensational shows that expand the 60-year tradition of innovative and immersive storytelling: the brilliant, high-energy "Paint the Night" parade and "Disneyland Forever" fireworks spectacular at Disneyland Park, and the all-new "World of Color - Celebrate! The Wonderful World of Walt Disney" at Disney California Adventure Park. In "World of Color - Celebrate!," Mickey Mouse and award-winning actor Neil Patrick Harris will tell the story of Walt Disney and the Happiest Place on Earth with film, animation, music and spectacular fountains.
Related Links:
-- Up All Night at Disneyland's 24 Hour Party
-- Paint the Night In-depth Blog
-- VIDEO: Paint the Night - Disneyland's New Parade
-- VIDEO: Disneyland Forever Fireworks from Main Street
-- VIDEO: Disneyland Forever Fireworks from Fantasmic Viewing Area
-- Mad Tea Party Returns for Summer 2015

Make Family Memories at 24-Hour Event
May 21, 2015
While many families will focus on traditions of backyard barbecues and swimming for Memorial Day weekend, my family will usher in summer with our own tradition of staying up all night in the Magic Kingdom.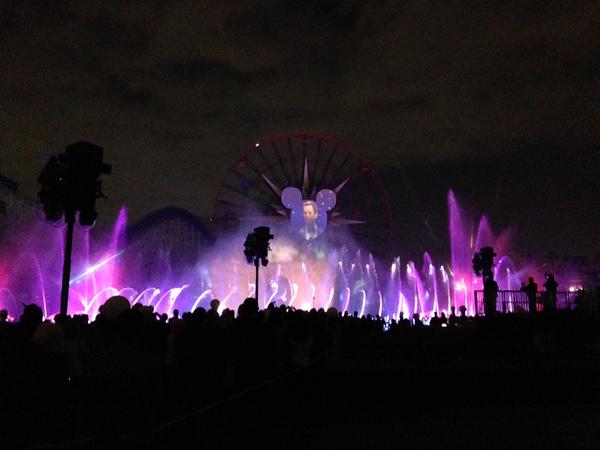 World of Color Celebrate VIDEO
May 21, 2015
A brand new World of Color show debuted last night at Disney California Adventure called Celebrate. It is a tribute to Walt Disney and Disneyland.
New Nighttime Spectaculars Plus Disneyland's Magic
May 21, 2015
Three new nighttime spectaculars will dazzle guests as the Disneyland Resort launches its Diamond Celebration Friday, May 22, 2015. The fun and festivities will begin with a 24-hour party that kicks off the summer travel season.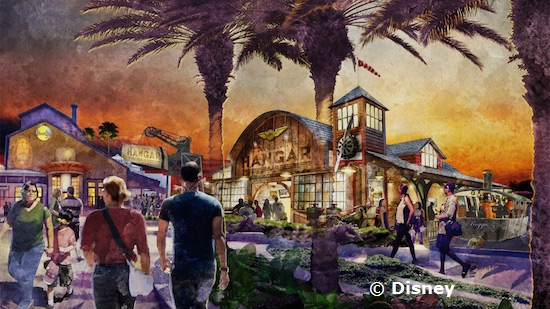 Indiana-Jones Themed Lounge Coming to Downtown Disney
May 21, 2015
A new Disney-owned and operated lounge with an aviation theme is being constructed at Downtown Disney between Paradiso 37 and the recently opened BOATHOUSE restaurant. The 150-seat Jock Lindsey's Hangar Bar will feature unique cocktails and small plates, such as "Rolling Boulder Meatballs" and "Air Pirates Everything Pretzels". The venue's decor, with its propeller-based ceiling fans and diving bell "booth," carries out its storyline as the hangout of Indiana Jones's frequent pilot, Jock Lindsey, who also happened to have a pet snake named Reggie. The main room will house an expansive bar, with vintage travel posters covering the walls and correspondence between Jock, Indy and their fellow adventurers on display. Outside seating will be available on Jock's old steamboat named "Reggie" and in nearby seating on the adjacent deck. Jock Lindsey's Hangar Bar is set to open this fall at Downtown Disney.
World of Color Celebrate Report
May 21, 2015
Our team is in Disneyland checking out everything new for the 60th anniversary. Here is Laura's take on the new World of Color - Celebrate
Tickets NOW on Sale for "Thank You for 30" Anniversary Special Event
May 17, 2015
Tickets will be issued on a first-come/first-served basis. Limit of TWO tickets per person/household/address. All attendees must be 21 or older.
Chef Mickey's Open for Brunch as of May 31!
May 16, 2015
Chef Mickey's at the Contemporary Resort will be open for brunch starting May 31; reservations open May 22. The brunch menu will include breakfast favorites like Mickey waffles, as well as soup and salads, and hot dishes such as barbecued ribs, seafood etouffee and baked salmon. The ice cream bar and Contemporary bakery sweets also will be part of the buffet. Just as at the restaurant's breakfast and dinner, Chef Mickey and his pals will make a stop at each table. Hours for brunch are 11:30 a.m.-2:30 p.m. (Breakfast is 7-11:30 a.m. and dinner 5-9:30 p.m.) Meals are one table-service entitlement on the Disney Dining Plan. For reservations, visit www.disneyworld.com/dine or call 407-WDW-DINE.
More Retailers Announced for Disney Springs
May 16, 2015
Exciting new high-profile tenants, including fashion retailers Zara, Tommy Bahama, Lilly Pulitzer, UNIQLO and PANDORA, are the latest to sign on as Downtown Disney continues its expansion into Disney Springs at Walt Disney World Resort.
Ticket Sale Announcement "Thank You for 30" Anniversary Special Event
May 16, 2015
Tickets for our "Thank You for 30" Anniversary Special Event will go on sale May 17th at 3 p.m. Eastern time. A link will be on the main http://allears.net page. Tickets will be issued on a first-come/first-served basis.

Limit of TWO tickets per person/household/address. All attendees must be 21 or older.
Disneyland Resort Photo Update: May 8, 2015
May 16, 2015
Contributing photographer Jason of disneygeek.com sends us these photos from his trip to the Disneyland parks on Friday, May 8, 2015.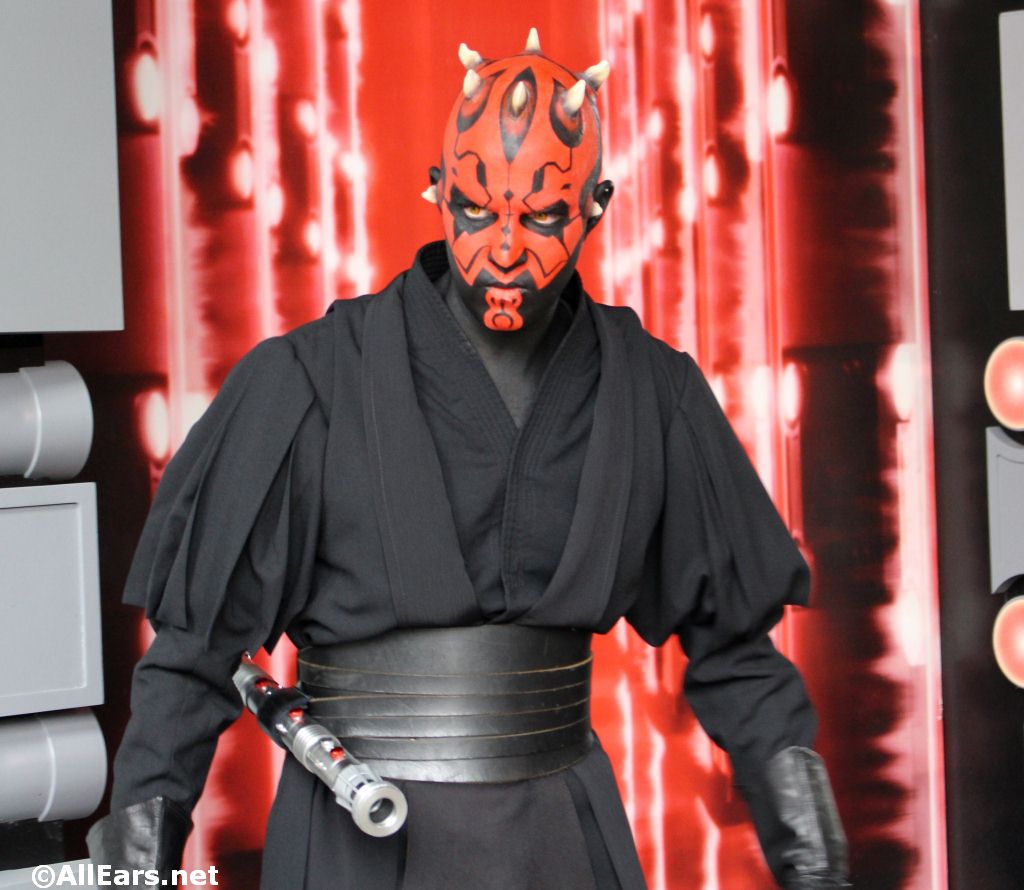 Star Wars Weekends Continue
May 14, 2015
This year from May 15 through June 14, every Friday, Saturday and Sunday, Star Wars Weekends will feature more than 60 Star Wars characters roaming the theme park for meet-and-greet opportunities, a Star Wars motorcade, the "Symphony in the Stars" nighttime fireworks spectacular saluting iconic sounds of the films, event-exclusive merchandise at Darth's Mall, Star Wars-inspired dining offerings and specialty food and beverages, interactive activities, and more. Highlighting the event, Star Wars celebrities will appear in star conversations, talk shows, autograph sessions, and the motorcades. Bringing his evil prowess to Star Wars Weekends for the first time, actor Ian McDiarmid, Senator/Emperor Palpatine in the Star Wars movies, kicked off Weekend I May 15-17.
Related Links:
-- Star Wars Weekends #2 Event Guide and Map
-- Legends of the Force Motorcade Photo Gallery
-- VIDEO: Star Wars Weekends Host James Arnold Taylor
-- Character Encounters Photo Gallery
-- What's new in 2015 - Interview VIDEO
-- Rebel Hangar
-- Special Dining Experiences and Packages
-- Star Wars Weekends Merchandise
-- Celebrities Scheduled to Attend Star Wars Weekends

What to expect at Walt Disney World's Coolest Summer Ever 24-hour party
May 12, 2015
In less than two weeks, Walt Disney World will host its third annual 24-hour party to kick off the summer travel season. Each 'all-nighter' has taken place at the Magic Kingdom on Memorial Day weekend and has included special entertainment, unique food options and even themed merchandise. Plus, guests are invited to dress in costumes to show their Disney Side.