General Info
Attraction Info
Parades and Shows
News
January
February/
March
Spring
April
May
JuneJuly
August
September
October
NovemberDecember
OTHER THEME
PARKS
Walt Disney World
Theme Park News
News Filters:
---
REVIEW: Early Morning Magic at Magic Kingdom
April 27, 2016
My husband and I had a short Walt Disney World vacation planned when I noticed that Disney was offering something new called Early Morning Magic. I am always one to want to experience what is new in the World so I jumped on this opportunity and made reservations for the first date it was being offered, April 26. We were told to be at the Magic Kingdom queues around 7:30am to check-in and we would then enter the park to be escorted to Fantasyland at 7:45.
Goodall Celebrates New Initiative with Disney
April 27, 2016
Dr. Jane Goodall visited Disney's Animal Kingdom last week to celebrate the 20th anniversary of the Disney Conservation Fund and support the launch of its new initiative called "Reverse the Decline, Increase the Time," which aims to reverse the decline of 10 threatened species through scientific research and increasing the time kids spend in nature.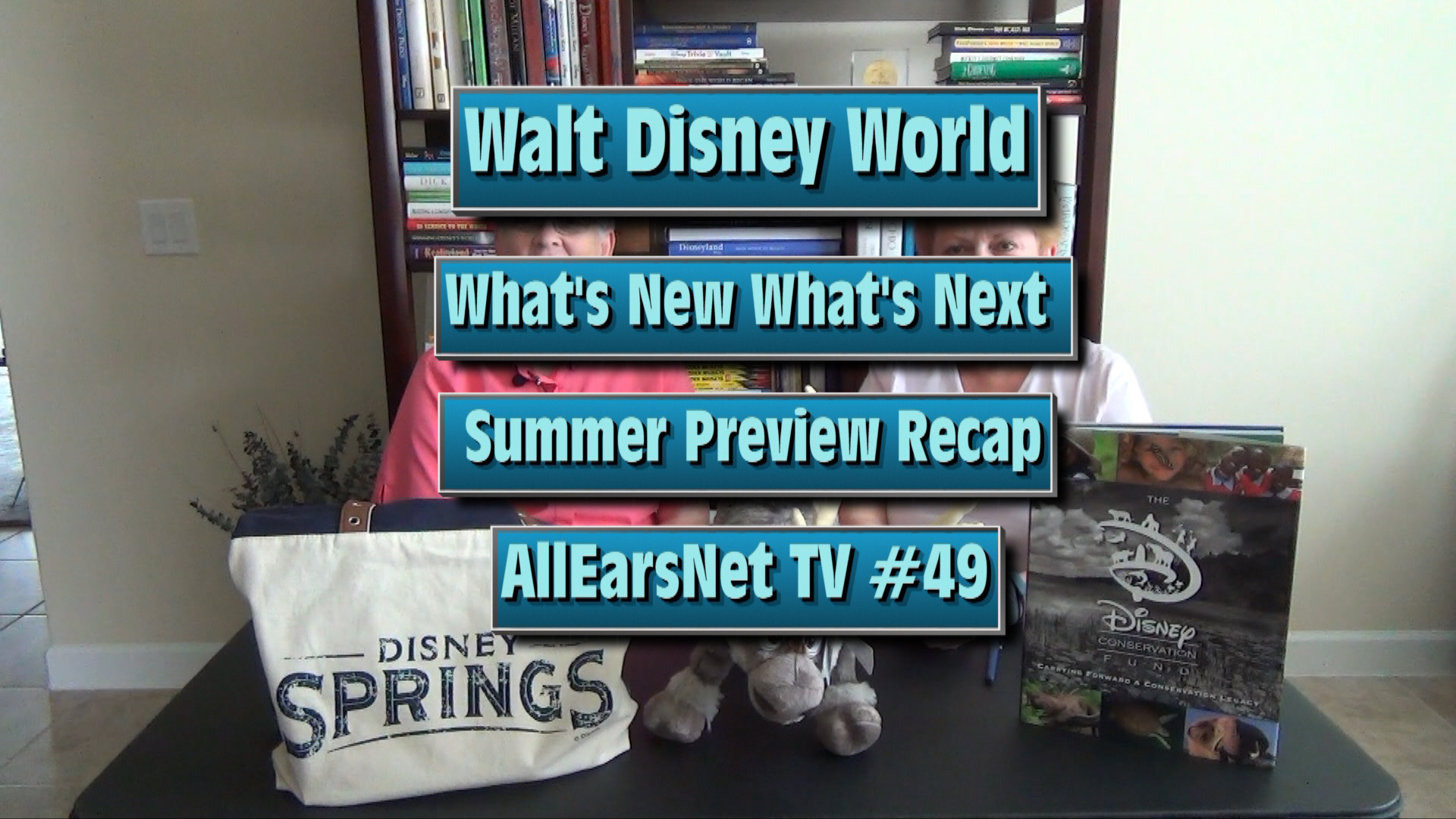 Walt Disney World Summer 2016 Preview: AllEarsNet TV #49
April 24, 2016
Join co-hosts Deb Wills and Deb Koma as they discuss the recent Awaken Summer press event held at Walt Disney World, April 2016. Topics include: Animal Kingdom after dark (Rivers of Light, Tree of Life Awakening, Night-time Safari), Disney Springs, Frozen Ever After in Epcot's Norway, Soarin' Around the World, Adventures by Disney and more.
Related Links:
-- Rivers of Light Sneak Peek VIDEO
-- WDI Interview: Animal Kingdom at Night
-- Video Interview: Awaken Summer
-- Preview Epcot's Soarin' Around the World
-- Princess Elena of Avalor Debuts This Summer
-- Summer Around Walt Disney World
-- Disney's Animal Kingdom Extends Hours into Nighttime
-- New Limited-Engagement Show Celebrates The Jungle Book

Earth Day Activities Around the World!
April 21, 2016
Earth Day (April 22) is Disney's Animal Kingdom's birthday, and it will celebrate with special events. Epcot marks the day with special events throughout the weekend, as well.
Related Links:
-- Earth Day Celebrations Announced

Star Wars-Themed Lands Reach Groundbreaking
April 20, 2016
Disney Parks Blog announced the official groundbreaking of the Star Wars-themed lands at Disneyland park in California and Disney's Hollywood Studios in Florida by publishing an exclusive 360-degree photo, taken from the 14-acre construction site at Disneyland.
Princess Elena of Avalor Coming to Magic Kingdom in August
April 20, 2016
Disney Parks will welcome its first princess inspired by diverse Latin cultures. Princess Elena of Avalor will be appearing at Walt Disney World Resort this summer and at Disneyland Resort in the fall, following her television debut in a new animated series this summer on Disney Channel.
World Showcase Adventure Accessible on Personal Smartphones
April 14, 2016
You can now use your own personal smartphone to play the interactive game Phineas and Ferb: Agent P's World Showcase Adventure in Epcot. To play this game, which takes you on a hunt around the park's World Showcase and features the Perry the Platypus and Dr. Doofenschmirtz characters from the popular children's cartoon Phineas and Ferb, visit a "recruitment center" at the Odyssey Bridge or near the International Gateway. Cast members there will activate your personal device to guide you on your mission. (If you don't want to use your own phone, you can still play the game by picking up a F.O.N.E., or Field Operative Notification Equipment.) Missions will begin in one of the following World Showcase pavilions: Mexico, China, Germany, Japan, France and United Kingdom. Phineas and Ferb: Agent P's World Showcase Adventure is included in the price of theme park admission.

Monorail Work Continues Through June 2016
April 13, 2016
Work on the Monorail has been extended through June 2016. During this time, expect modified service and/or routes. If you plan to use this form of transportation during your visit check on the best option available, as alternative transportation options will be available.
Disney Springs Lost-and-Found Procedures Adjusted
April 13, 2016
Guest Relations at Disney Springs Marketplace will now keep lost-and-found items for three days before sending them on to Theme Park Lost and Found at the Transportation and Ticket Center. If trying to locate a lost item, you can visit Guest Relations in the Marketplace or call 407-828-3150, option 9 during operating hours: Sunday-Thursday, 9 a.m.-11:30 p.m. and Friday-Saturday, 9 a.m.-midnight. Note that items found at Disney theme parks and water parks are held at the park's Guest Relations for one day before they are transferred to Theme Park Lost and Found.
Star Wars: A Galaxy Far, Far Away Show - Review
April 13, 2016
A new stage production - "Star Wars: A Galaxy Far, Far Away" - and a stormtrooper procession debuted last week as part of the summer's "Star Wars Awakens" entertainment offerings. Blogger Kristin Ford and her family were in the park and experienced both this past weekend.

Changes to FastPass+ Allow More Flexibility, Option to Book Single FP+ at a Time
April 10, 2016
As of April 10, 2016, the following enhancements will be available when making FastPass+ selections:

1. You will now be able to choose individual FastPass+ experiences and times. This means you have more control over choosing your FP+ times and no longer need to make all of your selections for the day at the same time.

2. You will be able to book fewer than three FP+ experiences -- you're not required to book three at a time.

3. When you have used your first three FastPass+ selections, you will now be able to make an additional FastPass+ selection via your mobile device on the My Disney Experience mobile app. (In-park kiosks are still available, however.) Once you've used a fourth FP+, you can select another, and so on.
Destination D: Amazing Adventures at WDW in November 2016
April 07, 2016
Since Walt Disney first brought his groundbreaking True-Life Adventures to the big screen, adventure has played a pivotal role in Disney entertainment, from the Jungle Cruise and Pirates of the Caribbean to the new planet of Pandora, which will soon be unveiled at Disney's Animal Kingdom. This year, members of D23: The Official Disney Fan Club are invited to join the excitement at D23 Destination D: Amazing Adventures, a celebration of these landmarks of the past, present, and future. The two-day event will take place November 19 and 20, 2016 at Disney's Contemporary Resort at Walt Disney World Resort.
MuppetVision 3D now in renamed Muppets Courtyard
April 06, 2016
The remaining attraction in the vicinity of the Hollywood Studios expansion, MuppetVision 3D, is now listed on park guide maps as being located in the renamed Muppets Courtyard.
Disney Early Morning Magic: Early Access to Magic Kingdom + Breakfast
April 06, 2016
Families who want to get an early start at Magic Kingdom may be interested in a new offering called Disney Early Morning Magic.

Starting April 26, the Disney Early Morning Magic package will allow a very limited number of guests to be the first to enter Magic Kingdom on Tuesday and Saturday mornings. (Disney Early Morning Magic does NOT take the place of morning Extra Magic Hours, which will be offered on different dates.) The package includes breakfast and early access to three attractions: Peter Pan's Flight, The Many Adventures of Winnie the Pooh and The Seven Dwarfs Mine Train. Cost is $69 for adults, $59 for children, plus tax.
Zootopia Characters Appearing in Move It! Shake It!
April 06, 2016
"Zootopia" characters Nick Wilde and Judy Hopps are now appearing daily in the Move It! Shake It! Dance and Play It! Street Party at Magic Kingdom, which makes its way through the park several times each day.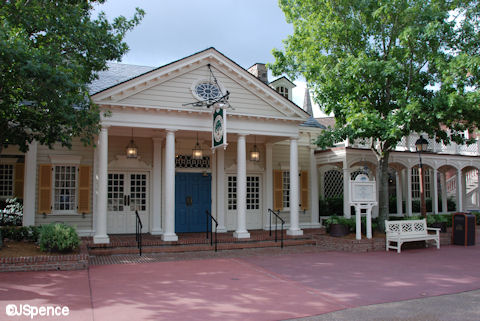 VIDEO: AllEarsNet TV Review - Liberty Tree Tavern
April 06, 2016
Deb Wills and Deb Koma share their thoughts on dining at the Magic Kingdom's Liberty Tree Tavern at dinnertime in this episode #48 of AllEarsNet TV.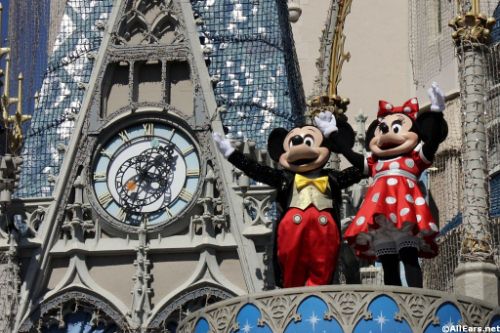 Final Dream Along With Mickey Show Makes Way for New Production
April 05, 2016
Dream Along With Mickey gave its final performance on the Magic Kingdom's Castle Forecourt Stage last week. It will be replaced by Mickey's Royal Friendship Faire sometime this summer.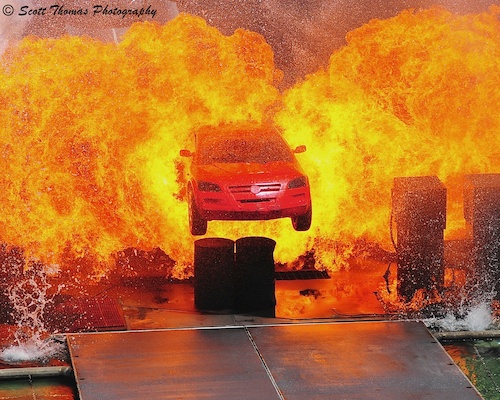 Attractions Close for Studios Expansion
April 05, 2016
The following locations closed as scheduled last week in Disney's Hollywood Studios to make way for the theme park's Star Wars Land and Toy Story Land expansion projects:
Honey, I Shrunk the Kids Movie Set Adventure
Lights! Motor Cars! Action! Extreme Stunt Show
Monsters Inc. Meet and Greet
Streets of America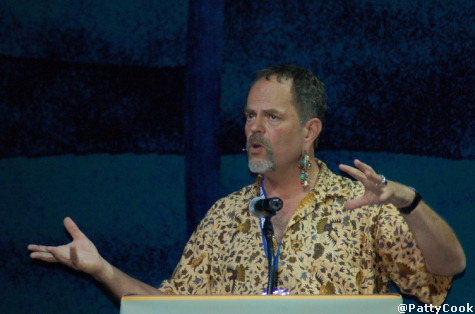 Meet Imagineer Joe Rohde on April 22
April 05, 2016
Imagineer Joe Rohde will be at the Discovery Trading Company (previously Disney Outfitters) at Disney's Animal Kingdom for a special meet and greet from 1 to 2 p.m. on April 22.
Rivers of Light and Nighttime Disney's Animal Kingdom Experiences Delayed!
April 05, 2016
The Disney Parks Blog has announced the nighttime experiences at Animal Kingdom will not open April 22nd as planned and are delayed.