General Info
Attraction Info
Parades and Shows
News
January
February/
March
Spring
April
May
JuneJuly
August
September
October
NovemberDecember
OTHER THEME
PARKS
Walt Disney World
Theme Park News
News Filters:
---
Mobile Ordering Now Available at Cosmic Rays
July 20, 2017
Mobile Ordering through the My Disney Experience app is now available for Cosmic Ray's in the Magic Kingdom.
New Adventures for Mission: Space
July 19, 2017
Changes are coming soon to Epcot's Mission: Space for both the Orange and Green missions.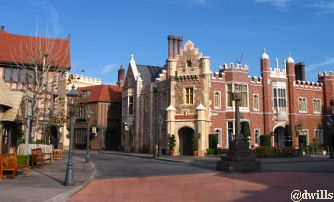 Queen's Table in UK Pavilion Hosts Special Guests
July 16, 2017
The Queen's Table in the United Kingdom Pavilion at Epcot's World Showcase is hosting several special guests this month:

-- Representatives from the well-known British company Yardley London will be on hand from noon to 7 p.m. on July 14 to 16 and July 21 to 23 to showcase the company's latest fragrance and beauty products.

-- British perfumer Penhaligon's, which offers fragrances for men and women, will be featured from noon to 7 p.m. on July 28 to 29.

New Experiences Coming to Disney around the Globe
July 15, 2017
Today at D23 Expo 2017, Walt Disney Parks and Resorts announced an extraordinary line-up of brand new attractions and experiences coming to its parks and resorts around the world as it continues to revolutionize the guest experience, starting from before guests even arrive for a Disney vacation to the many memories that last a lifetime.
Related Links:
-- D23 Expo Video Playlist
-- "Minnie Van" Service Starts at Walt Disney World
-- VIDEO: Changes at Epcot Announced
-- Guardians of the Galaxy, Ratatouille Coming to Epcot
-- Disney Skyliner, Minnie Vehicles to Transport Guests
-- Disney Vacation Club Announces Disney Riviera Resort; New Skyway
-- Toy Story Land to Open in Summer 2018
-- Disney Planning Three, Not Two, New Cruise Ships
-- Tron Attraction Coming to Magic Kingdom
-- Space Restaurant Coming to Epcot
-- D23 WDW Announcements: Recap by Deb Wills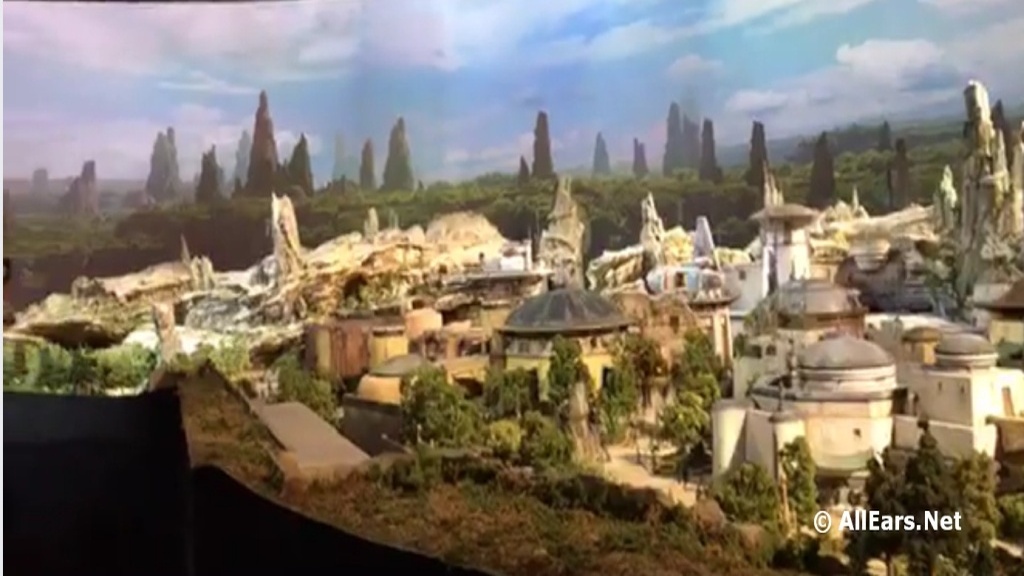 Star Wars Land Model Revealed at 2017 D23 Expo
July 13, 2017
During a special preview of D23 Expo 2017, Walt Disney Parks and Resorts Chairman Bob Chapek unveiled a first look at the epic, richly detailed model of the Star Wars-themed lands under development at Disneyland park in Anaheim, Calif. and Disney's Hollywood Studios in Orlando, Fla. This stunning exhibition, on display in Walt Disney Parks and Resorts' "A Galaxy of Stories" pavilion at D23 Expo, is yet another example of the breathtaking new worlds, immersive storytelling and transformational guest experiences that set Disney apart. Chapek plans to share exciting new details about the project during the Walt Disney Parks and Resorts Hall D23 Presentation on Saturday.
Related Links:
-- Star Wars Resort to Allow Guests to Step into the Story
-- Star Wars: Galaxy's Edge Official Name of New Land
-- Plans for Star Wars Resort Announced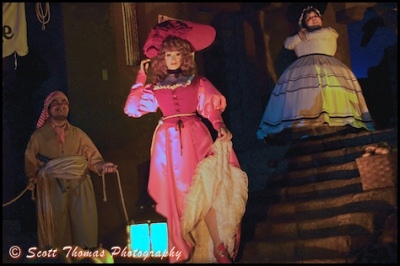 Changes Ahead in 2018 for "Redhead" in Pirates of the Caribbean Attraction
July 13, 2017
A famous scene in the Magic Kingdom's Pirates of the Caribbean is scheduled to be updated in 2018 during the attraction's next refurbishment. The well-known "Redhead," who is currently up for auction in the Mercado scene, will become a buccaneer herself, helping relieve the townsfolk of their goods and money. The new scene will also be installed in Disneyland's version of the ride next year.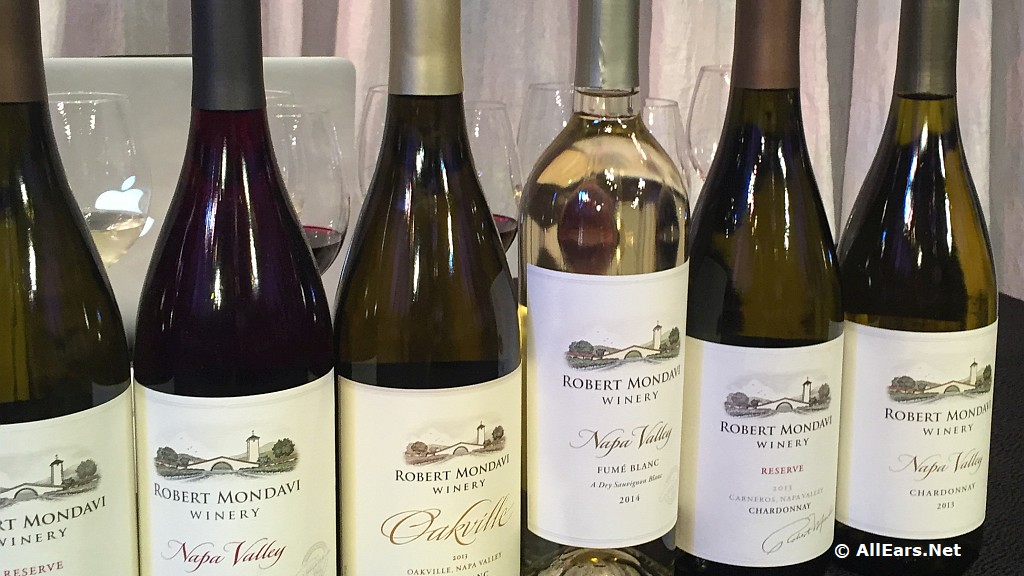 2017 Epcot Food and Wine Festival - BOOKING FOR GENERAL PUBLIC STARTS JULY 20!
July 13, 2017
Details of the 22nd annual Epcot International Food and Wine Festival were announced today. The 75-day event, which runs from August 31 to November 13 this year, will celebrate Epcot's 35th anniversary with a record number of Festival Marketplaces -- 35 -- as well as food and wine pairings, tasting events and premium dining experiences across the Walt Disney World Resort.
Related Links:
-- Epcot Food and Wine Festival Preview, Part 1
-- Epcot Food and Wine Festival Preview, Part 2
-- Culinary Demos, Beverage Seminars, Mix It Make It!
-- Marketplace Menus for 2017 Epcot Food and Wine Festival
-- Special Ticketed Food and Wine Festival Events
-- 2017 Eat to the Beat Concerts Announced!
-- The Chew Returns to Food and Wine Festival; Launches Sweepstakes

Food and Wine Festival Previews This Week
July 12, 2017
JULY 14: FOOD AND WINE FESTIVAL MEDIA PREVIEW: AllEars.Net's Deb Koma will be attending this event, as well as the Tables in Wonderland festival preview to be held the next day. You can follow her updates on Twitter and Instagram @AllEarsNet.
PHOTOS: Disney Movie Magic
July 07, 2017
On May 26, 2017, a brand new show called Disney Movie Magic debuted in Disney's Hollywood Studios without any fanfare. The 10-minute show transforms the park's iconic Chinese Theatre with special lighting and state-of-the-art projection mapping technology to put you right in the middle of a high-energy celebration of films from Disney's family of studios. Highlighted films range from Disney classics like Mary Poppins, Jungle Book, Swiss Family Robinson and 20,000 Leagues Under the Sea, to contemporary blockblusters such as Pirates of the Caribbean, Tron: Legacy and Guardians of the Galaxy Vol 2. The projections are set to a musical score composed and arranged by Michael Patti (Star Wars: A Galactic Spectacular, StarBright Holidays). It plays nightly before the Star Wars fireworks.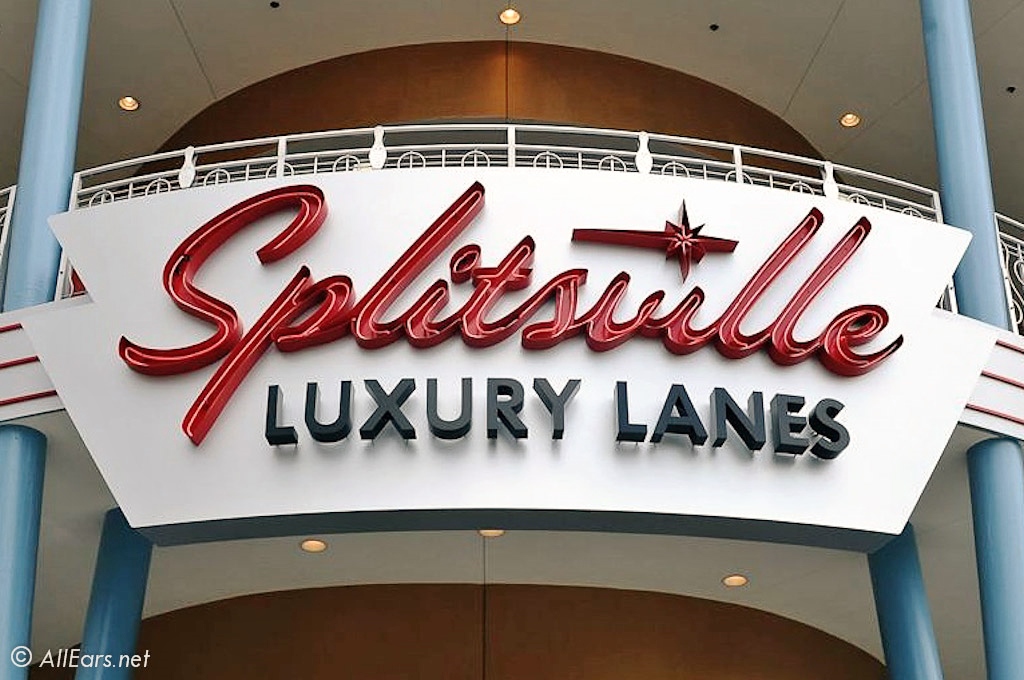 Splitsville Adds Enclosed Balcony and Expanded Dining
July 06, 2017
Splitsville Luxury Lanes in Disney Springs West Side has added an enclosed balcony on its second floor, expanding its dining area. There are tables and high-tops along the windows, as well as a new bar.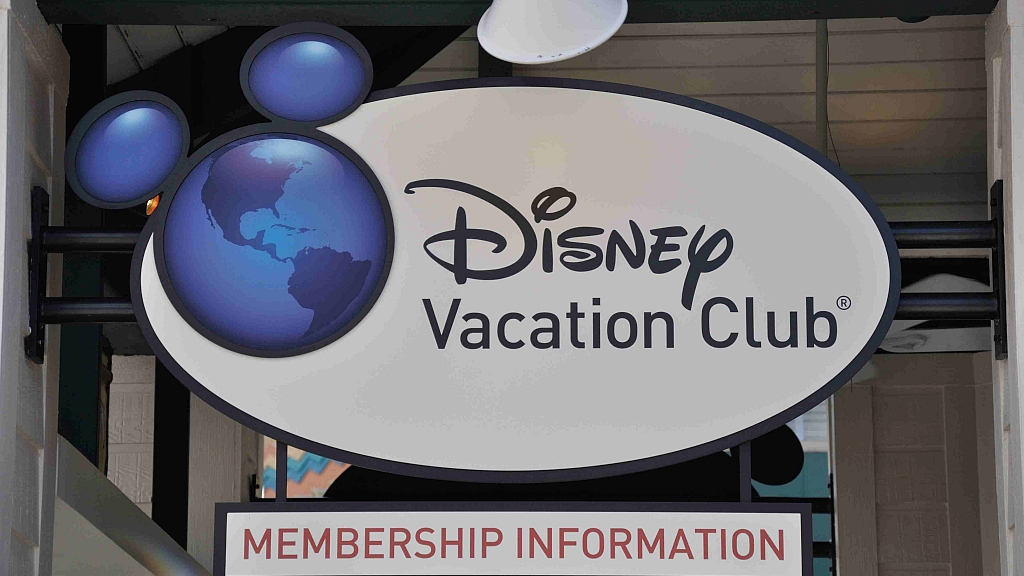 Discounted Tickets for Disney Vacation Club Members
July 06, 2017
Effective today, and through January 3, 2018, Disney Vacation Club Members and special guests can purchase two new discounted theme park tickets with no blockout dates.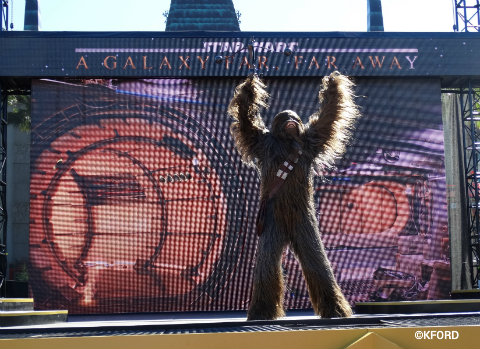 Star Wars: A Galaxy Far, Far Away Updates Include Rey
July 05, 2017
Star Wars: A Galaxy Far, Far Away has returned after a brief hiatus. The show has been updated to include Rey, the heroine of Star Wars: The Force Awakens. In addition, the nighttime show "Star Wars: A Galactic Spectacular" was also updated with sequences from Rogue One: A Star Wars Story.
Reservations Now Available for Minnie's Halloween Dine
July 05, 2017
Reservations are now available for Minnie's Halloween Dine at Hollywood and Vine in Disney's Hollywood Studios. Minnie's Halloween Dine will be available at both lunch and dinner from September 4 to November 5, 2017. Disney Junior Play n' Dine will still be offered at breakfast.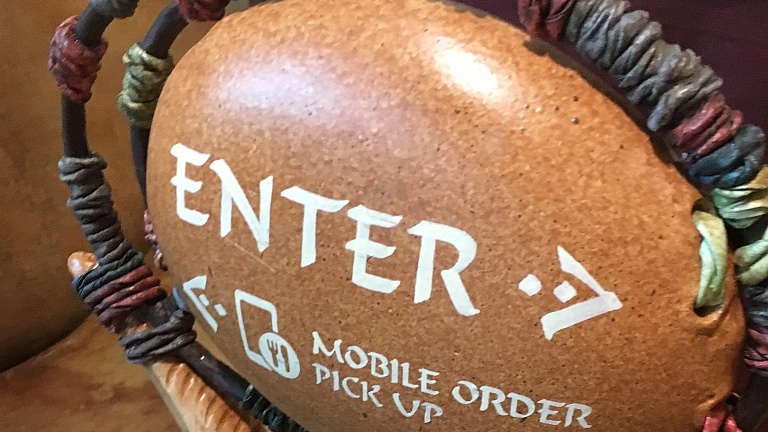 Mobile Order Expands to More Locations
July 03, 2017
The Mobile Order Service that debuted in May with the opening of Satu'li Canteen in Pandora - The World of Avatar in Animal Kingdom has been expanded to include several other counter-service restaurants in the park. You can now order food using the My Disney Experience app also at these locations: Flame Tree BBQ; Pizzafari; and Restaurantosaurus. Only credit and debit cards are being accepted currently; to use Disney Gift Cards, Disney dining plans or any discounts you'll have to order in person at the restaurant. When you arrive at the restaurant, open the app, tap on the image of your character and press the "I'm Here, Prepare My Order" button. When your food is ready, you will receive a notification from the app and pick up your meal at the area with the "Mobile Order Pick Up" sign.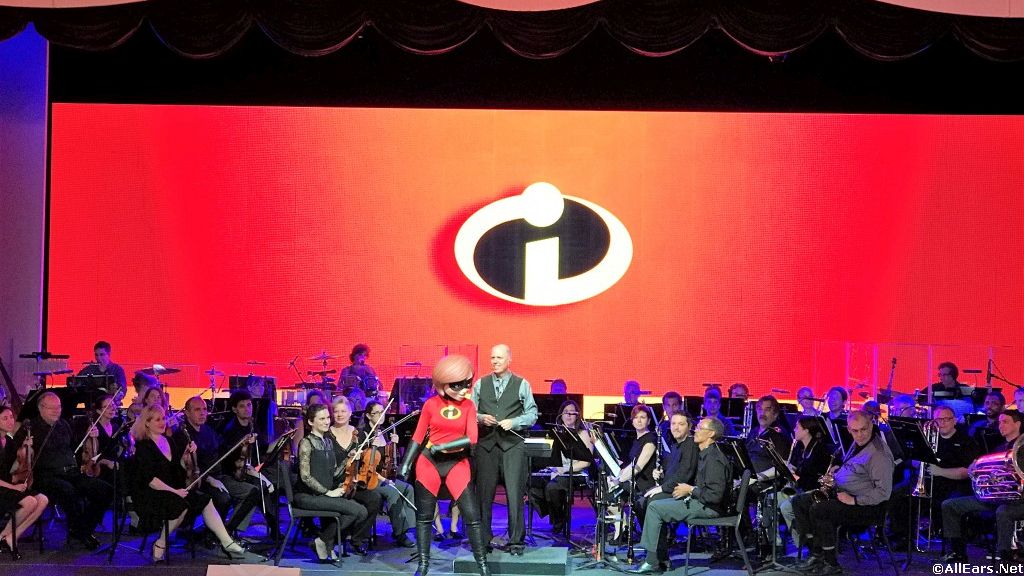 Music of Pixar Live Photo Gallery Plus Director Interview
July 02, 2017
We have a new photo gallery of the Music of Pixar Live at Disney's Hollywood Studios. Also check out the video as Show Director Tom Vazzana shares his insights into the show.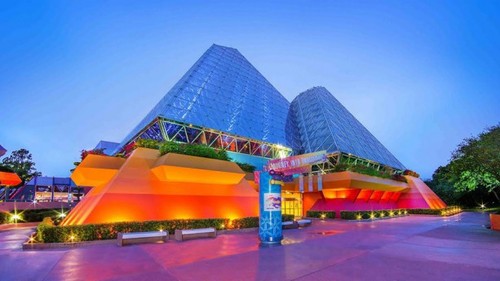 New Films Showing at Epcot Film Festival Attraction
July 02, 2017
The Disney and PIXAR Short Film Festival at Epcot reopened June 19, 2017 with new films. "Feast" and "Piper" replaced "La Luna" and "For the Birds."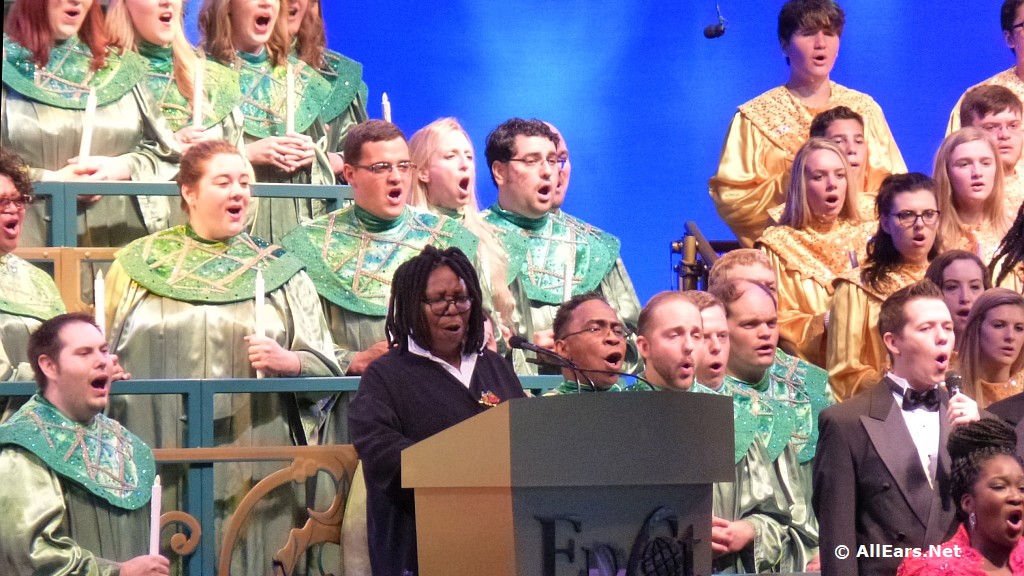 Candlelight Processional Dining Packages on Sale
June 30, 2017
Dining packages for the 2017 Candlelight Processional went on sale June 30. Only a few celebrity narrators have been confirmed so far for the annual holiday event, which runs November 24 - December 30 this year.
Tea Guru Stephen Twining Meeting Guests at Tea Caddy
June 29, 2017
This week you can meet Tea Guru Stephen Twining at the Tea Caddy in the United Kingdom Pavilion. Twining will be signing tea accessories and talking about tea from noon until 6 p.m. daily June 29 through July 3.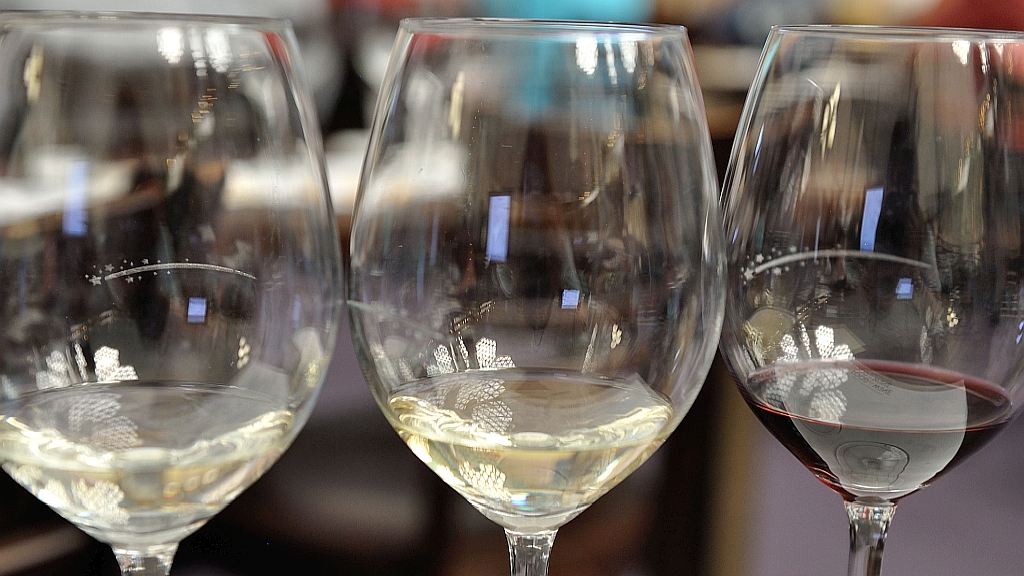 2018 Dining Plan Includes Alcoholic Beverages
June 25, 2017
Walt Disney World 2018 vacation packages went on sale today, June 20. Along with that, Disney has released updated information for its 2018 Dining Plans. One of the biggest changes to next year's dining plans is the inclusion of certain alcoholic beverages. Other specialty beverages have also been included in the plans. For guests with a vacation package that includes a Disney Dining Plan:
-- Those over the age of 21 can choose either one single serving non-alcoholic beverage (including specialty beverages where offered) or one single serving mixed cocktail, beer, or wine. A single-serving non-alcoholic beverage includes items such as: artisanal milkshakes; fresh smoothies; premium hot chocolates; soda, coffee, or tea. A single-serving alcoholic beverage includes items such as: beer or cider; wine or sangria; mixed drinks and specialty cocktails (some exceptions apply).
-- Those under the age of 21 can choose a single serving non-alcoholic beverage as described above.
These beverages are included with a table-service or quick-service meal entitlement, not individually.
In addition, prices for the 2018 dining plans are as follows:
-- Quick-Service Dining Plan is $52.49 per night per adult; $21.75 per night per child age 3-9
-- Basic Dining Plan is $75.49 per night per adult; $25.80 per night per child age 3-9
-- Deluxe Dining Plan is $116.24 per night per adult; $39.90 per night per child age 3-9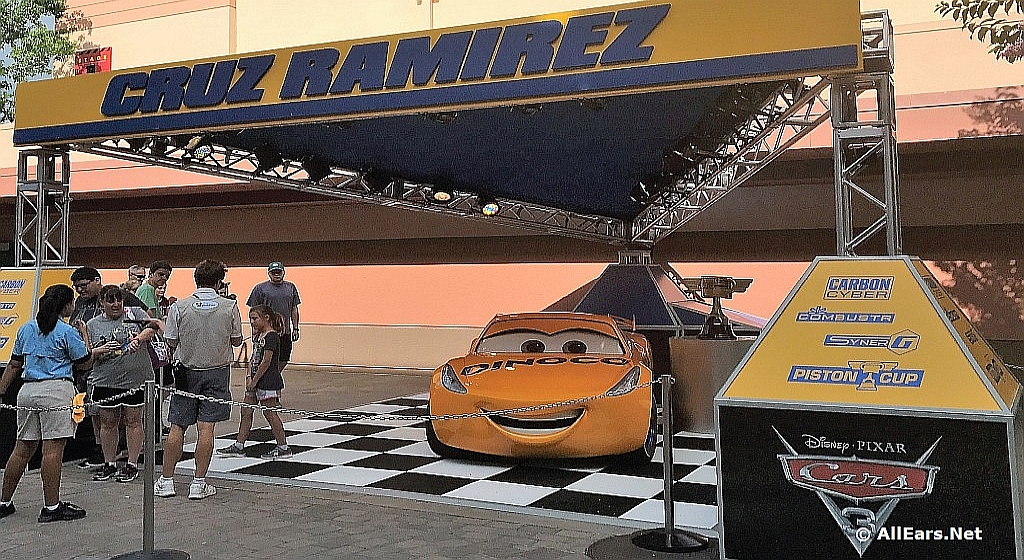 Character Meet and Greets at Disney's Hollywood Studios
June 24, 2017
One of the fun things about Disney's Hollywood Studios is the unique character meet-and-greet opportunities. Some of the characters are regulars (like Chewbacca and Kylo Ren, Buzz and Woody), but others are around for a very limited time. Recently we headed to the Studios and the first order of business were the special characters!