General Info
Attraction Info
Parades and Shows
News
January
February/
March
Spring
April
May
June/July
August
September
October
NovemberDecember
OTHER THEME
PARKS
Walt Disney World
Theme Park News
News Filters:
---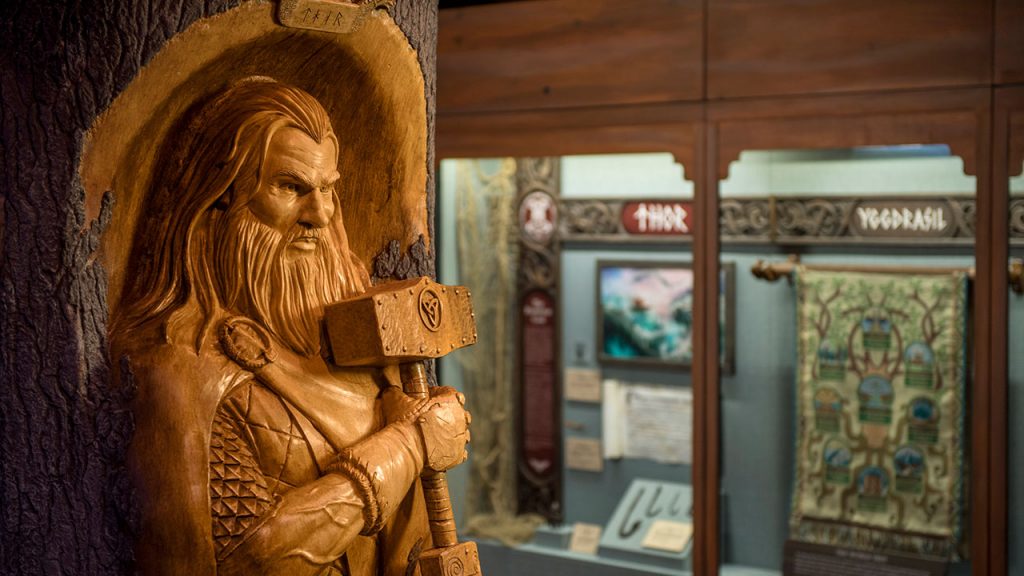 'Gods of the Vikings' Exhibit in Norway
April 21, 2018
The Stave Church Gallery in the Norway Pavilion now showcases a brand-new exhibit called "Gods of the Vikings."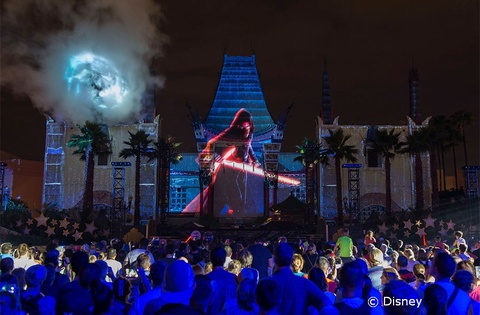 Galactic Nights Event Will Include "Solo: A Star Wars Story" Elements
April 19, 2018
Star Wars: Galactic Nights, to be held at Disney's Hollywood Studios from 7 p.m.-midnight on May 27, will celebrate the entire Star Wars saga, including "Solo: A Star Wars Story," which will hit theaters on May 25. Actor Joonas Suotamo, who plays Chewbacca in "Solo: A Star Wars Story," will make a special appearance at the event. In addition, the event's Star Wars: A Galaxy Far, Far Away presentation will debut some new video moments from "Solo: A Star Wars Story." The park's nighttime projection show, Star Wars: A Galactic Spectacular, also will debut a new action sequence from the Solo film. Tickets are available now for Star Wars: Galactic Nights. Discounts are available for Annual Passholders and DVC Members. Call 407-W-DISNEY (407 934-7639) for details and reservations.
All-New Play Disney Parks App Coming Soon
April 18, 2018
Coming this summer on iOS and Android, guests can play in the parks like never before using this soon-to-launch mobile app to access exclusive experiences at both locations through activities that interact with the surrounding environment. The app will be free to download.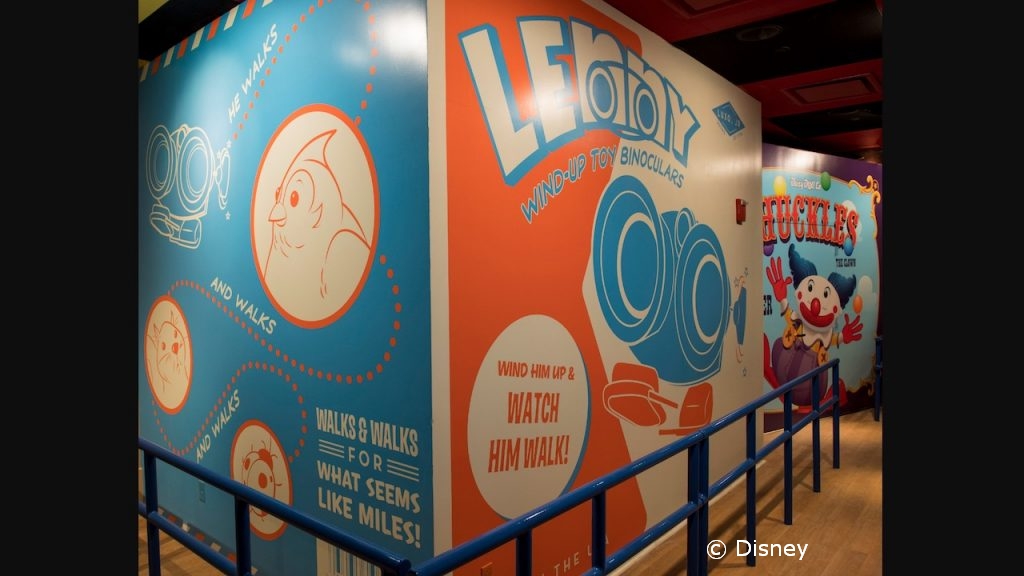 Two New Characters Arrive in Toy Story Mania Queue
April 18, 2018
In other Toy Story Land news, two new characters have been unveiled in the Toy Story Mania! queue at Disney's Hollywood Studios. Lenny, Andy's walking binoculars, and Chuckles the clown, who was introduced in "Toy Story 3," became the latest Toy Story characters to be represented in Toy Story Mania! The boxes the toys originally came in line one section of the queue. These new details were unwrapped as the attraction transforms for the opening of Toy Story Land on June 30. Toy Story Land guests will walk through an all-new entrance featuring a carnival game box to experience Toy Story Mania!, which has been a guest-favorite attraction at the park since it opened in 2008.
FastPass+ Now Open for Toy Story Land Attractions!
April 17, 2018
Guests who are up to 60 days from their Walt Disney World Resort hotel check-in can now choose one FastPass+ reservation for one of the Toy Story Land attractions, plus two other attractions in the park such as Rock 'n' Roller Coaster Starring Aerosmith, The Twilight Zone Tower of Terror, and more, depending on availability. Also, beginning July 1, Disney's Hollywood Studios will operate from 8 a.m-10:30 p.m. for a limited time. In addition, even more Extra Magic Hour opportunities will be available including daily morning Extra Magic Hours, plus evening Extra Magic Hours offered once per week.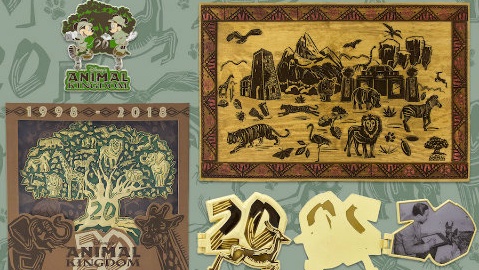 Disney's Animal Kingdom 20th Anniversary
April 07, 2018
Disney's Animal Kingdom will mark its 20th anniversary on Earth Day, April 22, by launching an expanded Party for the Planet celebration that will run through May 5. To commemorate the milestone year, the 500-acre adventure park will offer animal encounters, family-friendly activities, specialty desserts and more. In addition, the new show UP! A Great Bird Adventure, featuring characters from the Disney-Pixar film UP, will debut on April 22.
Related Links:
-- 20 Years of Major Milestones for Animal Kingdom
-- D23 Celebrates 20 Years of Animal Kingdom - Special Event
-- Animal Kingdom's 20th Anniversary Merchandise
-- Pandora Utility Suit Coming on April 22!
-- UP! A Great Bird Adventure Takes Flight April 22
-- Tiffins Talks During 20th Anniversary Celebration
-- Donald's Dino Bash! to Debut May 25
-- Limited-Time Tour "A Path Less Traveled" at Animal Kingdom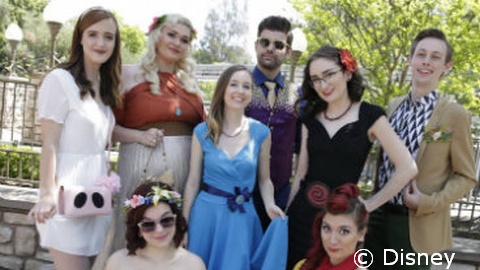 Dapper Day Events at WDW April 27-29
April 05, 2018
Dapper Day -- a day designated for guests to dress up and visit the Disney Parks -- has become more and more popular each year. And although the celebration is not officially sponsored by Disney Parks, one report says that about 30,000 people participate in this event, which is held twice a year at each park.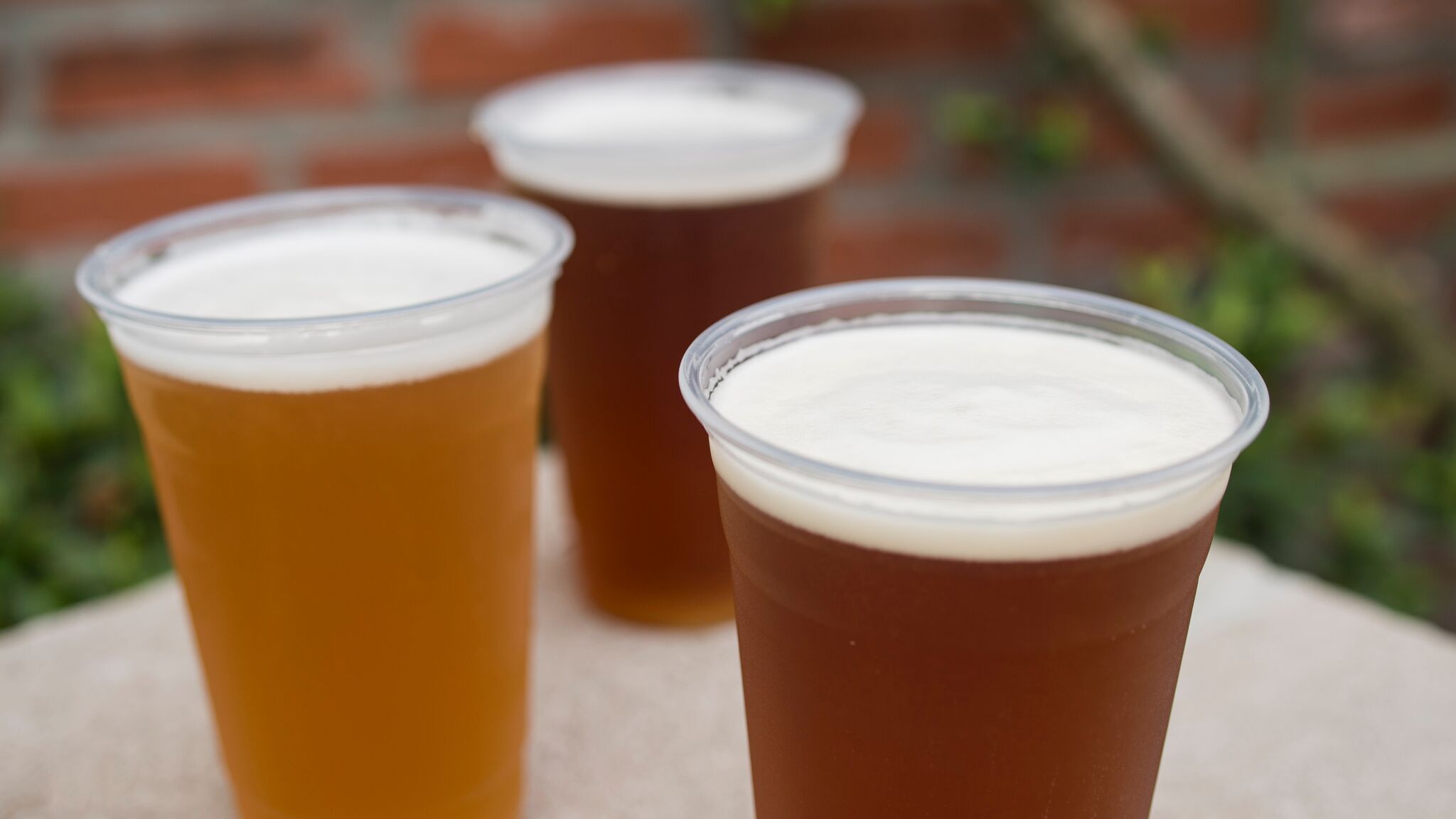 National Beer Day Saturday, April 7!
April 05, 2018
National Beer Day is right around the corner (April 7). The brews in this blog were highlighted by the Food and Beverage experts from Disney Parks and feature unique and delicious tastes available from coast to coast. Enjoy one (or two) to make this special day even more magical.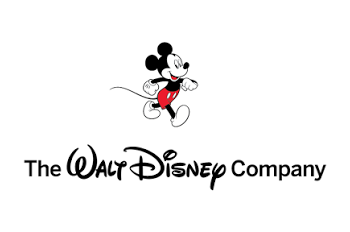 Walt Disney Company Announces Strategic Reorganization
April 02, 2018
The Walt Disney Company announced a strategic reorganization of its businesses into four segments: the newly-formed Direct-to-Consumer and International; the combined Parks, Experiences and Consumer Products; Media Networks; and Studio Entertainment. The reorganization is effective immediately. Kevin Mayer, who has served as Disney's Chief Strategy Officer since 2015, has been named Chairman of the new Direct-to-Consumer and International business segment. Bob Chapek, Chairman, Walt Disney Parks and Resorts, will assume additional responsibility for all of Disney's consumer products operations globally, including licensing and Disney stores, as Chairman of the new Parks, Experiences and Consumer Products business segment. The Disney Media Networks business segment is co-chaired by Ben Sherwood, President, Disney|ABC Television Group, and James Pitaro, who was recently named President of ESPN and previously served as Chairman, Disney Consumer Products and Interactive Media. The Media Networks segment will remain virtually the same. The Studio Entertainment business segment is led by Alan F. Horn, Chairman, The Walt Disney Studios, and remains virtually the same, with the exception of the management of program sales moving to the Direct-to-Consumer and International business segment.
Easter Events Around the "World"
March 29, 2018
Easter is April 1, 2018. Disney Parks and Resorts observe this holiday in a number of ways, with special character appearances and themed foods.
Related Links:
-- Mr. and Mrs. Easter Bunny at Magic Kingdom 'til April 1

Major Update of Hollywood Studios Menus
March 28, 2018
We have updated most of the dining menus at Disney's Hollywood Studios
Counting Down to Toy Story Land: Opens June 30!
March 23, 2018
The opening date for Toy Story Land at Disney's Hollywood Studios has finally been announced. It, along with new attractions Slinky Dog Dash and Alien Swirling Saucers, will join Toy Story Midway Mania on June 30, 2018!
Related Links:
-- What's in Woody's Lunch Box?
-- VIDEO: Toy Story Land Overview with Imagineer
-- Pixar Characters to Greet Guests Daily
-- Toy Story Land - A Progress Update
-- Artist Rendering for Alien Swirling Saucers
-- Wheezy Arrives at Toy Story Land
-- Opening Date Announcement

Disney PhotoPass Now On Instagram
March 20, 2018
Disney PhotoPass Service now has an account on Instagram that features photos taken at both Walt Disney World and Disneyland resorts. The photos share all the props, Magic Shots, light painting, attraction photos, virtual backdrops, special lenses, and more that are available via Disney PhotoPass. In addition, you can share your PhotoPass photos by tagging them with #DisneyPhotoPass for a chance to be featured on PhotoPass social media pages.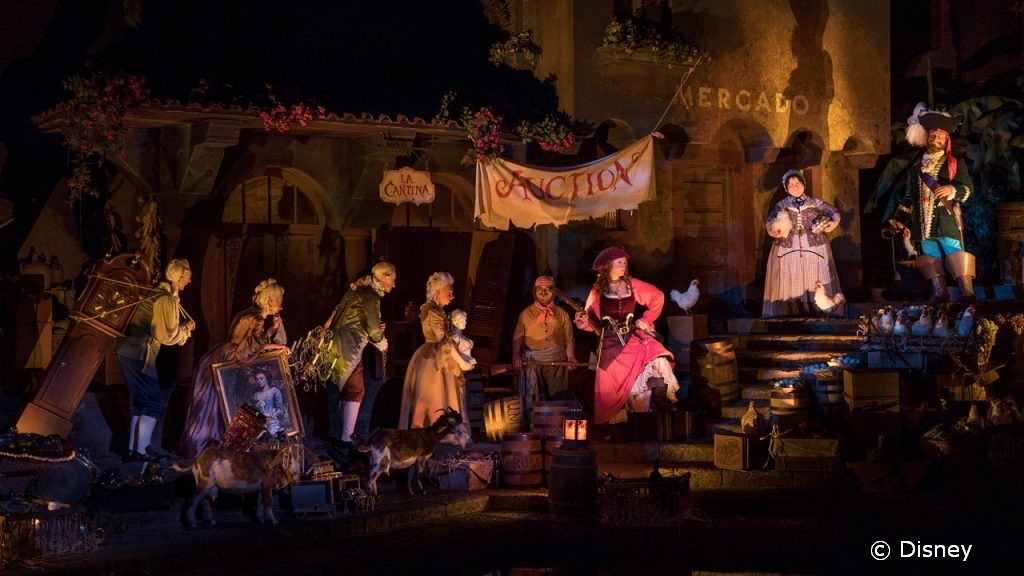 Pirates of the Caribbean Reopens with Update
March 19, 2018
As announced last year, Disney Imagineers have updated a famous scene in the Pirates of the Caribbean during its latest refurbishment. The well-known "Redhead," who was on auction as part of the attraction's Mercado scene, has now switched sides to become a pirate named Redd, who has just pillaged the town's rum supply and has something to say about it. Here is a preview of the new scene, which will also be installed in Disneyland's version of the ride when it undergoes its next rehab starting April 23.
2018 Mickey's Very Merry Christmas Party
March 19, 2018
Mickey's Very Merry Christmas Party at Magic Kingdom hosts yuletide cheer from Nov. 8 - Dec. 21, 2017. From 7 p.m. to 12 a.m. during select nights at Magic Kingdom park, this annual ticketed event will bring Christmas joy to guests of all ages with festive decorations, towering Christmas trees, and wintry wonderful entertainment.
2018 Mickey's Not So Scary Halloween Party
March 19, 2018
Mickey's Not-So-Scary Halloween Party allows guests to trick-or-treat while immersed in the fantasy of the Magic Kingdom. The evening includes Mickey's "Boo-to-You" Halloween Parade; trick-or-treating throughout the Magic Kingdom at numerous locations; and the special Happy HalloWishes fireworks. Lots of characters are out in the park, wearing their favorite costumes -- you're encouraged to wear yours, too. Here are the 2018 dates for this event!
Celebrate St. Patrick's Day Around the World
March 16, 2018
The saying is that "everyone's Irish on St. Patrick's Day," so celebrate this fun-filled holiday this weekend, March 16-18 around Walt Disney World. Raglan Road Irish Pub at Disney Springs will be a hub of St. Paddy's Day activities.
Related Links:
-- Raglan Road's Mighty St. Patrick's Festival!
-- The Maguires Featured Live Entertainment at Raglan Road

"Incredible Summer" at Walt Disney World Starts May 25!
March 15, 2018
Walt Disney World kicks off its Incredible Summer over Memorial Day weekend, May 25-27, with new entertainment in all four theme parks, Disney's Animal Kingdom 20th anniversary celebration, a new Typhoon Lagoon nighttime party and the June 30 opening of Toy Story Land.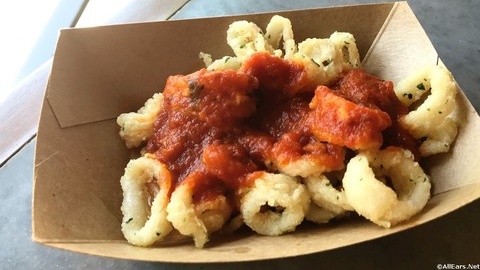 Epcot Food and Wine Festival Aug. 30-Nov. 12
March 12, 2018
The dates for the 2018 Epcot International Food and Wine Festival have been announced. The event will run for 75 days, from Aug. 30 to Nov. 12. No other details are available as yet.
Temporary Kiosk Open During Kringla Bakeri Renovations
March 12, 2018
While the Norway Pavilion's Kringl Bakeri is closed for renovations, a new temporary kiosk called Midnattssol will be serving some of the bakery's more popular menu items. The kiosk was not open this past weekend, but is expected to start operations soon.