AllEars® Newsletter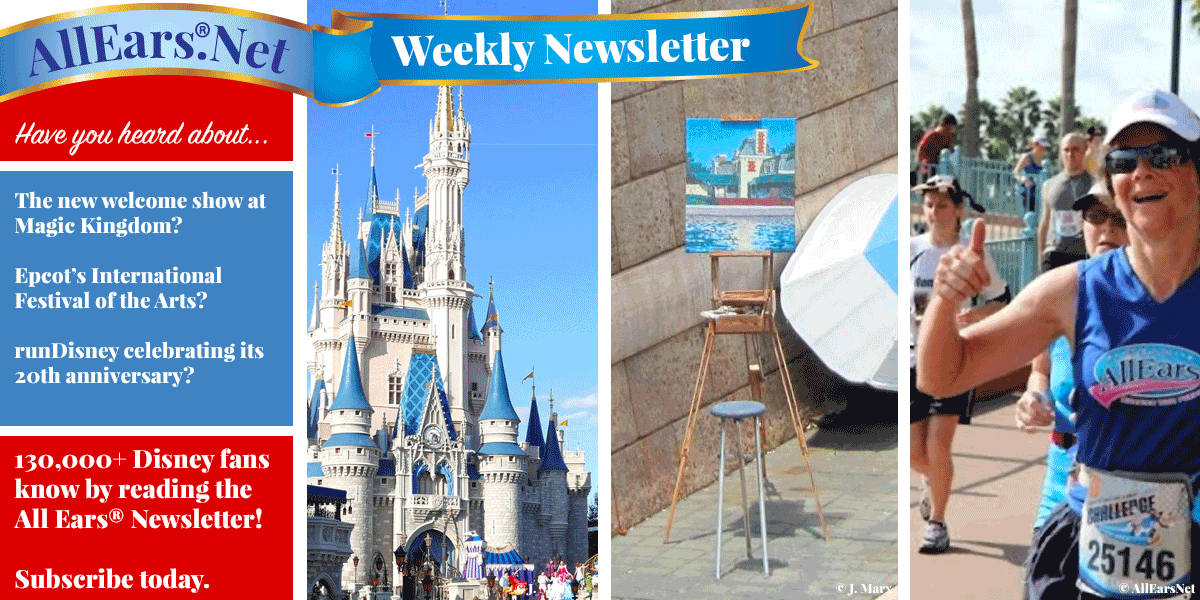 AllEars® is delivered FREE each week to more than 125,000 subscribers who share an interest in the Walt Disney World resort in Orlando, Florida. You should be one of them! Sign up today!
Click here to start receiving AllEars®, the FREE weekly electronic newsletter with the most current, accurate and comprehensive information for folks interested in Walt Disney World. Each AllEars® newsletter is chock full of facts, helpful tips and, of course, the latest Walt Disney World news, as well as restaurant and resort reviews, previews, interviews, snippets of timely information and insightful, entertaining guest columns.
Once you've subscribed, don't forget to set your preferences to receive our special promotional mailing called EARS THE DEAL™. A few times each month, we'll send you a bonus email with money-saving offers and promotions for Walt Disney World and the Orlando area, exclusive to you, our AllEars® subscribers! (Click HERE for instructions on subscribing to Ears the Deal™!)
WELCOME TO THE HOME OF
an unofficial electronic newsletter about The Walt Disney World Resort in Orlando, Florida, published weekly in conjunction with AllEars.Net, Deb's Unofficial Walt Disney World Information Guide
Established September 1999
Library of Congress ISSN:1533-0753

To get a taste of what AllEars® has to offer each and every week, click on the links below -- these tidbits are from our March 2018 "WDW Bits and Bites" issue:
---
STEP BACK IN TIME
by Joan L. Feder
AllEars® Staff Writer
We hunt through our archives for this monthly featurette, which looks at the history of Walt Disney World and The Walt Disney Company. This month, we travel back 35 years to visit the attraction formerly known as Journey into Imagination.
Turning the abstract concept of imagination into a concrete experience presented Imagineers with a difficult task. Plans for an abandoned Disneyland project called Discovery Bay included a bearded scientist who bred dragons. This was the inspiration for the characters that would inhabit a new Epcot attraction. That scientist became Dreamfinder, a full bearded redhead, with a long blue coat and top hat. Figment, the adorable purple dragon, soon followed. The project took more time than expected, so while the Imagination pavilion opened with Epcot on October 1, 1982, the Journey into Imagination ride did not debut until March 1983.

The ride began with guests boarding their purple Omnimovers to the catchy tune "One Little Spark", written by the Sherman Brothers (creators of many earworms, including "it's a small world"). Dreamfinder, on his flying machine, explained his mission to travel the universe seeking anything that sparks new ideas. He uses some of his finds to create the irrepressible Figment with "a dash of childish delight." This classic dark ride then followed Figment on his journey to discover ways to use his imagination. The white Art room featured an origami carousel and Dreamfinder painting with fiber optics. The dark and haunting Literature scene found Dreamfinder typing a mystery story, while Figment used alphabet blocks to transform the shadow of a bat into a cat and back again. In Performing Arts, Figment was ready to hit the stage dressed as Dreamfinder. The Science and Technology scene showed crystals growing and seeds germinating using time-lapse photography. In the finale, Figment envisioned himself as everything from a mountain climber to a superhero. Guests exited through the ImageWorks, where they could try their hand at various activities.
The attraction closed on October 10, 1998 for renovation, and reopened a year later as Journey Into YOUR Imagination. This dark ride through the "Imagination Institute" was hosted by Dr. Nigel Channing (Eric Idle). Dreamfinder was removed from the attraction and Figment was left with a few cameos. The ride was 40 percent shorter and so disliked that it lasted just over two years before closing again.
The current version, Journey Into Imagination with Figment opened in June 2002. Figment is back but gone is his childlike nature; he is more of a prankster as he and Dr. Channing take guests on a tour of the Imagination Institute. In a tip of the top hat to Figment's old companion, an Institute office door bears the name "Dean Finder." While this version is better than the last, it pales in comparison to the original. Now more than 15 years old, the attraction is ready for another update. With any luck it will regain more of its initial charm.
RELATED LINKS:
Walt Disney World Chronicles: Dreamfinder
Read Ron Schneider's account of his experiences as Dreamfinder in his book, "From Dreamer to Dreamfinder: A Life and Lessons Learned in 40 Years Behind a Name Tag." It's available in the AllEars.Net Amazon Store HERE.
You can read AllEars.Net's review of Schneider's book HERE.
---
MAGICAL MOMENTS
Each month, we like to share a few heart-warming Magical Moments brought to us by the amazing Disney cast members!
Tracy Wulf-Uhrie: Our magical moment does not involve any special perks or being gifted something from Mickey. It came from just the simple kindness of a cast member. My son decided that he wanted to celebrate his 10th birthday at Disney World. He planned his entire celebration, from hotel to Fast Passes and even all of our dining reservations. He decided for his birthday dinner he wanted to eat at the Skipper Canteen. When we were checking in for dining reservation Troy, the host, noticed my son's birthday pin and wished him a happy birthday. After Troy's birthday wish, my son turned to me and said,"16." (All day my son had been keeping a count of how many random people wished him a happy birthday and Troy was number 16.) I explained this to Troy, who smiled and said he was sure they could get that number higher at the Skipper Canteen. Turns out, Troy told everyone working at the restaurant about my son and his birthday count. Randomly staff would pop by our table to say Happy Birthday. At one point, Troy even lead a parade of six cast members to our table for them to all stop and wish my son a happy birthday. It was such a simple gesture that completely made my son's day.
Vince W.: Our stay at the Grand Floridian was just plain fantastic! We were lucky to receive a room upgrade with a beautiful view of the lagoon and the Magic Kingdom and the service and the treats are beyond compare. Our dinner on Saturday night was at Boma. Our waiter gave us two chocolate cupcakes for our 45th anniversary. The only way to describe those cupcakes would be "Death by Chocolate!" On our first night I ordered a bottle of wine and some chocolate-covered strawberries to surprise my wife and to our surprise there were some complimentary chocolates from the Grand Floridian. These chocolates were to die for! On Monday afternoon we received another surprise. A bottle of sparkling wine and another plate of chocolates were delivered compliments of the Grand Floridian for our anniversary. These chocolates are the best that my wife and I have ever tasted! My compliments to the Grand Floridian. On our third night we received a true Magical Moment. When we returned from dinner we found in our room a bottle of sparkling wine, two crystal wine glasses, one with Minnie engraved around the top and my wife's name engraved on the face of the glass and one with Mickey around the top and my name engraved on the face of the glass. Everything was sitting on a tray of rose petals along with a Walt Disney World photo album. All I can say is thank you, Walt Disney World. We were treated like royalty.
Kristy Cooper: In 2009 about 14 of us, including family and friends, went to Disney World. I made all the kids backpacks with their names on them. They kept their drinks, snacks and an autograph book in it. The autograph book is something we cherished. We worked so hard standing in long lines to get them. My 15-year-old daughter was helping my 6-year-old carry his backpack. After we rode Peter Pan, I asked my daughter where his backpack was. We all panicked and ran back to the ride. It wasn't there. I was so upset and began to cry. They told us to keep checking back to see if anyone turns it in. The cast member we talked to on the phone told us if we didn't get our autograph book back, they would have every character sign us a new one. I cried harder! The next day when we called back, they said they had found it. It had my daughter's spending money, along with the autograph book. Everything was there. This was just one trip where we were touched by the magic.
Bobbie Young: My Magical Moment happened in Mickey's Star Traders. I was looking for a replacement keychain as mine had just broken and we were headed home soon. I had chosen one, but wasn't quite sure so I started to leave the store. As I left, a wonderful cast member handed me a bag with the new keychain in it. We had spoken about how sometimes you like something but then can't ever find it again. She didn't want me heading home without a new one. What a sweetheart. She made my day with a bit of Disney Magic.
-=-=-=-=-=-=-=-=-=-=-=-=-=-=-=-=-=-=-=-=-
We just bet you have a story to tell about an unforgettable moment during your Disney vacation! Please send your favorite memory for inclusion in a future AllEars® to our Contact Us page.
Thank you all for sharing!
---
ARCHIVES
Feature Archives
Missed the last issue of AllEars®? Or just want to re-read that feature on cruises again? You'll find a listing of past AllEars® newsletter features here.
Tips Archives
We have a searchable database of all the tips that appear in our newsletters. Take a look at the archive of our helpful ideas here!

If you want to receive the rest of the AllEars® news and other juicy bits of timely WDW information, you must be a subscriber! Why not sign up now?
---
Copyright - Disclaimer - Reprint - Contact
©1999-2018, All Rights Reserved. RYI Enterprises, LLC.
RYI Enterprises, LLC owns and operates AllEars.Net, which comprises Deb's Unofficial Walt Disney World Information Guide and the AllEars® weekly newsletter (allears.net). AllEars.Net and AllEars® are not affiliated with, authorized or endorsed by, or in any way officially connected with, The Walt Disney Company, Disney Enterprises, Inc., or any of their affiliates. For official Disney information, visit http://www.disney.com

Editor in Chief: Deb Wills
Editor: Debra Martin Koma
For prompt replies to questions or comments about this newsletter or info that appears on AllEars.Net, send a query using our feedback form.

Direct any US Mail correspondence to:
Deb Wills
President
RYI Enterprises, LLC
8297 ChampionsGate Blvd. #360
ChampionsGate, FL 33896
NOTE: No parts of this newsletter may be reprinted without prior written permission from RYI Enterprises, LLC and AllEars.Net.
Advertisements appearing in AllEars® are paid advertisements and are not meant as an endorsement by Deb Wills, RYI Enterprises, LLC, AllEars® or AllEars.Net.
---
READER FEEDBACK
We are nothing without our readers! Please drop us a line and let us know what you're thinking! We can't wait to hear from you. Use our handy Feedback Form to reach us. See what others are saying about us here!
Want to write for us? Please take a minute to read our Writer's Guidelines!
---
AllEars® is published by Deb Wills, a recognized Walt Disney World expert who also publishes one of the worldwide web's most popular sites, AllEars.Net, which receives more than 7 million page views per month from visitors around the globe.
Deb Wills
Editor-in-Chief and Publisher

AllEars® Editor is Debra Martin Koma.
-o-o-o-o-o-o-o-o-o-o-o-
Editor's Note: This story/information was accurate when it was published. Please be sure to confirm all current rates, information and other details before planning your trip.