Thanksgiving Day
Christmas
New Year's Eve
Disney's Hollywood Studios
Epcot
Magic Kingdom
Disney Springs
Guest Holiday Comments
Holiday Happenings at
Walt Disney World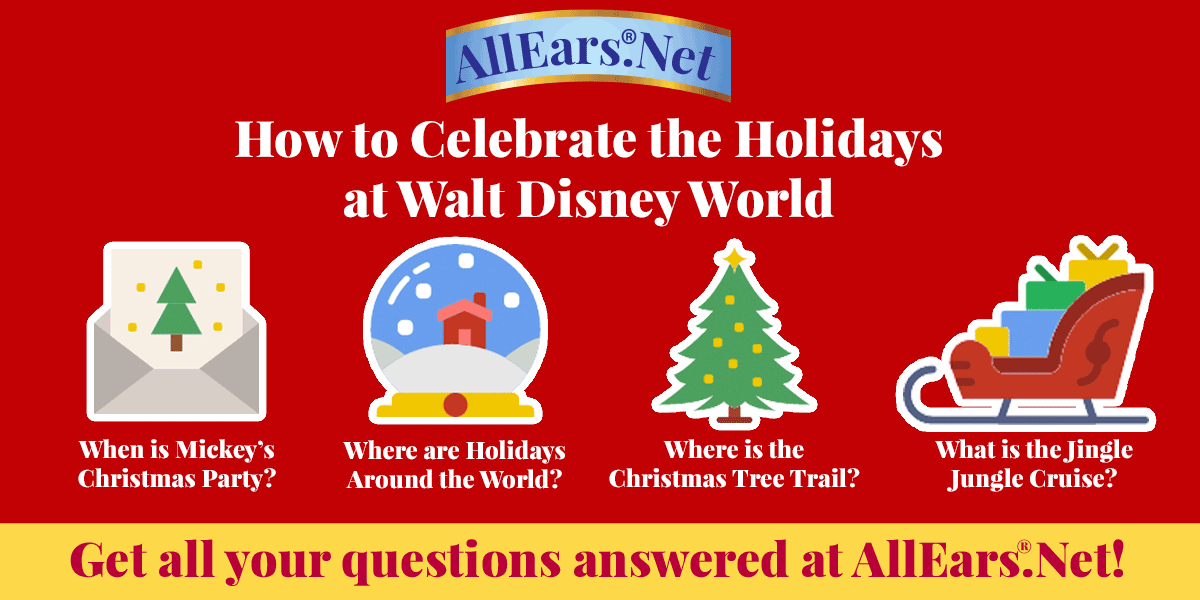 Walt Disney World has made the December holidays a Special Celebration throughout the parks and hotels. This is a grand time to visit WDW and get in the HOLIDAY Spirit!
Each of the main theme parks and all the resorts have their own special way of decorating and celebrating the Holidays.
MAGIC KINGDOM
RETURNING IN 2016! "A Frozen Holiday Wish" features Anna and Elsa in an all-new show on the Castle Forecourt Stage. With special appearances by rugged mountain man Kristoff and lovable snowman Olaf, the show culminates in Queen Elsa using her incredible powers to present a gift to everyone in the kingdom, transforming Cinderella Castle into a glimmering ice palace for the holidays. "A Frozen Holiday Wish" runs November 4 through December 31, 2016 at 6:15 p.m. Click HERE for a video.
Mickey's Once upon a Christmastime Parade celebrates the many festive moods of the holiday season, showcasing a series of holiday themes including a Friends and Family Christmastime Party, a sleigh ride through a Winter Wonderland, a romantic Fairy Tale Christmastime, a scrumptious display of Christmastime sweets, and of course Santa and Mrs. Claus in a grand finale. And for longtime Disney Christmas parade fans: Soldiers, Snowflakes and dancing deer are all still in the parade. The parade features original music as well as both classic and current holiday tunes.
The Jingle Jungle Cruise - Adventureland - the Skippers have grown homesick for the holidays, so they've added holiday cheer to the Jungle Cruise queue and boathouse with decorations that have been mailed to them from home (plus a few they've created themselves). The Skippers have also added a slew of new jokes to their tours that are the perfect way to get guests in the holiday spirit. Additionally, Jungle Cruise boats have been renamed with the holidays in mind, and if guests listen carefully, they may hear a holiday-themed radio broadcast playing in the background.
A special ticket is required! It's pure magic at the Magic Kingdom featuring a nighttime holiday parade, flurry of snow and seasonal entertainment. Highlights of the include: greetings by Santa Goofy on Main Street, U.S.A.; two showings of Once Upon a Christmastime Parade; a special edition of "Wishes" fireworks; holiday cookies and cocoa; two holiday stage shows featuring many of the favorite Disney characters and "A Frozen Holiday Wish". And it's even been known to "snow" on Main Street, U.S.A.!

See the 2016 MVMCP guide map HERE.

Mickey's Most Merriest Celebration is performed on the Cinderella Castle Forecourt Stage. Mickey and his pals host some of their friends for an unforgettable Christmas soiree filled with medleys of delightful classic and contemporary holiday songs, and magical holiday projections on Cinderella Castle building to a sensational, snowy finale. (This show will also be available Dec. 23 - 31 during regular park operating hours.)
VoicePlay, contemporary a capella singers, return this year to perform several times a night on the Rockettower Plaza Stage.
In addition to all the festive fun, guests to Mickey's Very Merry Christmas Party are able to enjoy unlimited use of the most popular Magic Kingdom attractions. For tickets or more information about Mickey's Very Merry Christmas Party, guests may call 407-W-DISNEY.
2016 Dates
November 7, 8, 10, 11, 13, 15, 18, 27 and 29

December 1, 2, 4, 6, 8, 9, 11, 13, 15, 16, 18 (SOLD OUT) and 22 (SOLD OUT)
TICKETS ON SALE NOW! DETAILS HERE!
EPCOT HOLIDAYS AROUND THE WORLD
Throughout World Showcase, each country shares its holiday heritage November 25 – December 30. Strolling around the promenade during the Holidays Around the World celebration may put you face-to-face with the good-hearted witch La Befana, known in Italy for filling children's shoes with treats, or the Chinese Lion Dancers who bring good fortune and happiness. There are meet and greets with Santa and Mrs. Claus in The American Adventure, plus other legendary icons who share messages of goodwill. The celebrations of Kwanzaa and Hanukkah can be found at the American Adventure.
Starting November 25, five new holiday marketplaces will be stationed around World Showcase in Epcot, featuring tastes of the season from around the world. The marketplaces include: Alpine Haus Marketplace between Morocco and France, with duck confit, cheese fondue in a bread bowl, sachertorte, Frozen Winter Spice Hot Chocolate (alcoholic and non-alcoholic version available) and assorted wines; Three Kings Feast Marketplace near World Showcase Plaza, shredded beef tamale, roasted pork, Three Kings Bread, Coquito (coconut milk) and Coquito with rum floater; Prost! Marketplace in Germany, with an artisan cheese plate, sauerbraten with red cabbage and spaetzle, alcoholic ciders, hot Williams Punch, and gluwein (house-made hot spiced wine); the American Holiday Table in the American Adventure Pavilion, with turkey and stuffing, seared pork tenderloin, eggnog, Firenog (eggnog with Fireball Whisky), wine, hot chocolate, and Cocoa Candy Cane (hot chocolate with peppermint Schnapps); Seasonal Southern Delights Marketplace near World Showcase Plaza, with hoppin' john (black-eyed peas, ham hocks and kale with rice and cornbread crumbles); blackened catfish, chocolate pecan tart, Frozen S'Mores and Central 28 beers. The marketplaces will be open through December 30.
In addition to these new World Showcase marketplaces, holiday sweets will be offered around the World, like a Mickey Santa Hat cupcake at Fountain View restaurant, chocolate honey baklava in Morocco, panettone in Italy, gingerbread ice cream and buche de Noel au chocolat in France, pai cha (Beijing-style fried dough twist with sesame) in China and guava tamales in Mexico.
The Candlelight Processional (November 25 - December 30, 2016): The poignant story of Christmas unfolds during this renowned event featuring celebrity narrators, a mass choir and 50-piece live orchestra at America Gardens Theatre. To ensure a seat for this joyous favorite, Candlelight Packages are available with dinner at select Epcot restaurants, a special spot for fireworks viewing and guaranteed seating for the heartfelt Candlelight Processional. For bookings call 407-WDW-DINE or book online with Disney HERE.
The American Music Machine - appears on the Fountain Stage - a contemporary twist to favorite Christmas tunes with the expertise of ground-breaking vocal arranger Tim Davis, whose previous credits include the hit TV series "Glee." This holiday stage show includes new musical arrangements, dances, and a brand new look with performances of both modern and nostalgic holiday hits, including "White Christmas," "Rudolph the Red-Nosed Reindeer" and "All I Want for Christmas is You."
JOYFUL! A Gospel Celebration of the Season blends the soulful expressiveness of Gospel and inspirational music with the sounds of jazz, R&B and urban music daily from November 25 – December 30 at the Future World Fountain Stage.
The evening is capped by the visual splendor of IllumiNations: Reflections of Earth, the mesmerizing Epcot spectacular featuring fireworks, laser and water all spruced up for the season with a spirited holiday finale. The 2014 Holiday Finale for Illuminations - Video
DISNEY'S HOLLYWOOD STUDIOS

Jingle Bell! Jingle BAM! Nighttime spectacular!



for 2016 is the opportunity to meet Santa Claus at the Once Upon a Time shop!
DISNEY SPRINGS

Disney Springs Christmas Tree Trail: Disney Springs Marketplace will feature 15 custom-decorated holiday trees, each one inspired by a different Disney character or story, along this new walk-through experience. The trail will be a winter wonderland complete with a gentle snowfall, toy soldiers, singers and plenty of photo opportunities. The tree themes include: Mickey and Minnie Mouse; Disney Villains; Moana; Beauty and the Beast; The Little Mermaid; Cinderella; The Princess and the Frog; Alice in Wonderland; Frozen; The Jungle Book; Mulan; 101 Dalmatians; Tangled; Mary Poppins; and The Muppets. The Disney Springs Christmas Tree Trail will debut on November 11 and will run through January 8, 2017.

Guests at Disney Springs will get a chance to see Disney and Intel exploring remarkable new technology as hundreds of lighted show drones take to the nighttime sky in Starbright Holidays – An Intel Collaboration.
The first-of-its-kind light show featuring 300 Intel® Shooting StarTM show drones invites guests to gaze skyward and make a special wish. The synchronized choreography of the new drones is set to a specially orchestrated arrangement of classic holiday music. In the nostalgic and stirring medley, Disney Springs guests can listen for a few bars of classic Disney melodies. The show will be performed twice nightly at 7 p.m. and 8:30 p.m. from Nov. 20 - Jan 8, 2017.
2016 AT THE RESORTS
Disney resort hotels are dressed up for the holidays, offering an ideal home-away-from-home during the season. Check each hotel for holiday dining offerings and special entertainment.
Several resorts are also known for their yummy holiday gingerbread displays. From enchanting visual feasts created from all kinds of sweets to refreshing stops offering tasty beverages and treats you can eat, check out each exciting display--in addition to a few fun activities--as you enjoy the seasonal themes of their delightful holiday renditions.
Not to be missed resorts: Grand Floridian, Beach Club, and the Wilderness Lodge. Bonus: Fort Wilderness the week before Christmas - many campsites are all decked out!
Be sure to check at your resort for specific times and activities.
Please email us your Holiday Tips and Comments!