TOURING
AT A GLANCE...
AVATAR
Construction Underway
CAMP MINNIE-MICKEY - Closed 1/5/2014
ENTERTAINMENT
IN-DEPTH BLOGS
Special Reports
OTHER WALT DISNEY WORLD
THEME PARKS
OTHER DISNEY THEME
PARKS
Finding Nemo - The Musical
Animal Kingdom
Introduction | Attraction | Touring Tips | Kids and Characters |Dining
Shopping | Interesting Facts
Photo Gallery | Official Press Release & Soft Opening Reports
INTRODUCTION
Finding Nemo - The Musical marks the first time Disney has taken a non-musical movie and transformed it into a musical show for the parks. It's an adaptation of the Disney-Pixar movie, re-telling the story of a father clownfish, Marlin, and his son, Nemo, who learn how to love and understand each other. Nemo is taken away and Marlin will stop at nothing to get his son back, facing undersea challenges such as sharks, jellyfish with his new, ever loyal, friend Dory. Meanwhile, Nemo is trapped in a fish tank in Sydney, and makes his own new friends who inspire him to do whatever it takes to see his father again.
ATTRACTION
Finding Nemo - The Musical gives guests the chance to be literally immersed in the story of Marlin and Nemo through the combination of puppets, dancers, acrobats and animated backdrops. It's performed in the now enclosed Theater in the Wild in DinoLand U.S.A, the former home to "Tarzan Rocks". The theater itself was updated with innovative lighting, sound, and special effects to create Nemo's undersea environment. Like the Broadway version of Disney's "The Lion King", the audience sees the performers as well as their puppets throughout the show. Check out the Photo Gallery for a better idea on how the performers and their puppets appear.
Not only does the audience get a chance to see the well loved story in a new production, but they enjoy the original songs written just for the show, including "Big Blue World", also heard at The Seas with Nemo and Friends at Epcot, and Crush's big number, "Go With the Flow", a tribute to 60s surfing music.
This show lasts approximately 30 minutes and is performed at several, scheduled times each day. For current show times and more information on Disney's Animal Kingdom Live Entertainment, visit Steve Soares' WDW Entertainment Website.
TOURING TIPS
Seating is wooden bench seats with backs. Guests may remain in their wheelchair, motorized scooter or ECV to experience the attraction.
Arrive at least 30 minutes before the performance, and be prepared to wait in a long line. However, the theater seats a lot of people, so don't let the line make you give up.
Before the show starts, the bubbles on the left and right sides of the stage show Nemo swimming by. You can't tell when and where he'll show up, so keep your eyes peeled! This helps break up the wait for the show.
Don't miss what happens in the bubbles as you leave the theater; the bubbles' characters will also change what they say after awhile.
Restrooms are located right next to the theater's exit.
Photo Tip: For shows such as this, use the "sports" mode on your digital camera (if it has one). Steady the camera against your body (or on a railing if you have one in front of you) and wait for that pause in the actor/ress and SNAP! You can get some good pics this way. My camera is the Canon S5 IS. The photos below were only reduced in size to fit in the blog. No other modifications were made to them.
Reserve a seat for Finding Nemo - The Musical! Anyone booked for lunch at Tusker House between 1:00pm and 1:40pm will receive a ticket for reserved seating at the Finding Nemo 3:15pm show. Only reservations between 1:00pm and 1:40pm qualify. One ticker per person dining.
Deb's February 2009 Experience: While I am usually not a lunch buffet fan (way too much food for me), I was curious as to how the reserved seating was working for Finding Nemo. When I called WDW-Dine I said I wanted this feature and they gave me a lunch reservation for 1:20pm. The Finding Nemo show would start at 3:15pm. Upon checking in at Tusker House, we (party of 10) were seated right away. The hostess asked if I wanted our priority seating ticket, uh - yes please. She instructed us to get there at 2:30. With 10 folks, one hour was a bit short for lunch so it was around 2:40 when we headed over to Finding Nemo. Fortunately for us, the seating was not yet released to the general public and was still reserved. We were directed to an area in the front right most section. For the most part, this was a good view (although we were a bit too close to the stage for me). Once the seating was open to everyone it filled quickly. It was nice to have prime seating and not have to stand over an hour in line waiting for it!
Reflective Captioning Available
Assistive Listening Devices from Guest Services Can Be Used Here.
KIDS AND CHARACTERS
The show doesn't have an official Character meet and greet; however, some performers may come out with their puppets to talk to the audience for a short while after the performance. Please note that they do not leave the stage area, so those who are seated closer have a better opportunity to see them.
DINING
Restaurantosaurus, a counter service restaurant, and PetriFries, a fast snack kiosk, are both located in the vicinity.
Animal Kingdom Restaurants At A Glance
Menus From Around the World
Vegetarian and Other Special Diets
SHOPPING
The Dino Institute Shop and Chester and Hester's Dinosaur Treasures are the nearest shops to the theater.
INTERESTING FACTS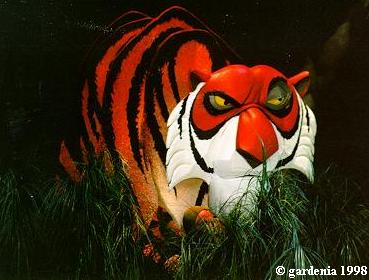 The Theater in the Wild holds 1,500 guests and is the largest theater in Disney's Animal Kingdom. It opened with the park on April 22, 1998, and was originally an outdoor amphitheater with its first production being quite a different type of show. Journey into Jungle Book featured songs from the hit Disney movie and created a new style of puppetry that gave the animal characters a look of fantasy while still conveying life-like realism and emotion. "Journey into Jungle Book" closed in April 1999 and was replaced with Tarzan Rocks!, a live musical based on the Walt Disney animated feature, "Tarzan". The production combined a rock concert performing the hit songs from the movie, with gymnasts, in-line skaters and aerialists giving the energy and action of the characters' story. It ran from July 1999 to January 21, 2006. The Theater in the Wild was then shutdown so it could be fully enclosed and renovated with upgrades to create Nemo's environment.
Finding Nemo - the Musical involves a number of Broadway's best! Tony Award-winning director Peter Brosius directed it, with Michael Curry, who designed puppets for Disney's successful stage version of The Lion King, serving as leading puppet and production designer. The original songs are composed by the husband-wife team of Robert Lopez, Tony Award-winning "Avenue Q" co-composer-creator, and Kristen Anderson-Lopez, co-creator of the a cappella musical "Along the Way".
Finding Nemo - the Musical was announced at the April 7, 2006 Grand Opening of Expedition Everest. It held previews starting November 5, 2006, and opened on January 24, 2007. Read the AllEars® Team reports on the previews.