November 2013 Walt Disney World Bits and Bites
Feature Article
This article appeared in the October 29, 2013 Issue #736 of ALL EARS® (ISSN: 1533-0753)
Editor's Note: This story/information was accurate when it was published. Please be sure to confirm all current rates, information and other details before planning your trip.
= = = = = = = = = = = = = = = = =


STEP BACK IN TIME
= = = = = = = = = = = = = = = = =
Ever wonder what Walt Disney World was like way back when? Each month, we rummage around in the archives for this featurette, which indulges in a bit of nostalgia, taking you back in history for a glimpse of Walt Disney World and The Walt Disney Company through the ages. This month, let's take a look at the year 1988 -- 25 years ago!
Back in 1988, there were seven Walt Disney Resort hotels that were open or about to open. Typical hotel rates:
-- Contemporary Garden Wing $135
-- Polynesian Village Resort $135
-- The Disney Inn (now known as Shades of Green) $125
-- Disney Village Resort Treehouse Villas (now known as the Saratoga Springs Treehouse Villas) $250
-- Grand Floridian Beach Resort $250 for Concierge
-- Caribbean Beach $65
-- Fort Wilderness Campground $30 with hookups

Prices listed were for value season and standard view unless otherwise noted. By contrast, today's rates for the Polynesian START at $422 per night! The Caribbean Beach standard rooms start at $162 per night. Interestingly, though, the Fort Wilderness Campground rates are still fairly modest, starting at $65 per night for a campsite with full hookup.
Epcot's longstanding tours, Gardens of the World and Hidden Treasures of World Showcase, were offered for $12 per person. The latter tour no longer exists, and Gardens of the World is only available during the Flower and Garden Festival.

A 3-Day World Passport for resort guests was $77 for adults and $62 for children under 10; a 5-day World Passport cost $107 for adults and $85 for kids. World Passports were valid at Epcot Center and the Magic Kingdom. An Annual Passport was $165. And the one-day ticket price? A mere $28! The latest ticket increase in June 2013 brought the price of a one-day theme park pass to Walt Disney World up to around $100 for adults.
On the dining front, Le Cellier in Canada offered buffeteria service for lunch and dinner, featuring pork pie, rib roast, fruit platters and desserts. The Contemporary's Pueblo Room served dinner on the fourth floor, while the Top of the World (now California Grill) offered breakfast, lunch and dinner. At the Polynesian, folks dined at the Coral Isle Cafe (Kona Cafe), the Papeete Bay Verandah (now 'Ohana) and the Tangaroa Terrace. At the Walt Disney World Village (now Downtown Disney Marketplace), you could still dine at the several restaurants located on the Empress Lilly Riverboat. And who remembers Minnie Mia's Pizzeria?! As for the always popular character meals, breakfast was $8.95 and $5.95 respectively for adults and children at the Contemporary, and on the Empress Lilly, $7.95 and $5.50.
Boy, have times changed!
= = = = = = = = = = = = = = = = =


FOOD & WINE UPDATE
= = = = = = = = = = = = = = = = =
The 18th annual Epcot International Food and Wine Festival is more than halfway over now -- it finishes up November 11. Taking a look at the results so far from our annual reader poll, here are the favorite menu items from the World Showcase International Marketplaces:
-- Canada's Canadian Cheddar Cheese Soup tops the list with 84.4% of our readers declaring it a WINNER!
-- Ireland's Lobster and Seafood Fisherman's Pie is a perennial favorite, garnering the favor of 81.7% of our readers.
-- Also in Canada is the "Le Cellier" Wild Mushroom Beef Filet Mignon with Truffle Butter Sauce, with love from 80.4% of the voters.
-- Australia's Grilled Lamb Chop with Mint Pesto and Potato Crunchies -- 74.6% love it.
-- Frances' Boeuf Bourguignon (Braised Short Ribs in Cabernet with Mashed Potatoes) -- 74.4% think it's the best.
Top sweet treats? It's a tie, with two contenders rating 80.8% of our readers' votes:
-- Belgium's Belgian Waffle with Berry Compote featuring Driscoll's Berries and Whipped Cream
-- Ireland's Warm Chocolate Pudding with Bailey's® Custard
The favorite beverage overall seems to be the Sparkling Pomegranate Kir in France, favored by 78.2% of our respondents.
And the Festival's best beer? Germany's Altenmunster Oktoberfest, with 77.8% of readers deeming it a winner.
Have you sampled your way around the World during this year's Festival yet? Be sure to share your thoughts in our reader poll here:
http://www.surveymonkey.com/s/3SHD3GY
You can see all the poll results here:
http://tinyurl.com/p39k7ea
And if you've tried any of the other Food and Wine Festival events, please leave your comments in our Rate and Review section here:
http://land.allears.net/reviewpost/showcat.php?cat=68
= = = = = = = = = = = = = = = = =


HIDDEN MICKEYS ALERT
= = = = = = = = = = = = = = = = =
Steve Barrett, author of the Hidden Mickeys books and webmaster of www.HiddenMickeyGuy.com, wants to acquaint you with a few Hidden Images at California Adventure and Disneyland. Enjoy your tour!
1. On Buena Vista Street, check your Times Guide for a "Five & Dime" music show at Carthay Circle. Classic Mickeys are in the tread of the tires on the vehicle in the show. (Thanks to Krystle McClung, and Rosemary & Neil.)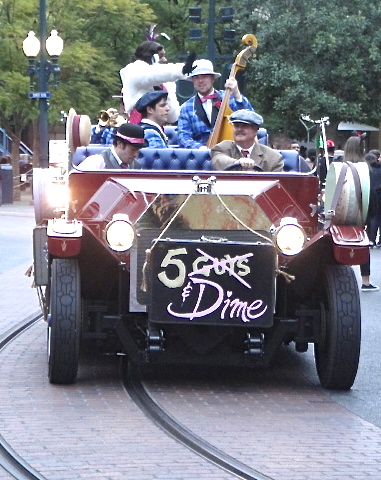 http://allears.net/btp/images/hidden-mickey-414.jpg
2. Mater appears at times in Cars Land. You can pose with him for a photo in front of the Cozy Cone Motel lobby. A wing nut with Mickey ears sits atop his engine air cleaner. (Thanks to Bob Anderson, Murray Bishop, Emily, and ES.)
http://allears.net/btp/images/hidden-mickey-415.jpg
3. Beneath the outside Jungle Cruise sign, a mask that resembles Donald Duck hangs just above the entrance. (Thanks to Jason Gall.)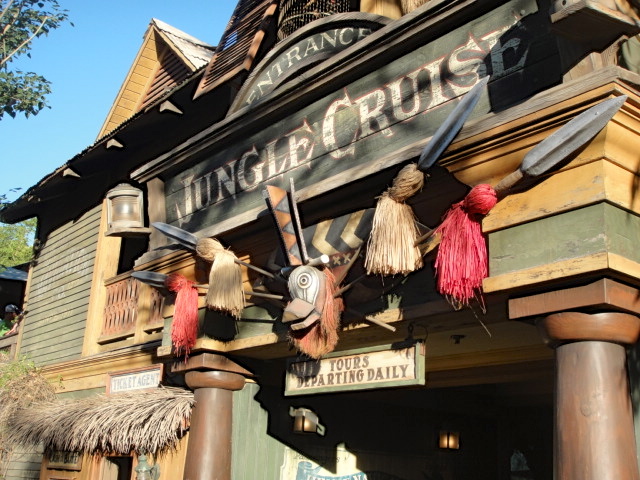 http://allears.net/btp/images/hidden-mickey-416.jpg
=-=-=-=-=-=-=-=-=-=-=-=-=-=-=-=
You can find a selection of past Hidden Mickey Alerts here:
http://allears.net/btp/hiddenm2.htm
And check out our Searching Disney with Steve blog:
http://land.allears.net/blogs/stevebarrett/
= = = = = = = = = = = = = = = = = =

RATE & REVIEW SPOTLIGHT
= = = = = = = = = = = = = = = = = =
Compiled by AllEars® Team Member Cathy Bock
In this monthly featurette, we take a look at recent comments made in the AllEars.Net Rate & Review section about a particular restaurant, resort, event, etc. This month, we examine what AllEars® readers are saying about breakfast at Chef Mickey's, which is located at the Contemporary Resort.
Chef Mickey's is a buffet character breakfast featuring Mickey, Minnie, Pluto, Goofy, Donald Duck. AllEars® reviewers give it an average rating of 8.3 and it is recommended by 93% of reviewers.
From recent reviews:
Food (general): "food was just ok"; "very average and didn't offer any distinctive breakfast items"; "selection of food was good"; "BEST breakfast on the Disney Property"; "food is always good and fresh and plentiful"; "good but not outstanding"; "plentiful and was constantly being replenished"; "hot items were hot and the cold items were chilled"; "we come for the food"; "food was very good"; "were not thrilled with the food".
Characters: "excellent character interaction"; "interaction was good"; "characters spend a tremendous amount of time at each table"; "characters were hilarious"; "spent a great deal of time with my kids"; "Mickey and friends were fun even for me and DD20"; "never rush their visits and always are funny".
Service: "really only so/so"; "server was very attentive"; "wait staff seems to be enjoying themselves as much as the guests"; "waitress surprised me and my husband with a cupcake to celebrate our 6th wedding anniversary"; "Service was great"; "was quick, efficient, and kept us posted about which characters were on their way".
Atmosphere: "so big you could only see the characters if they were close to your table"; "loud with characters and kids and monorail"; "restaurant was filthy"; "good location".
Overall: "we're going to give this one a rest on future trips"; "always enjoy Chef Mickey's"; "not to be missed for families and couples alike"; "a very good experience"; "Chef Mickeys is #1"; "will eat here again".
Chef Mickey's Breakfast Menu: http://allears.net/dining/menu/chef-mickeys/breakfast
If you have recently eaten breakfast at Chef Mickey's, we'd love to have your review!
http://land.allears.net/reviewpost/showproduct.php?product=163&title=chef-mickey-s-breakfast&cat=43
And please leave your thoughts on anything else Disney on our Rate & Review section:
http://land.allears.net/reviewpost/
= = = = = = = = = = = = = = = = =


MONTHLY REMIND-EARS
= = = = = = = = = = = = = = = = =
EVENTS
Magic Kingdom
Mickey's Not So Scary Halloween Party -- Final event night: November 1, 2013. Find more details about the party in the "NEWS" section below.
Mickey's Very Merry Christmas Party - November 8-December 20. Beginning at 7 p.m. (after regular park hours), guests with special event tickets can enjoy all the holiday splendor with lively stage shows featuring Disney characters all dressed up for the holidays, a unique holiday parade and favorite holiday traditions including complimentary cookies and hot cocoa, and snow flurries on Main Street, U.S.A. The night also includes a holiday Celebrate the Magic castle projection show and Holiday Wishes: Celebrate the Spirit of the Season nighttime fireworks spectacular. November party dates are: November 8, 11, 14, 15, 17, 21, 22. For ticket prices and details: http://allears.net/tp/hol_mk.htm
The 2013 Epcot International Food and Wine Festival runs through November 10, 2013.
Eat to the Beat Concerts for November:
November 1 -- Spin Doctors
November 2-3 -- Christopher Cross
November 4-5 -- Hanson
November 6-8 -- Dennis DeYoung
November 9-11 -- Big Bad Voodoo Daddy
The concerts, which are included with Epcot admission, will be at the America Gardens Theatre nightly at 5:30, 6:45 and 8 p.m.
Holidays Around the World in Epcot - Throughout World Showcase, storytellers share customs and lore from their heritage from November 29 -- December 30. Strolling around the promenade during the Holidays Around the World celebration may put you face-to-face with the good-hearted witch La Befana, known in Italy for filling children's shoes with treats, or the jolly gift-bearer Father Christmas in the United Kingdom. There are meet and greets with Santa and Mrs. Claus in The American Adventure, plus other legendary icons who share messages of goodwill. The celebrations of Kwanzaa and Hanukkah are showcased as well.
Candlelight Processional - The 2013 Candlelight Processional Dining Packages went on sale July 9. The Candlelight Processional, a presentation of the Christmas story featuring readings by a celebrity narrator with music by a choir and 50-piece orchestra, will be performed three times nightly (5, 6:45, and 8:15 p.m.) November 29 - December 30, 2013. Actor Gary Sinise serves as first celebrity narrator for the 2013 season, November 29 - December 1.
November 8: Mickey's Jammin' Jungle Parade transforms for the holiday season. Mickey's Jingle Jungle Parade begins, and runs through the holidays.
November 12: Rhino Day
Downtown Disney
The 38th Festival of the Masters presented by Michaels will be held November 8-10. This prestigious open-air fine arts festival features more than 300 artists showcasing their unique works in painting, sculpture, photography, chalk and more. The festival also will offer live entertainment, hands-on activities for kids and unique food offerings. For more information, visit DisneyFestivaloftheMasters.com.
runDisney
The Disney Wine & Dine Half Marathon Weekend events are scheduled for November 8-9, 2013. The nighttime half marathon goes through three Disney theme parks with entertainment and characters throughout. Runners will circle the Tree of Life in Animal Kingdom, cruise down the Streets of America in Disney's Hollywood Studios, and finish in the shadow of Spaceship Earth at Epcot, where they can then celebrate their achievement at the Finish Line Party. Some of Epcot's most popular attractions will be open late, along with the Epcot International Food & Wine Festival kiosks. Entrance to the party is included in race registration. Friends and family not running the race can purchase a separate ticket to the Finish Line Party. For more information:
http://www.rundisney.com/wine-and-dine-half-marathon/
-=-=-=-=-=-=-=-=-=-
Don't forget to check our Events page for current updates: http://allears.net/pl/events.htm
-=-=-=-=-=-=-=-=-=-=-=-=-=-=-=-=-=-=-
REHABS AND CLOSINGS
Magic Kingdom
Epcot
Spice Road Table , a new waterfront eatery, will be open by year's end at the Morocco Pavilion in Epcot's World Showcase. The new restaurant will have indoor and outdoor seating, and will feature small plates and refreshments inspired by the cuisine of the Mediterranean. More enhancements to the pavilion and news on Spice Road Table will be released as menus are finalized.
Disney's Hollywood Studios
The Honey, I Shrunk the Kids Playground is closed for refurbishment through November 19.
All-Star Sports Resort
The End Zone Food Court at Disney's All-Star Sports Resort will be closed for refurbishment until December 20, 2013. During this time, made-to-order food will not be available. Grab-and-go food items (cold sandwiches, cereal, etc.) will be available in a temporary location -- the Game Point Arcade. (Arcade games will not be available during this refurbishment.) Motor coach transportation to the other All-Star Resorts will be available throughout the day during this period, and two motor coaches will run during mealtimes. You will be able to board motor coaches from the porte-cochere outside the All-Star Sports lobby. Coaches will travel to the porte-cocheres at both All-Star Music and All-Star Movies. This transportation will also be available if you'd like to enjoy the Note'able Games and Reel Fun arcades at the other All-Star resorts.
Downtown Disney
Walt Disney World Resort announced the multi-year transformation of Downtown Disney into Disney Springs, which will treat guests to more shopping, dining and entertainment amid open-air promenades, springs and waterfront charm. Disney Springs will feature an eclectic and contemporary mix from Disney and other noteworthy brands, from boutique shops to unique flagship anchor stores. Disney Springs will double the number of shops, restaurants and other venues for guests to explore, resulting in more than 150 establishments. Drawing inspiration from Florida's waterfront towns and natural beauty, Disney Springs will include four outdoor neighborhoods interconnected by a flowing spring and vibrant lakefront. Read more about Disney Springs here:
http://allears.net/btp/disney-springs.htm
As part of the Disney Springs expansion, Downtown Disney parking lots H-K (near West Side locations such as AMC Theatres and House of Blues) closed July 22 to make room for a parking garage expected to open in late 2014. To compensate for the closed areas, "overflow" parking areas have been designated and will be open most Fridays, Saturdays and Sundays, as well as holidays, special events and other busy days throughout the next few years of the expansion project. Overflow lots include those at Team Disney, Casting and SunTrust. Signage along Buena Vista Drive will direct guests to parking areas. Shuttles will operate from 5 p.m. to 3 a.m. on days that overflow parking is open to transport guests between Team Disney and Downtown Disney West Side near Cirque du Soleil. If you have reservations at a Downtown Disney location, be sure to allow ample time for parking under these new conditions.
Valet parking is now available at Downtown Disney, accessible from 4 p.m. to 2 a.m. daily via Entrance 4 at Downtown Disney West Side. The cost is $15 per vehicle and gratuity is accepted. The Tables in Wonderland benefit of free parking will be available if you present your Downtown Disney dining receipt and the TiW card. When you're ready to pick up your car, check in at the valet booth or text the number you'll be given when you park. Parking in the regular lots will continue to be complimentary. The service is scheduled to run through the holiday season, until January 1, 2014.
Osprey Ridge golf course, its pro shop and the Sand Trap restaurant are now closed. When Osprey Ridge reopens next year, it will be under Four Seasons ownership. To date, there is no indication whether play will be limited to Four Seasons Orlando guests and Golden Oak residents, or if Walt Disney World guests and/or the general public will have access. This closure leaves Walt Disney World with three 18-hole courses, Palm, Magnolia and Lake Buena Vista, as well as the Oak Trail 9-hole course. (Thanks to wdwgolf.com for the update.)
The reopening of the Palm golf course has been delayed until December 15 as a result of the heavy rains over the past few months. Thanks to Marc Schwartz at wdwgolf.com for the update.
Typhoon Lagoon closed October 27 for its annual refurbishment. It is due to reopen December 22.
-=-=-=-=-=-=-=-=-=-
A complete list of rehabs can be found here: http://allears.net/tp/rehabs.htm
= = = = = = = = = = = = = = = = =


MAGICAL MOMENTS
= = = = = = = = = = = = = = = = =
Brenna Wolfe: I've fallen in love with the street characters of Hollywood Studios. I seek them out to photograph on every trip. On our last visit, we wandered into Sweet Spells candy shop and there were two characters waiting for their cue to go out onto the street. In the meantime, they started up a conversation with me, my husband, and my son (4). They talked to us just like they knew us forever. They asked if there was anything they could do for us and all I could think is that I want my favorite thing at Disney World and my son photographed together. They gladly obliged. It made my trip and it was such a simple, but a heartfelt thing to me! This place is truly magical.
Rodrigo Barros: My last trip was extra special since it was my wife's first time, and also our boy Peter's, who was 5 at the time. During our visit to the Magic Kingdom, we ran into Peter Pan. Since we're Brazilian, our boy was a bit shy to interact with the characters, so I'd always be on hand to translate. I quickly told Pan that, besides Peter Parker, he was a great influence for us naming our boy. Oh, he loved that so much! He then proceeded to teach our Peter how to build a sword out of twigs and leaves! He hopped on a planter, pulled Peter with him, built very small swords for both and then battled for a while. My wife told me later, "So THAT's why you love WDW so much, huh?" And Peter still talks about it.
Susan Hughes: People often debate whether to bring younger children to Walt Disney World, fearful that they will spend a great deal of money on a trip the child won't remember. We brought our now 17-year-old daughter to WDW for the first time when she was 3-1/2. Since we had made a point of watching "Cinderella" before our vacation, we went to The Magic Kingdom our first day in the parks. When our young daughter took her first look up Main Street and saw Cinderella's Castle looming large before her, her little jaw dropped open and she turned to us and exclaimed, "Oh, Mommy -- Daddy -- it IS real!" We got our money's worth in her first magical moment! She doesn't remember everything about that trip, but none of us have forgotten her first glimpse of the "real" castle. On every subsequent trip back to the Magic Kingdom, our first glimpse of the castle brings back that very special memory.
-=-=-=-=-=-=-=-=-=-=-=-=-=-=-=-=-=-=-=-=-
We just bet you have a story to tell about an unforgettable moment during your Disney vacation! Please send your favorite memory for inclusion in a future AllEars® to: allearsnet@yahoo.com
This month we also have a collection of magical "Fun in the Magic Kingdom" moments captured in photographs. See them in our photo feature, "Wandering the World":
http://allears.net/tp/wander/wander.htm
Thank you all for sharing!
-o-o-o-o-o-o-o-o-o-o-o-
Editor's Note: This story/information was accurate when it was published. Please be sure to confirm all current rates, information and other details before planning your trip.