Parc Disneyland - The Best Disneyland on Earth?
by Tony Boese
AllEars® Guest Columnist
Feature Article
This article appeared in the January 14, 2014 Issue #747 of ALL EARS® (ISSN: 1533-0753)
Editor's Note: This story/information was accurate when it was published. Please be sure to confirm all current rates, information and other details before planning your trip.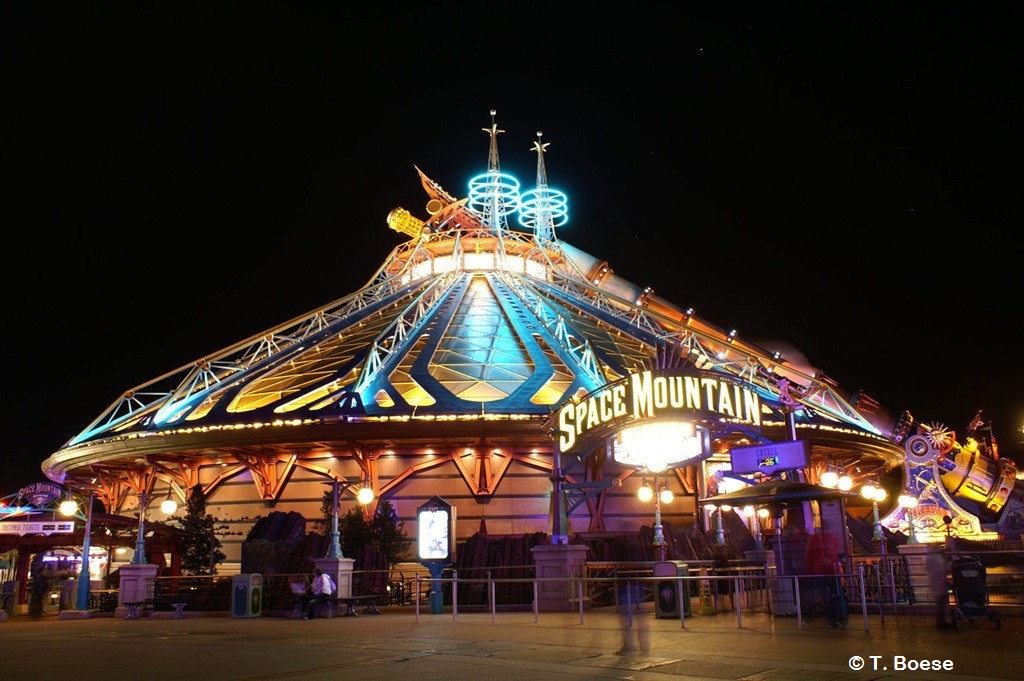 Salutations, AllEars® readers! I have been an avid reader of this newsletter for a long time now, and always wished I had something to share with everyone that was worth sharing. Finally, last year, something did happen! My wife and I had the chance to visit Disneyland Paris during our budget vacation to Paris while we were graduate students in Scotland, and that experience definitely is worth sharing.
====================
ARRIVAL
====================
For us, the trip from bed to Disney started with a train ride. Unlike some of the other Disneyland Paris-bound families who grumbled about not staying on property, I was very happy to be on a train to start my day. See, Walt Disney World has been a part of many important events in my life, as both a comfort and a celebration. It has been especially present in my relationship with my wife; the proposal was on the roof of the Wilderness Lodge during Wishes, a pause mid-dinner at Artist Point; the honeymoon a week at Coronado Springs. One of the traditions we have is starting with the monorail to the Magic Kingdom on our first morning, often after breakfast at Chef Mickey's. Granted, there is no monorail at Disneyland Paris, however, there is the RER A rail line to Marne La Vallee, the town that's home to DLP.
Sadly, writing everything great about Disneyland Paris and Disney Village would be impossible in my space here. Even just everything from Parc Disneyland would be a book! However, I will do the best I can to give you highlights: the great and unique offerings of Parc Disneyland that can be found nowhere else.
====================
ENTERING THE PARK
====================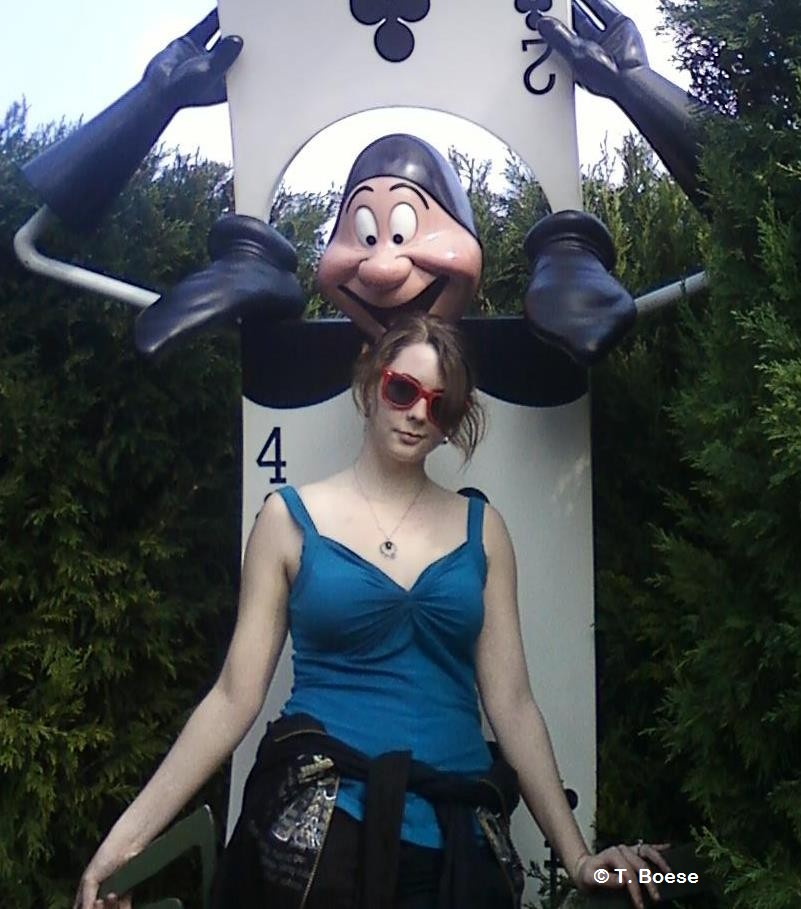 Entering Disneyland in Paris is quite similar to the experience in the World from gates (or leaving the boats/monorail) onward: complete with topiary, a moat to parallel the lagoon, and a structure under which one walks to enter. However, instead of just a railroad station it's also an entire hotel, the Disneyland Hotel. Rest assured: behind the hotel is the railroad station we've come to know and love.
Main Street Paris is both comfortingly similar and intriguingly different. The smells, the overall structure, the balloon venders, a sea of smiling faces dotted with the occasional grumpy child or too-cool-for-school teen, are all here straight from home. Contrastingly, the buildings are brighter with more varied roof-lines and designs, many strongly showing the French influence.
At the end of Main Street lie a castle and its grounds and plazas -- as per usual. The castle itself, however, is anything but. Properly Le Chateau de la Belle au Bois Dormant, standing a mere twenty-three feet shorter than Cinderella's in the World, this rendition of Sleeping Beauty Castle is by far the best of its kind, if not the best Disney castle full-stop. The first thing I noticed about it was its gilding; bright golden accents that give it a special, real royalty. It is also built into a hill, which is covered in appropriately square trees, together providing an effect that was natural, and still majestic -- less stark than the mighty, crisp, form of Cinderella's haunt in Walt Disney World.
Inside the castle, there are many things. Among them are a few small shops, one specializing in Christmas, mainly ornaments, and another making wonderful glass figurines. It's named Merlin l'Enchanteur, which made my wife and me especially happy as we are huge fans of Merlin and he is generally absent from American Disney parks (or at least he was pre-Sorcerers of the Magic Kingdom). Indeed, one of the smaller unique details about Parc Disney is the overall better representation of non-flagship Disney properties and characters, including restaurants named for Colonel Hathi and Captain Hook (fans of ranking officers I guess), for example.
Also in the Castle is La Galerie de la Belle au Bois Dormant, a walkthrough exhibit (another different and common thread at Disneyland Paris) which takes you through the hallmark moments of Sleeping Beauty via tapestries, statuary, and many incredible stained-glass windows which were of a scale and design that could rival their antique peers in Paris proper. The walk also has a balcony, which is a wonderful photo opportunity and a nice view (balconies, rare at our parks, will be another running theme you'll notice). Finally, deep in the bowels of the building, a mighty, record-setting, 90' long beast is chained, but still active... I won't ruin the surprise for the wee ones as to what!
I cannot say enough about how sincerely magical this castle is, and how cool it is to have access to so much of it. A trip for that alone might be worth it for Sleeping Beauty fans out there. If you do come over, help me in my quest to get them to call it Aurora's Castle; I mean, it's not like we call it The Little Mermaid's Grotto!
====================
SOME UNIQUE THINGS
====================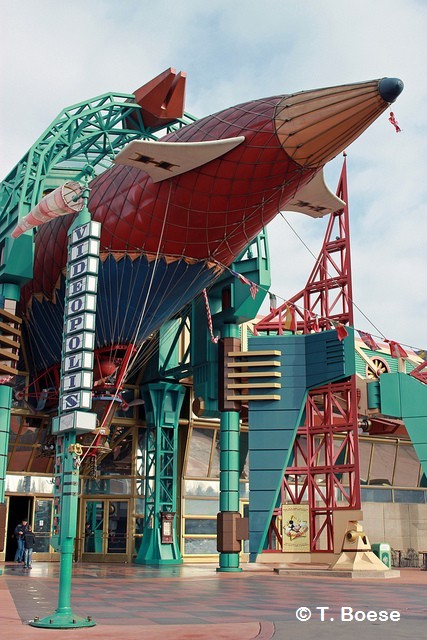 My first highlight is Space Mountain: Mission 2 in Discoveryland, which is unique to Paris. Sadly, I missed out on it. Luckily, my wife didn't. Now, something you should know is that my wife is majorly into roller coasters -- majorly -- and the bigger and faster the better. Indeed, Rock 'n' Roller Coaster is the only U.S. Disney offering that she finds even close to "thrilling; as a thrill ride should be." However, SM:M2 gave her a quality shock-and-awe experience, and even a bit of nausea. She was pleasantly surprised, to say the least!
In fact, Indiana Jones and the Temple of Peril, an indoor/outdoor Indiana Jones-themed roller coaster they have in Adventureland, was also a mark above the Big Thunder and Space Mountains of North America. That said, it was a very jostling ride and did not have much of the speed-and-acrobatics type of roller coaster experience that we tend to prefer. However, despite the ensuing neck pain and the ride's brevity, it was still an interesting, fun, and unique to Paris coaster that serves well in place of California and Japan's "adventure" rides.
My second highlight is Alice's Curious Labyrinth in Fantasyland, yet another unique to Paris and fantastic (in every sense) attraction. Here again, one walks the story, though this time in a more immersive environment. First is the easy and pleasant Tulgey Wood complete with a massive Cheshire Cat face floral arrangement. Then is the Queen of Hearts' Maze, lousy with twists and turns, card soldiers, and a wailing Queen. It is not difficult to get actually lost for a little while. (Sincerely: do not enter if you have a FASTPASS window getting narrow.) Finally, if you make it through, is the queen's castle. Its main feature is a balcony (SEE!) overlooking the labyrinth and the rest of Fantasyland from the rear perspective.
My third highlight is, of all things, a quick-service restaurant. The Cafe Hyperion, which shares the same massive building as Videopolis, is a great place. Outside, over the door, is a huge Jules Verne-style Zeppelin, complete with animatronic animals and moving parts. The cafe serves standard quick-service options, but does them very well. It also serves beer and wine like all the food service locations in the Paris parks. The seating is in Videopolis, which has tiered levels with tables, enough for a few hundred people, and a massive movie screen on which they play classic Disney cartoons. In all, it is second only to Be Our Guest for quick-service offerings with premier environments.
====================
SOME BETTER THINGS
====================
First is Phantom Manor, the Parisian analogue of the Haunted Mansion. It is darker; it is scarier. The facade seems to be in sincere disrepair, not just "aged" like the other properties; like the difference between tea-dyed paper and an actual treasure map. The queue, which wraps around the Manor's porch, ends at the front door through which you enter the Stretching Room. It is yet another opportunity for great views and photos, this time of Frontierland. The grounds through which you wind as you approach the ride are also very real. It would be easy to believe Disney found the house there when they arrived to build the park and just let it be ever since. The storyline, more linear and concrete in this version, is in the vein of the Phantom of the Opera, and is tied in narrative with Big Thunder Mountain. Granted, there are still many similarities to Walt Disney World's Haunted Mansion, but nearly every room is tweaked at least a little. In addition, the finale -- Phantom Canyon -- is a far superior visual experience than the ol' graveyard scene. Indeed, the depth, detail and integration of the story of the Ravenswoods brings a new level to the attraction absent in the U.S.
Pirates of the Caribbean was also better, which made my year! For one, it remains free of any movie inclusions. While I love the movies, I really do, it's nice not to feel marketed to while on the ride. Also, I can see Ian McShane at home; here, I want to see the attraction. The walk-up, queue and entry (collectively called "Adventure Island" and also connected to the Robinsons' Treehouse) are all also head and shoulders above the American version. The island is complete with lagoon, sunken ship, and treasure caves -- one with a very well-placed and crafted scary rock formation, as well as the fort and port with which we are familiar.
The ride itself had two notable perks for me. The beginning portion of the ride does a much better of job of taking you away to somewhere far away. Second, there is a moment when, at the very bottom of a drop, you burst into the bombarding-the-fort scene just as the ship is firing a broadside, and that moment is pure magic like only Disney can do – for a second you can't do anything but believe you are there and smile. Moreover, this ride too has a darker feel and some darker connotations in the details. For instance, the "Pooped Pirate," who is tired from chasing food in California, and treasure in Florida, is exhausted from pursuing booty of a whole different sort in Paris. Finally, it has a restaurant right on the ride-path, the Blue Lagoon, and that is just nifty.
====================
SOME WORSE THINGS
====================
I don't want to be taken for a traitor, so I must concede some weaknesses in the Disneyland Paris experience. The first comes right out of the gate -- pun fully intended. While I was happy to have a train, I must admit I could see why others, especially those with small children, were less excited. Between the train station and the conjoined park gates is a courtyard close in proportions to a bean-shaped football field. Granted, the convenience is almost unbeatable; however, the train, the stop, and the courtyard are public areas. This meant that the courtyard was full of people selling street art and cheap souvenirs, singing for change, even the obligatory gentleman with knock-off handbags. Much like Walt's take on the neon jungle that used to be outside Disneyland California, I found this to be a real bummer and a definite cheapening of the Disney experience America's park guests have come to expect. That said, once you get inside the gates and onto the territory of His Majesty the Mouse, it's all there -- waiting.
The second problem was horde-like tour groups. Now, to be sure, this could have been a matter of timing. I could have just always missed this situation in the U.S. and/or happened across a rare situation in Paris. Nevertheless, tour groups are a major disruption to the park there, and seem to be given nearly free rein. There were huge tour groups, gigantic. They were usually surrounded by a dozen or so Disney staff (all with jackets, headsets, and often sunglasses – it was actually kind of adorable), and would make their way through crowds forcefully. They also carried devices capable of making immense noise, such as sirens and megaphones. I suppose the cacophony was handy as it allowed my wife and I to stay well clear of the jostling, line-clogging, mass. I do not seem to recall even the largest of groups at the other parks being allowed to be quite such a huge, and bothersome, presence.
Nevertheless, in all, Parc Disneyland has my bid for best Disneyland Magic Kingdom by a Pinocchio nose!
=-=-=-=-=-=-=-=-=-=-=-=-=
ABOUT THE AUTHOR:
Tony is a carrier and sufferer of the Disney bug, having spread the love to almost everyone he meets. His wife (pictured above) likes to remind him that she "never went to Disney until he took her five times," and his friends always assume when he has 'exciting news' to share, it's going to mean Disney. Little do they know he has a checklist to make sure he gets each of them to the World at least once (eight down, six to go!). Tony's alter ego is a mild-mannered Adjunct Professor of Philosophy and commissary manager.
= = = = = = = = = = = = =
RELATED LINKS
Jack Spence's blogs about Disneyland Paris:
http://land.allears.net/blogs/jackspence/disneyland_paris/
Alice McNutt Miller's visit to Disneyland Paris:
http://land.allears.net/blogs/guestblog/2011/08/whats_new_and_different_at_dis.html
-o-o-o-o-o-o-o-o-o-o-o-
Editor's Note: This story/information was accurate when it was published. Please be sure to confirm all current rates, information and other details before planning your trip.