WDW Chronicles: Mickey at Walt Disney World
by Jim Korkis
Disney Historian
Feature Article
This article appeared in the October 15, 2013 Issue #734 of ALL EARS® (ISSN: 1533-0753)
Editor's Note: This story/information was accurate when it was published. Please be sure to confirm all current rates, information and other details before planning your trip.
While Walt Disney had unwavering confidence that Disneyland would be a success, his older brother Roy O. Disney was not as convinced. So, from a business standpoint, Roy asked his brother to limit Mickey Mouse's attachment to the park so that if that business failed, it would not sully The Mouse.
Mickey Mouse's smiling face was on the floral pattern in the front of the park, just like the title card at the beginning of his many animated shorts, and was on some of the merchandise being sold, especially the Art Corner in Tomorrowland. However, there was no Mickey Mouse walkaround character. Mickey didn't start wandering the park and greeting guests until 1961-62. There was no Mickey Mouse topiary or statue. In fact, there was no Mickey Mouse ride attraction.
It wasn't until 15 years after Disneyland opened that Mickey got his first attraction -- and that attraction was at the Magic Kingdom in Walt Disney World.
Next month, November, we celebrate Mickey Mouse's 85th birthday. Here is a quick snapshot of Mickey at Walt Disney World.
The signature attraction at the Magic Kingdom when it opened in 1971 was a show featuring more than 80 audio-animatronics Disney animated characters called "The Mickey Mouse Revue" created by Disney Legend Bill Justice.
"(Walt Disney Imagineering) had designed some imaginative shows for the parks, but we seemed to be getting away from our heritage. What we needed was a reminder of what Walt had accomplished. I pulled out a sheet of paper and got to work," stated Justice in 1999 when I interviewed him. "Mickey Mouse would have to be the main figure.

"The show we had in mind was this: Mickey Mouse would lead an orchestra of Studio characters through a medley of Disney tunes. Then on the sides of the stage and behind the orchestra, scenes from our most popular animated features would appear one by one. Mickey and his orchestra would close the performance.

"(Walt's brother) Roy looked the model over, then paid me the best compliment I ever had in my career: 'This is the kind of show we should spend our money on.' That's how 'The Mickey Mouse Revue' was born.
"One big problem surfaced: Mickey. With 33 functions crammed into a 42-inch body, he was the most complex audio-animatronics figure to date. He also became my biggest programming challenge because I had to do extreme movements so it would appear that Mickey was keeping up with the tempo."
The attraction closed at Walt Disney World on September 14, 1980, and was moved to Tokyo Disneyland, where it was an opening day attraction and continued to operate until May 2009.

At the Magic Kingdom, the building later became the home to another Mickey attraction. Mickey's PhilharMagic opened in Fantasyland at the Magic Kingdom in Florida on October 3, 2003. It is a 4-D attraction, meaning that in addition to a 3-D film, there are other elements like scents, water effects, and a three-dimensional moving figure (Donald's expressive rear end) in the theater.

This 12-minute film written by Alex Mann and directed by George Scribner, who directed the animated feature "Oliver and Company" (1988), recounts the misadventures after Donald Duck borrows Mickey Mouse's magical hat from the "Sorcerer's Apprentice." Donald is swept away into several different Disney animated scenarios as he tries to retrieve the errant hat. Although the premise is that Mickey Mouse will be conducting the PhilharMagic Orchestra at the Fantasyland Concert Hall just as he had lead several orchestras in his short cartoons, Mickey appears just briefly at the beginning and the end of the show. Wayne Allwine supplied the voice for Mickey Mouse and the show continues to entertain audiences to this day.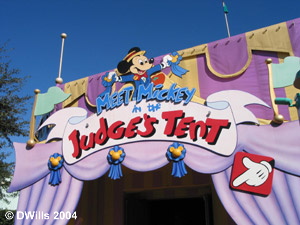 One of the biggest guest complaints at the Magic Kingdom was that guests weren't guaranteed an opportunity to meet Mickey Mouse in person or snap a souvenir photograph or get an autograph. So for the 18-month promotional event celebrating Mickey Mouse's 60th birthday, a quickly created temporary area was built near Fantasyland at the Magic Kingdom called Mickey's Birthdayland.

Imagineer Steve Hansen was the show writer and the director for the first new land added to the Magic Kingdom. It was also the smallest land at the Magic Kingdom and officially opened on June 18, 1988.

Guests could enter Mickey Mouse's house to take pictures and eventually meet Mickey himself after a stage performance of "Minnie's Surprise Party" (for Mickey Mouse). Mickey's house, while significantly different than the later version in Mickey's Toontown Fair, was in the same spirit of a cartoon domicile with animated references.
The area was so popular that instead of closing after 18 months, it remained open until April 22, 1990, and only closed at that time so the area could be re-themed as Mickey's Starland, which opened on May 26, 1990. The birthday theme was no longer appropriate and it was hoped that the land could promote the Disney television stars of the Disney Afternoon syndicated television package. The area continued to be unbelievably popular, so Disneyland executives on the West Coast decided to re-create it in a more elaborate form called Mickey's Toontown.

The Imagineering storyline was that Mickey and his friends always lived in that area, even before Disneyland was built, and, in fact, that was one of the reasons Anaheim was chosen for Walt's theme park. However, by 1993, it was time to tear down the wall and welcome guests to come and visit, so in January 24, 1993, Toontown opened at Disneyland and as expected was embraced by the guests.

To update the area for Walt Disney World's 25th anniversary in 1996, Mickey's Starland became the more elaborate Mickey's Toontown Fair, taking inspiration from Disneyland's Toontown. It officially opened October 1, 1996. While Mickey and the gang lived in Toontown in Disneyland, this land would be their vacation home. One of the reasons they were all taking a vacation was it was the time of year for the big County Fair and traditionally Mickey was one of the judges. Mickey takes such pride in being a judge that he appears that way on the entrance sign and his outfit is hung with care in his house.

The centerpiece of this land was a chance to visit the four-room interior of Mickey's Country House. There was a bedroom, living room, game room and kitchen and an opportunity next door in the Movie Barn to meet Mickey himself.
Mickey's Toontown Fair closed on February 11, 2011, in order to build the new Fantasyland expansion. In the process both Mickey and Minnie's houses were demolished, although different versions of them still exist at Disneyland.
On April 1, 2011, Town Square Theater opened on Main Street U.S.A. in the Magic Kingdom as a new meet-and-greet area for Mickey and Minnie Mouse. Officially, it is titled "Backstage Magic with Mickey Mouse" and is themed to the concept of Mickey preparing to do a magic show as "Mickey the Magnificent" and getting to meet guests in his dressing room. Throughout the area are tributes and references to Disney films and theme park attractions.
"Upon entering the lobby, guests will be faced with a beautiful tile mosaic featuring the Town Square Theater logo," said WDI Concept Designer Jason Grandt when the area opened. "The color scheme reflects that of historical theaters with a little inspiration from our master magician, Mickey Mouse."
"You will recognize the poster style as that of turn-of-the-century magicians such as Houdini," Jon Georges, WDI director/senior show producer stated. "But these posters carry Mickey's magical touch that can bring them to life and interact with you as you wait."
This was the first location to use FastPass for meeting Disney characters. However, Mickey is a performer and loves performing so the Disney theme parks gave the Big Cheese a chance to do what he does best. Over the years there have been countless stage shows in front of the castle and on the Tomorrowland stage where Mickey and the gang sang and danced, often with a talented chorus of young performers. One show, in particular, continues to be a favorite of guests.
Fantasmic! is a highly complex night time entertainment show mixing water effects, fireworks, film, dozens of live performers and more at Disneyland, Walt Disney World and Tokyo Disneyland. All three versions have significant differences although the basic premise remains the same.
Fantasmic! debuted at Disneyland in 1992 and five years later at Disney Hollywood Studios on October 15, 1997. Originally, the show was going to be called "Imagination," but the Disney Company found it could not copyright that title so once again created a uniquely Disney-esque word. The opening narration sets the story for the show.
"Welcome to Fantasmic! Tonight, our friend and host Mickey Mouse uses his vivid imagination to create magical imagery for all to enjoy. Nothing is more wonderful than the imagination. For, in a moment, you can experience a beautiful fantasy. Or, an exciting adventure!
"But beware -- nothing is more powerful than the imagination. For it can also expand your greatest fears into an overwhelming nightmare. Are the powers of Mickey's incredible imagination strong enough, and bright enough, to withstand the evil forces that invade Mickey's dreams?
"You are about to find out. For we now invite you to join Mickey, and experience Fantasmic -- a journey beyond your wildest imagination..."
Mickey defeats the Disney villains who have invaded his peaceful animated dreams including the evil Maleficent who transforms herself into a massive dragon.
Over the years, there have been many proposals for a ride attraction showcasing Mickey Mouse. Disney Legend Ward Kimball proposed two Mickey Mouse themed attractions that never evolved off the drawing board. In 1976, Kimball designed an attraction called "Mickey's Mad House." Using the traditional Wild Mouse Coaster, like the one used in "Primeval Whirl" at Disney's Animal Kingdom, guests would have careened madly back and forth through this indoor dark ride, not being able to see clearly where they were going while experiencing some of the wild antics in early black-and-white Mickey Mouse animated cartoons.
In the early '80s, when a Movie pavilion was planned for Epcot's Future World between the Imagination Pavilion and The Land Pavilion, a version of "The Great Movie Ride" would have been included. Kimball came up with an additional dark ride for the pavilion tentatively titled "Mickey's Movie Land," which would have allowed guests in Omnimover vehicles to glimpse a tongue-in-cheek, behind-the-scenes process of making of a classic Mickey Mouse cartoon.
Hopefully, before Mickey Mouse hits the century mark with enough lighted candles on his birthday cake to do some serious damage to WDW, he may finally get his own ride attraction, suitable for guests of all ages, sizes and physical abilities. Until then, November is just another opportunity to say "Happy Birthday, Mickey Mouse!" and wish him many more years of adventures at Walt Disney World.
=-=-=-=-=-=-=-=-=-=-=-=
RELATED LINKS
Other features from the Walt Disney World Chronicles series by Jim Korkis can be found in the AllEars® Archives:
http://allears.net/ae/archives.htm
=-=-=-=-=-=-=-=-=-=-=-=-=
Disney Historian and regular AllEars® Columnist Jim Korkis has written hundreds of articles about all things Disney for more than three decades. As a former Walt Disney World cast member, his skills and historical knowledge were utilized by Disney Entertainment, Imagineering, Disney Design Group, Yellow Shoes Marketing, Disney Cruise Line, Disney Feature Animation Florida, Disney Institute, WDW Travel Company, Disney Vacation Club and many other departments.
He is the author of three books, available in both paperback and Kindle versions on Amazon.com:
-- The recently released, "The Vault of Walt, Volume 2: Unofficial, Unauthorized, Uncensored Disney Stories Never Told"
-- "Who's Afraid of the Song of the South?"
-- "The REVISED Vault of Walt": Paperback Version / Kindle version
-o-o-o-o-o-o-o-o-o-o-o-
Editor's Note: This story/information was accurate when it was published. Please be sure to confirm all current rates, information and other details before planning your trip.