The Ultimate Disney Day: Six Parks, Two Coasts
by Michael Walsh
AllEars® Guest Columnist
Feature Article
This article appeared in the July 9, 2013 Issue #720 of ALL EARS® (ISSN: 1533-0753)
Editor's Note: This story/information was accurate when it was published. Please be sure to confirm all current rates, information and other details before planning your trip.
Disney has been an integral part of my childhood. My first trip was before my first birthday, and my family visited yearly until 2006, when we (finally) bought into Disney Vacation Club, and began taking Disney trips three to five times a year. In total, I have visited Walt Disney World about 30 times, Disneyland five times, and have taken nine Disney Cruises, all in 18 years of life, and while living in the Akron, Ohio area.
This year was special, though, because I graduated from high school, and my parents gave me the option of taking a trip, or having a grad party. Not being the party type, I chose to take a trip, and planning began. Wanting to do something special, we planned to spend June 7 through 11 at Walt Disney World, and then fly to Disneyland, and spend June 11 through 15 at Disneyland. On June 11, we planned to spend the morning at Magic Kingdom, and then spend the night at Disneyland Park.
On June 7, my family (my parents, and my younger brother, age 12) and I made our way south, and began our Disney World trip. Throughout the first weekend, an idea came to mind to "plus" our plan, switching from going to just two parks to visiting all six Disney theme parks in the United States in a single day. After some convincing, with me explaining that I had everything planned and us being able to get everything we wanted to do complete by June 11, my parents relented, and our ultimate Disney Day began.
Nothing can go off without a hitch, and ours came very early. When we got our Magical Express information, we found out that we had been randomly chosen to not check in at the hotel, which would instead require waiting in a potentially huge line at the airport. It turns out that the Disney magic was with us, and the airline check-in people allowed us to check in anyway, so that worked out well. Soon we were on a completely empty bus (at 8:15 from Old Key West) to Animal Kingdom to start our day.
I should take a moment to explain what we counted as criteria for "going to" each park. It would have been easy to walk through the turnstiles at each park, and call it going, so we set the criteria that we would get our picture taken in front of the park wienie (icon) and either ride a ride or buy something at each park. The "or" became important very quickly.
Upon arriving at Animal Kingdom, we saw the lines for entering the park were already past the ticket windows. We were lucky though, and found a line that was hidden that was not only half as long as the others, but was in the shade (it was already in the 80s) AND next to a bench so my mother and brother could sit down. The park ended up opening at 8:45, and my dad and I ran to Expedition: Everest while my mother and brother shopped. My dad and I followed the rope around, and were relatively close to first in line for the ride. (Quick tip: the rope goes around through Asia, although it is possible to beat the rope if you cut through Dinoland to get there. A lot of people did this, and only three beat the rope). It worked out that my dad and I made it on the first train, in the last row, and took our ride. After we rode, we grabbed a Fastpass to show that we really were in the park, and made our way to the exit, meeting my mother and brother in a shop where they fulfilled the purchase requirement for the park. We then fought our way through the masses to get our picture taken and get out of the park, and we began to make our way to the Hollywood Studios bus stop. As we walked out, I expressed my concern that the bus might take a while to get there, as it was still very early in the morning, and my dad replied, "The good news is that no bus is there [referring to the stop we were walking to]". As he said this, a bus pulled in, resulting in my dad sprinting and me running to try to hold the bus.
We got to the door, and the driver said that she still had to wait two minutes. Sigh. Anyway, we got on, and departed for Hollywood Studios. It was still before 9:30.
A quick digression: When we were in line at the Animal Kingdom main gate, my dad and I started a conversation with the couple standing behind us in line. They were a very nice young couple wearing the bride and groom Mickey Ear hats. I never got to say it, but if you are reading this, congratulations on your new life together. One of the things I really enjoy about these trips is meeting such a diverse group of people.
Anyway, we got to Hollywood Studios at 9:35 a.m., so we were still subjected to the rush of people entering the park. The plan for Hollywood Studios was to ride Star Tours, so we made our way over and got in a 10 or 15-minute line (the ride took 20 minutes in total). After a nice ride (I believe it was Vader – Hoth – Ackbar - Coruscant), we started walking over to Starring Rolls for breakfast, but decided instead to ride the Friendship boat over to Boardwalk for breakfast. After getting our picture taken and making our purchase, we made our way out of the Studios, and finished at 10:10 a.m., which meant we were well ahead of time, as our Magical Express bus did not leave Old Key West until 2:20 p.m.
If I had one big piece of advice from this trip, it would be to not expect the Friendship boats to be a fast means of transportation. We got on the boat at about 10:20, and debarked at Epcot (we decided to skip Boardwalk) at 11 a.m. While the air-conditioned break was fantastic (it was already getting up to 90 degrees), it meant that all of the time we had gained had been lost in an instant. Oddly, this was the second issue we had encountered with the boats, as we had to debark a Friendship at Swan and Dolphin the day before because of storms.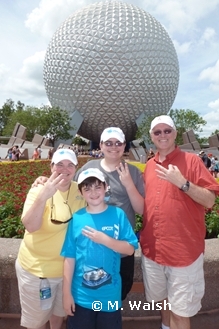 We arrived at Epcot to find it exceptionally crowded (neither Animal Kingdom nor Hollywood Studios were anywhere near as busy), to the point that Living With the Land, which was our planned ride, had a 40-minute wait. This is where the "ride OR purchase" definition came in handy, as we stopped for breakfast (finally) at Sunshine Seasons, made a quick purchase, got a picture, and left for Magic Kingdom by monorail. Looking back, we probably could have gotten on Journey into Imagination, but it would have likely meant skipping lunch. Epcot was that crowded.
After riding the Epcot monorail to the Transportation and Ticket Center, and then finding no line (unlike what we had found at about the same time over the weekend) for the express monorail, we made it to Magic Kingdom at about 12:10. Instead of trying to plunge into the masses here (it was about as bad as it was at Epcot), we immediately entered the train station, and rode the train round-trip from 12:25 until 12:45 p.m. We quickly got our picture taken on Main Street, made a purchase, and rode the monorail to the Contemporary Resort for the first relaxing moment of the day; lunch at Contempo Cafe to use up our meal credits. After a slow (by design) lunch, we got a cab, and rode back to Old Key West. From there, we boarded our Magical Express bus, made a quick stop, and were on our way to Orlando International Airport.
Upon arriving at the airport, we immediately got in line for security (sadly, we were directed into the shorter of two long lines leading to the same X-ray machine), and made our way to the terminal, where we ate a quick dinner. Our flight departed at 5:20 p.m., and was scheduled to land at 7:30 p.m. at LAX. Boarding was frustrating, but the flight was fantastic otherwise. We made it to LAX at about 6:50 p.m., and our plane turned off of the runway and was at our gate, which was right next to the baggage claim, in about a minute. For such a large airport, we thought we were very lucky.
Then the bags took 40 minutes to finally return to us.
Ah well, we still were leaving the airport only 10 minutes after our scheduled arrival time. We went outside, hailed a cab and left for Disneyland. After a slow cab ride (the driver had no idea where the Grand Californian was) which took us first into the parking garage rather than down Disneyland Drive, we made it to our resort. We checked in and dropped off our bags (it was a first floor room, which worked out very nicely), then made our way to park number five, Disney California Adventure.
We first went to see Cars Land (we were last at Disneyland on June 12, 2012, and Cars Land opened on June 15, 2012) and get our picture taken in front of the Cars Land sign before finding a spot where we could kind of watch the first showing of World of Color. This was a major accomplishment, because it means we have now seen World of Color on June 11 for four consecutive years, including its first public performance on June 11, 2010 at 9 p.m. (The streak ends this year, however. We will be in Alaska next year on June 11.) After meeting that goal, we walked back over to Cars Land, found that Mater's Junkyard Jamboree had a 10-minute wait (because everyone was still at World of Color), and went for a spin. After our ride, it was about 9:20 p.m., and we had until midnight to get to Disneyland.
We walked across to Disneyland, entered the park, got our picture in front of the large Disneyland storefront, and began walking through the stores to try to get to Tomorrowland (the plan was to ride Buzz Lightyear's Astro Blasters), as the street was blocked by people waiting for the fireworks to start. Sadly, as we reached the end of the stores, the fireworks were canceled, meaning that, instead of it just being us trying to get on the ride, it was us and thousands of people all trying to enter Tomorrowland at once. Once we factored in that it was 9:45 p.m., 12:45 a.m. in Orlando, and 18 hours after we had woken up, we decided to board the monorail (which officially counts as a ride at Disneyland, so we fulfilled the requirements) and returned to the room for a great night of sleep. (California Adventure opened at 7 a.m. the next morning. No rest for the weary.)
In short, WE DID IT! We successfully entered, got our picture taken in, and either rode a ride or made a purchase in Animal Kingdom, Hollywood Studios, Epcot, Magic Kingdom, Disney California Adventure, and Disneyland Park in one day. We started our journey by arriving at Animal Kingdom at (about) 8:20 a.m. EST, and ended it by boarding the monorail at Disneyland at (about) 9:45 p.m. PST. During the day we rode two buses, a boat, every monorail route Disney operates in the United States, a safe train, two cabs, a runaway expedition train, a Starspeeder 1000, and a tractor. Both interestingly and thankfully after a long day, the temperature in California when we arrived was colder than the lowest low during the entirety of the Florida portion of our vacation.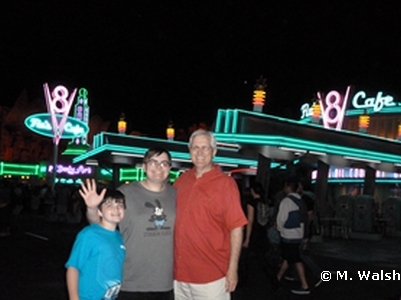 As we rode back to our room on the monorail, I started to question whether I would do it again. The short answer would be no, simply because it was so tiring that it made the next few days in California very difficult. If I were to do it again, however, I would do it during the winter because the heat in Florida made running around like we had to almost unbearable. On top of that, if we had done it during a less busy season (impossible now that I'm off to college, and my brother is starting middle school), we could have planned it so we could ride duplicate attractions (such as both Space Mountains, or both Star Tours), but that was unfeasible because of how long most lines were by 10:30 a.m. So, I am thrilled to be able to say I have done this, but I doubt I will ever do it again. However, I would strongly suggest going for it if you want to, because it was, in all honesty, a ton of fun.
We started at Animal Kingdom partially because we wanted to do Everest, as we had not yet ridden it, but primarily because it was the park with the fewest quick attractions that do not require a Fastpass. From there, we went in directional order, although it does work out that Hollywood Studios has the next fewest number of rides not requiring a Fastpass, then Epcot and Magic Kingdom. Could you go in the opposite direction? Yes, but it would likely mean only eating or riding the train at Animal Kingdom if you moved at the same pace we did. An important note to make is that all of Walt Disney World's parks opened at 9 a.m., without any Early Extra Magic Hours. Had there been a park opening earlier, it would have made a big difference in what we would have done. California Adventure closed at 10 p.m., which necessitated stopping there first, as Disneyland was open until midnight.
The rest of our trip was a ton of fun as we enjoyed all of the new stuff at Disneyland and Disney California Adventure, and it was time to say goodbye all too soon when we left on Saturday, June 15. As we flew home, we were left with a stark reminder of how lucky we were to succeed, as the plane we were on from Los Angeles to Chicago (only connection of the trip) twice lost power when the ground crew attempted to disconnect it from land power, costing us 20 extra minutes. Had that occurred flying from Orlando to Los Angeles, we would have barely made it to California Adventure.
As the trip came to a close, though, we got one last special moment; we got to watch a fireworks show from our plane as we landed back home. It was a magical way to end a magical trip, and a great way to celebrate the end of my graduation trip.
About the Author:
Michael Walsh, 18, has been taking Disney vacations since he was born, and has grown up a Disney fanatic. With about 30 trips to Walt Disney World (ranging from three to 10 days), five trips to Disneyland, and nine (soon to be 10) Disney Cruises, he has seen and experienced much of what Disney has to offer. In 2012, Michael spent spring break at Walt Disney World with his high school marching band, marching on St. Patrick's Day before the Main Street Electric Parade. In 2013, Michael celebrated his 18th birthday on Castaway Cay and his high school graduation by visiting all six Disney theme parks in the United States in one day. Michael will be attending the University of Akron in the fall, studying political science.
-o-o-o-o-o-o-o-o-o-o-o-
Editor's Note: This story/information was accurate when it was published. Please be sure to confirm all current rates, information and other details before planning your trip.